When it comes to the savory versus sweet battle, we definitely fall into the savory category; so when it came to highlighting a savory snack, we were all for it. When it comes to sustenance during our long hours of writing, we absolutely prefer to reach for a beef stick or beef jerky than cookies. Expanding the line of their popular 15oz. family size packs, Old Trapper recently launched their individually wrapped range of 1.75oz Beef Sticks. The single-serve, tasty Beef Sticks come in three flavors: Original, Teriyaki, and Jalapeño. The three flavors contain only 150 calories and 9 grams of protein. They feature the perfect combination of the delicious flavor of Old Trapper's smoked beef and various spices for a distinct, savory flavor you're sure to love.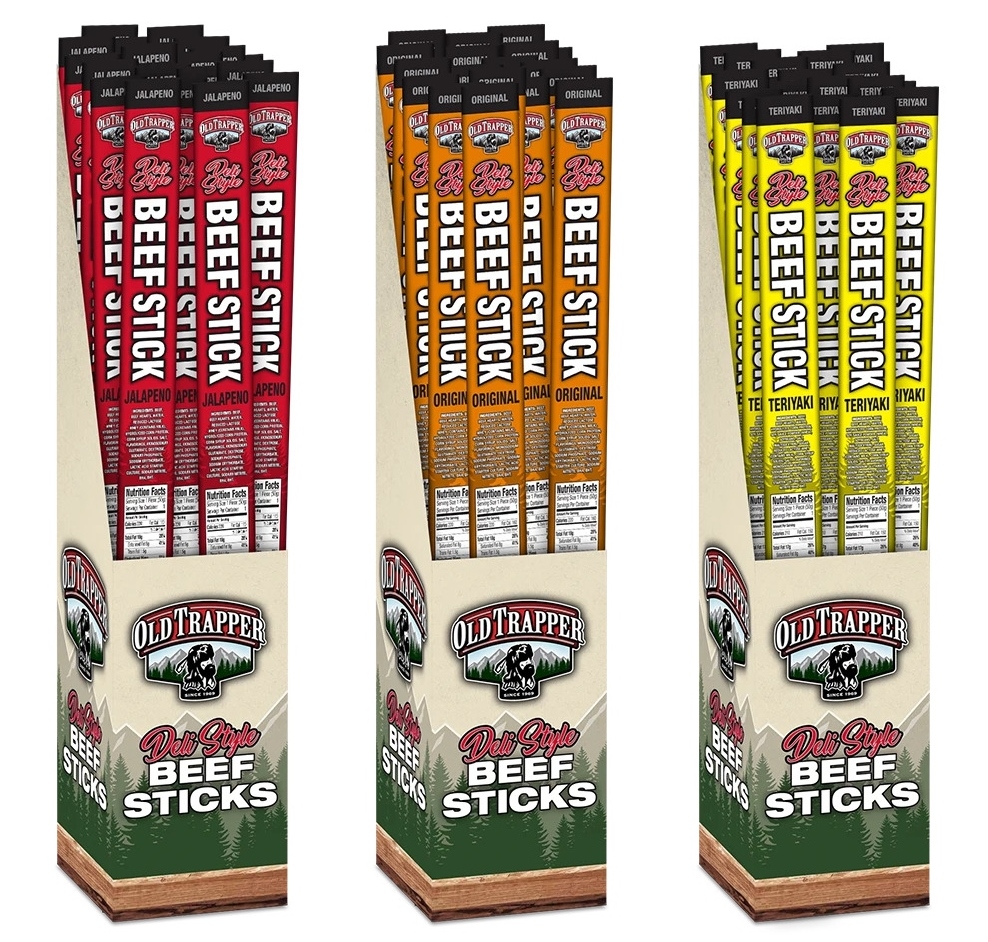 Old Trapper's individual Beef Sticks are perfect for healthy on-the-go snacking. It is one of the best hunger-satisfying, high-in-protein snacks available. Low in both carbs and sugar, the individual Beef Sticks also cater to another current snacking trend; most of us have been moving away from sugary snacks and more towards savory snacks that are higher in protein. For the Original flavor, Old Trapper only uses the finest ingredients to season and smoke their Deli Style beef sticks. The Teriyaki Beef Stick combines the delicious spice of their smoked beef with the tangy flavor of soy sauce. The Jalapeno Deli Style Beef Stick provides the kick your palate needs; it combines the delicious flavor of their smoked beef and the wicked spice of jalapeno.
Each deliciously seasoned Old Trapper Beef Stick is made from ground beef. It is then smoked using natural wood for a flavor and savory snap. With National Jerky Day coming up next month (June 12th), now is the time to stock up on all three flavors of these protein-filled snacks to keep you fueled.
Old Trappers' individual Beef Sticks are available nationwide for a suggested retail of $1.39 – $1.59.