It's the 4th of July holiday so you know what that means. It's time to enjoy everything red, white, and blue. The patriotic colors can be seen in so many things, from fashion and beauty to cocktails, and of course, food. One snack company going full force on the red, white, and blue is Que Pasa. For those not familiar, Que Pasa started out as a street-front deli in Vancouver, BC in 1983 selling authentically crafted tortilla chips. Today, they sell tortilla chips, salsas, and other products under the Que Pasa name, all organically made to share. This 4th of July sees the introduction of Que Pasa Liberty Chips.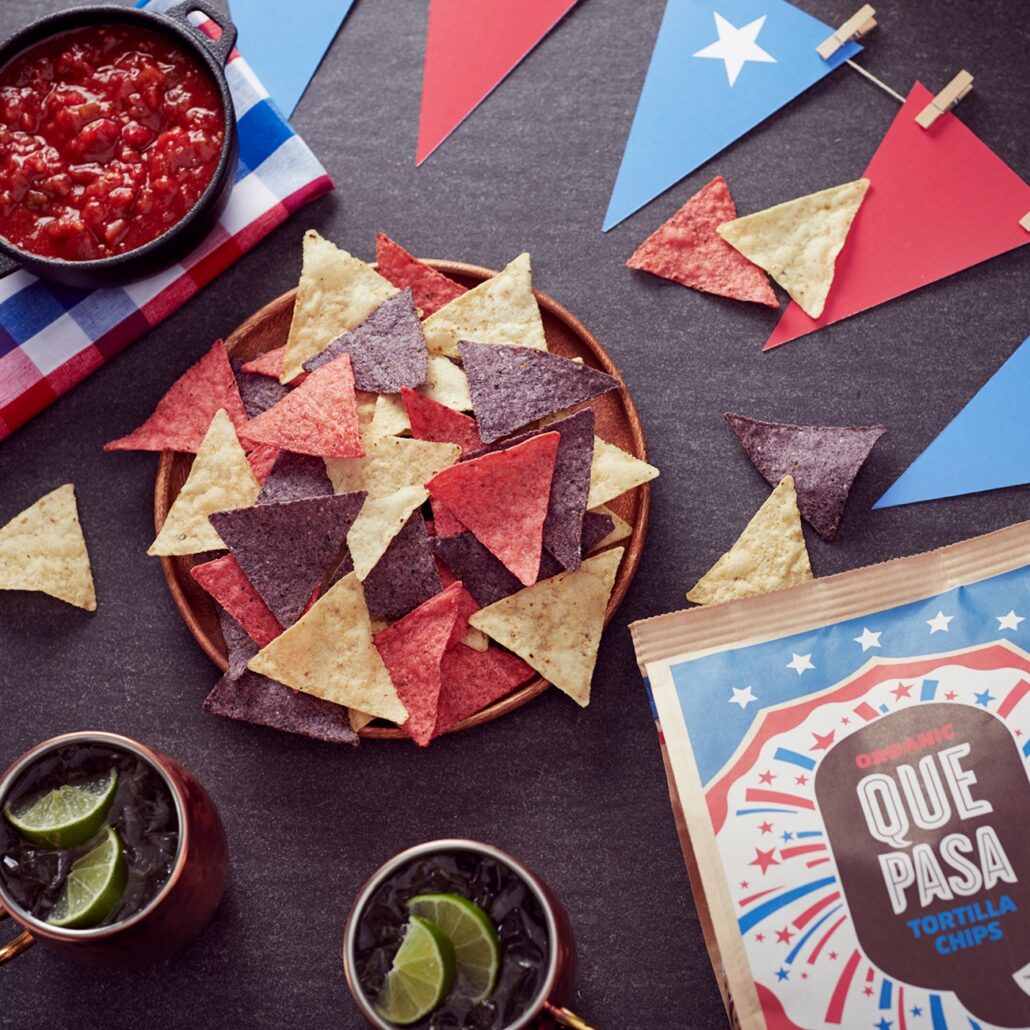 Celebrate America and share your pride with the limited edition Liberty Chips from Que Pasa – a festive mix of red, white & blue volcanic stone-ground organic tortilla chips. Que Pasa products are certified organic and non-GMO Project Verified because we believe the best tasting (and healthiest) chips come from plants grown in healthy, organic soil, the way nature intended.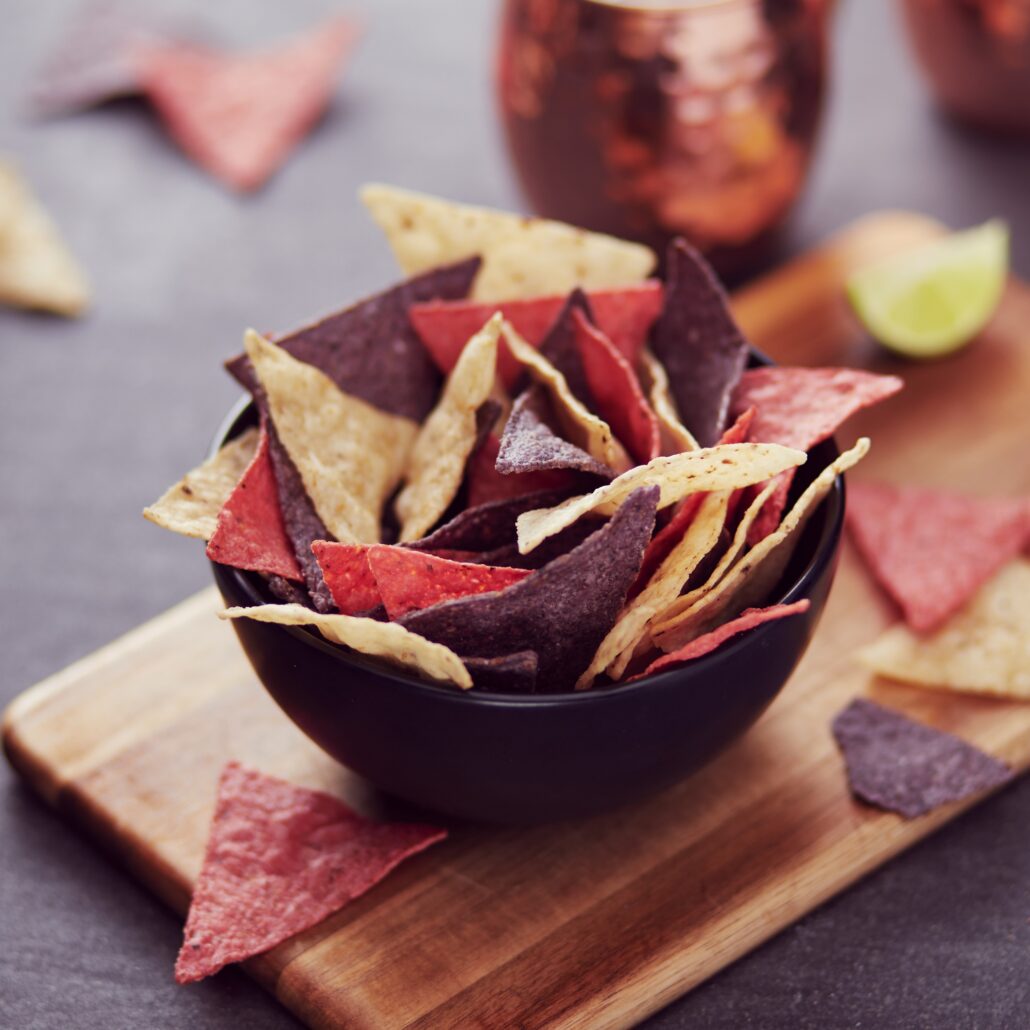 What makes these tortilla chips so healthy and delicious? Que Pasa Liberty Chips are deliciously crunchy and only have real, simple ingredients. Check them out below:
RED CORN – not only is the red corn tasty, but it also happens to be naturally gluten-free!
WHITE CORN – this certified organic corn is packed with whole-grain nutrition, it is GMO-free and also naturally gluten-free.
BLUE CORN – Not only is blue corn a pretty color, but it also comes equipped with multiple health benefits and a strong, nutty flavor.
BEET JUICE – Que Pasa uses beet juice for its ruby red pigment. This natural food coloring agent is also high in fiber and antioxidants!
The Que Pasa Liberty Chips are delicious on their own but you can also make wonderful recipes, like the below vegan charcuterie board. Whether you're a carnivore or vegan, we think you'll truly enjoy this wonderful spread.
RED, WHITE, AND BLUE VEGAN CHARCUTERIE BOARD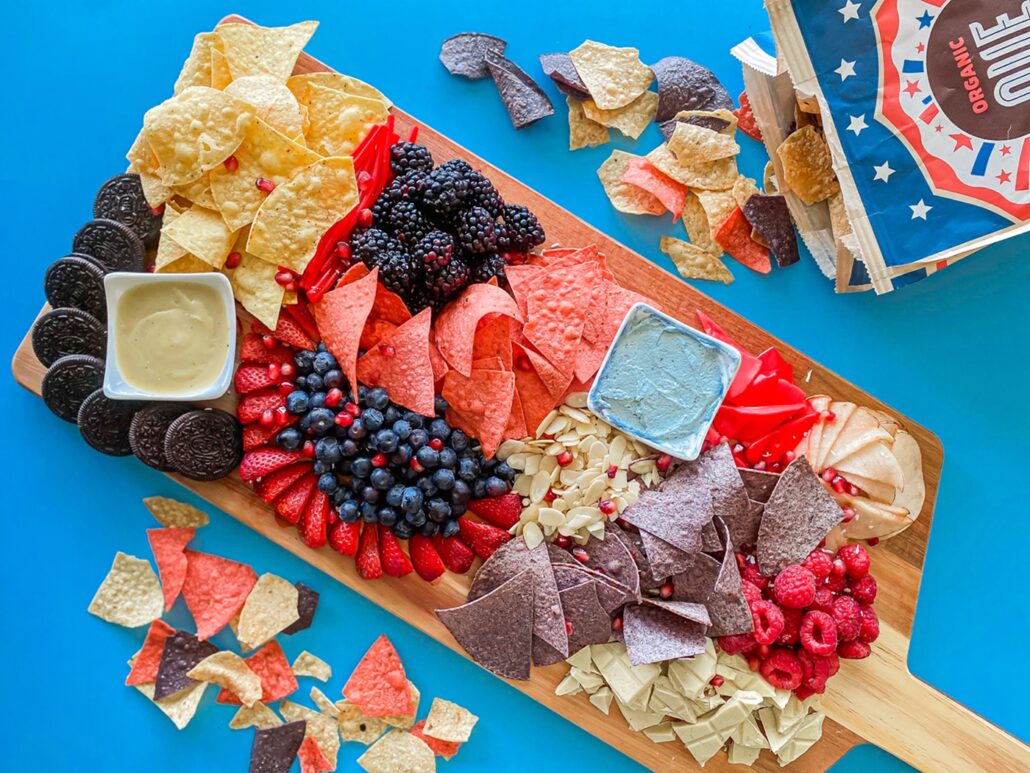 1 bag Que Pasa Liberty Chips
1/2 cup red candy
1/2 cup quartered strawberries
1/2 cup shaved almonds
1cup blueberries
1cup white chocolate
1cup blackberries
1/2 cup coconut cream
1 cup raspberries
2 tbsp icing sugar
8 chocolate sandwich cookies
1/2 tsp blue spirulina
1 pear apple
First, prepare your blue cream and white chocolate ganache. In a bowl, place 1/4 cup coconut cream, blue spirulina, and icing sugar. Whisk until thick. In a separate heatproof bowl, place 1/4 cup of coconut cream and warm in the microwave for 45 seconds. Place 1/2 cup of white chocolate in the warm cream and stir until fully combined. Pour the dips into separate bowls. Set aside. Collect the remaining ingredients and use your artistic flair to create a beautiful board!