Hey fellow beauty lovers, are you ready for the latest beauty product launches? We highly recommend you make room in your beauty arsenal for the following recently launched products that are sure to break your beauty boundaries. We can't help but get excited about these latest launches and know you will be too.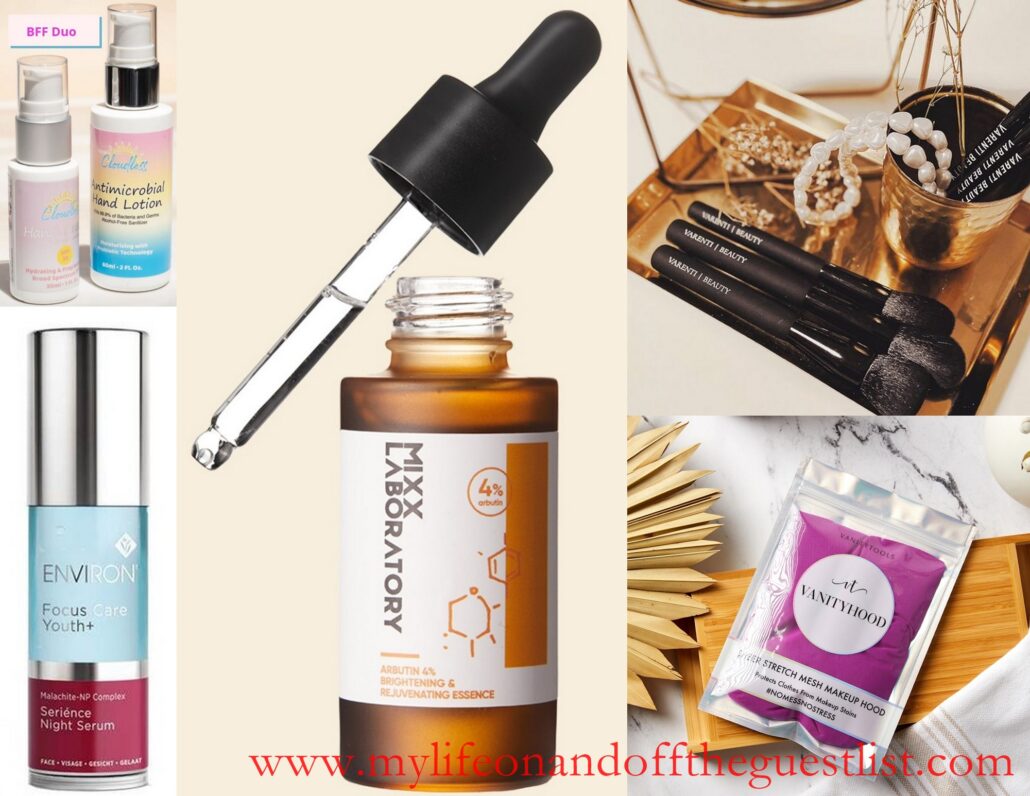 Are you in the marketing for new makeup brushes? You'll love the luxe, essential brushes from Varenti; If you hate having to play contortionist in an effort not to get your makeup on your shirt or blouse? VanityHood has got you covered (literally); are you looking for a hand sanitizer and hand lotion in one? Cloudless has exactly what you need; could your uneven skin tone use a bit of brightening and rejuvenation? MixX Laboratory is here to help; lastly, if you're looking to say goodbye to the negative, long-term effects of the stress of living life with Covid-19, Environ has just what your skin needs. These new beauty and skincare launches are made to break beauty boundaries. Keep reading to get to know each one of these beauty must-haves.
We've all gone makeup-free long enough! It's time to brush up on your makeup essentials with Varenti Beauty. The luxe brand offers six best-selling pro brushes, including a Pro Blending Brush with five-star reviews made to blend your blush or bronzer for that perfect summer glow. All of the Varenti Beauty brushes are vegan and cruelty-free, plus they boast 30% more bristles than others on the market. Made in Italy, Varenti Beauty's brushes are as soft as cashmere.
Tired of ruining a good shirt after getting your makeup just right? The VanityHood can help! This wearable, mesh makeup shield protects your makeup, hair, and clothes from ruboffs. Founder Mona Lisa Crossway understood the struggle of getting dressed after applying her makeup and wanted a solution that was smart and reusable. Say goodbye to shower caps over the face, ladies. This nylon, mesh hood pulls over easily to fit every size head.
Hands take a toll each day. It's about time we take extra good care of them. Cloudless, makers of an Antimicrobial Hand Lotion that will clean and moisturize your hands while you're out and about this summer. There is no need to carry a hand sanitizer and lotion with this innovative two-in-one product. Add their Hand Dream mineral hand sunscreen for germ-free, sun-protected hands that won't give away your age. Toss both in your bag or car console for on-the-go convenience.
A 'golden formula' of 1% α-Arbutin and 3% β-Arbutin, the MixX Laboratory Arbutin 4% Brightening & Rejuvenating Essence is safe for daily use and for sensitive skin types. Arbutin is an all-natural substance derived from fruit and berries that is scientifically proven to diminish hyperpigmentation in the skin by effectively reducing melanin content. It works to correct and fade sun damage, age spots, melasma, and uneven skin tone, for a youthful and flawless complexion.
Regular use of the MixX Laboratory Arbutin 4% Brightening & Rejuvenating Essence will improve skin tone thanks to its antioxidant properties, and dramatically reduce the need for concealers and full-coverage foundations.
If you're searching for a powerful overnight beauty boost, look no further than the NEW Environ Focus Care Youth+ Malachite-NP Complex Seriénce Night Serum. This scientifically proven formula was developed to target the negative long-term effects of stress to reveal serene, luminous, and youthful-looking skin. The first of its kind, this advanced overnight booster works while you get your beauty sleep to give your skin some serenity in one simple step.
Known for centuries as a powerful stone of transformation, Malachite Extract offers potent antioxidant benefits scientifically proven to boost the benefits of skin immunity and defense against environmental stressors. Together with Neurophroline, a calming neuropeptide derived from Wild Indigo Seed extract, skin's appearance is transformed from dull into youthful luminosity. Seriénce Night Serum is clinically formulated to protect, reset and relax the appearance of the skin, night after night.
These are the latest we're excited about. Could these help you break beauty boundaries and achieve a youthful glow and healthy skin? We'd love to hear your thoughts, please let us know in the comments.