For those of you unaware, January is National Hot Tea Month and we've been enjoying one of two (okay, 3-5) cuppas every day. Many of you already know our obsession with tea. We love it for its vast variety of delicious flavors, its health benefits, of course, and the fact that it is good any time of the day, hot or cold. In honor of National Hot Tea Month, we're going to concentrate on those lovely hot cuppas.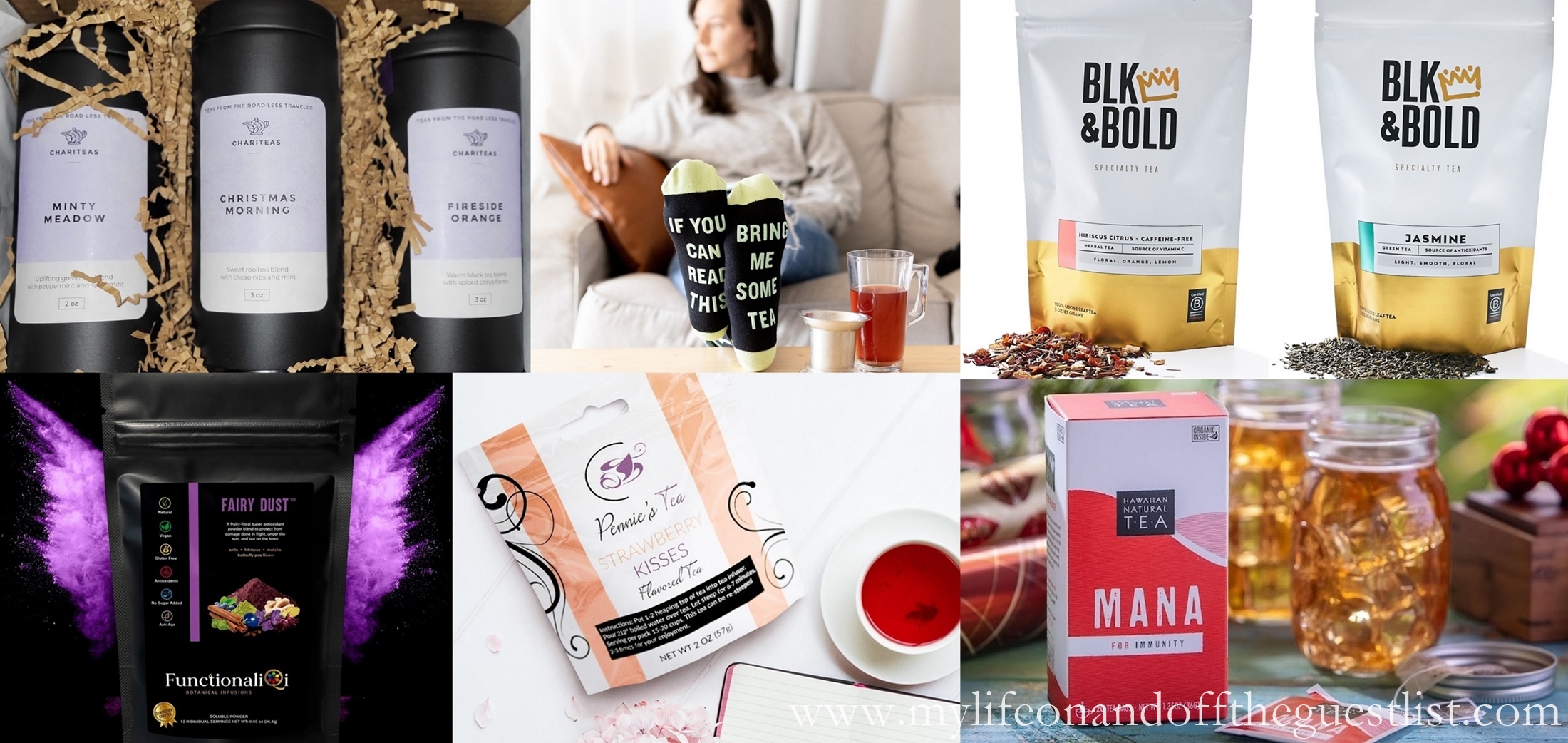 Step aside coffee lovers, it's tea time! Although for us, tea time is 365 days a year. The month of January is the perfect time to curl with one or more of the vast varieties of black, green, white, oolong, herbal, yerba mate, etc, teas. With the number of available tea varieties and the almost infinite number of blends you can create, we can honestly say, nothing compares to this delicious hot drink. Today, we share tea favorites from Lavley Socks, Chariteas, Black-Owned Blk & Bold Teas, FunctionaliQi Tea, Tea Chest Hawaii, and Pennie's Tea. Check them out below: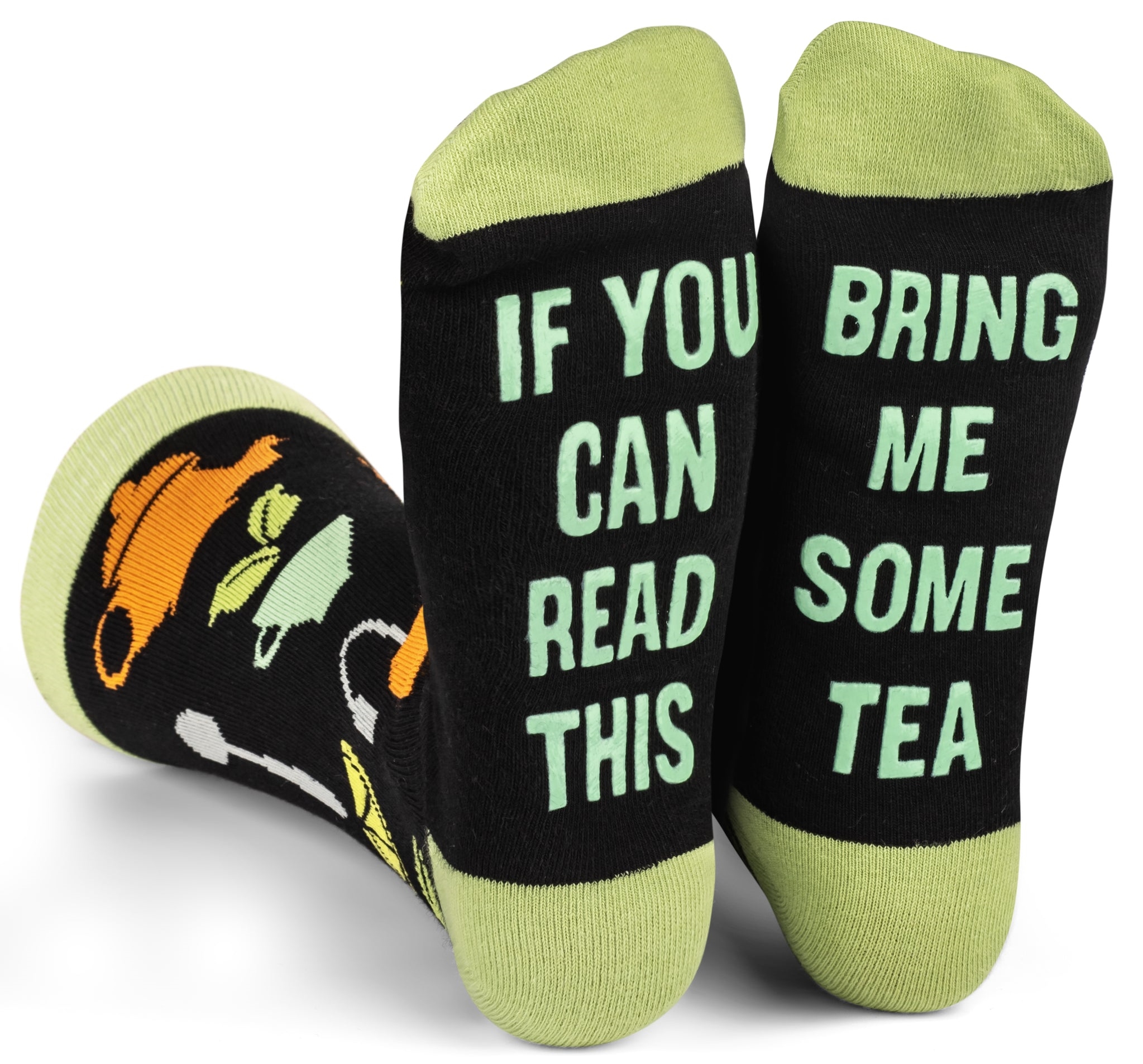 Before we figuratively dive into the following must-try ups of hot tea, we must get comfortable. In the spirit of National Hot Tea Month, we can't help to look towards Lavey's Bring Me Some Tea Socks, $11.95, to set the mood for a celebration of hot teas.
The adorable, mid-calf-length socks are super soft, ultra comfy, and made to last for years to come. The bottom of the socks read "If You Can Read This, Bring Me Some Tea," printed in non-slip ink. The design features tea bags, kettles, lemons, sugar spoons, tea leaves, and steaming mugs. A perfect gift for any tea lovers and aficionados and a must-have this month. Get them now on www.amazon.com. Now on to the #1 reason for National Hot Tea Month.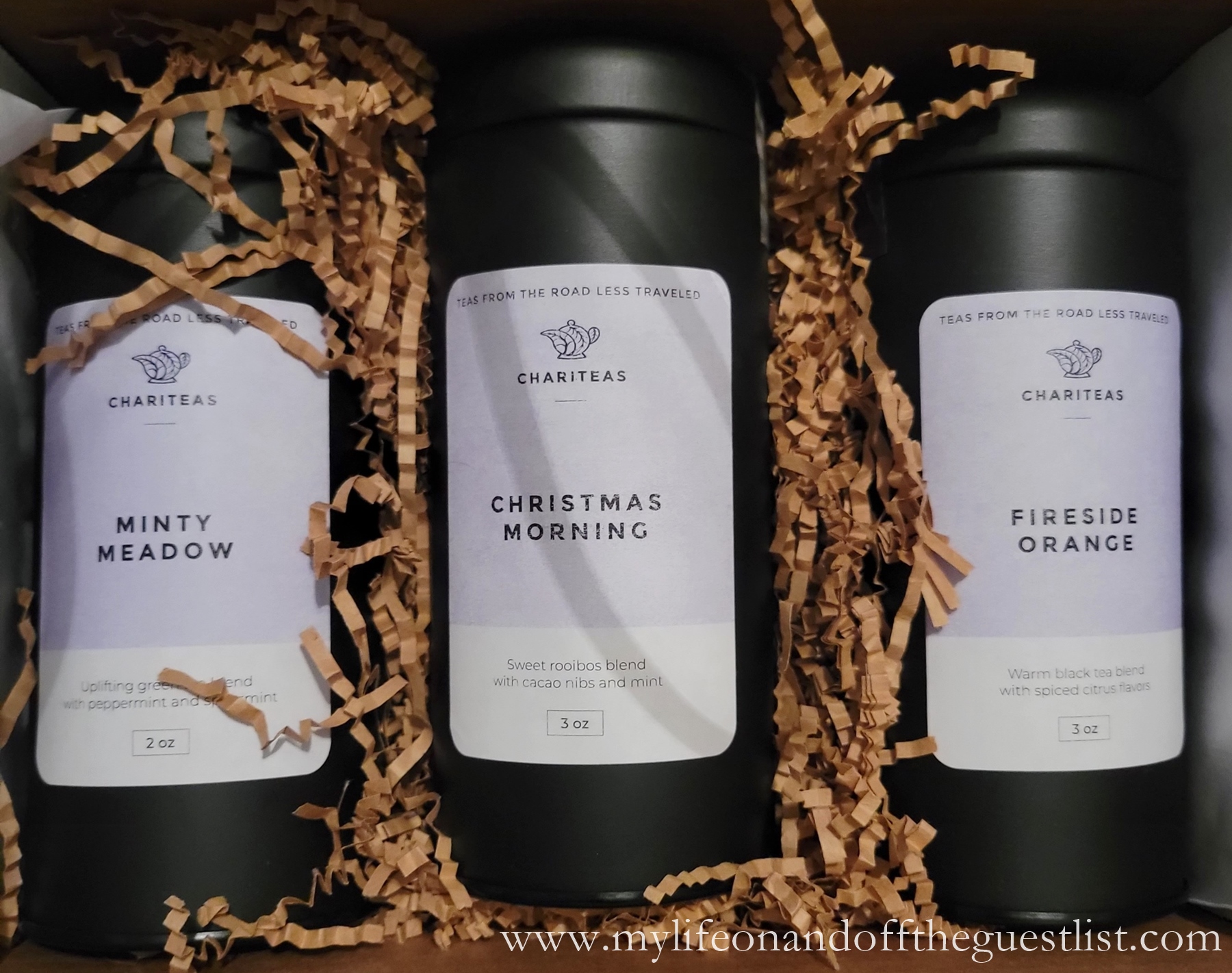 You may remember reading about Chariteas in one of our previous tea highlights. Over the holiday season, we've been enjoying a few of the wonderful tea blends from Chariteas. We promise, you'll be addicted to indulging in the Chariteas Winter Tea Flight, $40.00, which includes Christmas Morning, Minty Meadow, and Fireside Orange tea blends.
Even with spending Christmas in the Caribbean, nothing beats cozying up with a hot cup of Fireside Orange to say good night to the day. This black tea blend contains orange peel, cloves, cinnamon, and all things nice. Woke up to a cup full of Christmas Morning; a smooth rooibos blended with organic cacao nibs to a robust flavor that is a real pick-me-up. Lastly, you will uplift the soul with Minty Meadow, a Chinese green tea that's perfectly blended with peppermint and spearmint.

Black-owned, nationally distributed, and purpose-driven coffee and tea brand BLK & Bold, which is known for its delicious coffee, also has a wide selection of delectable teas that will make the transition smooth and rich. From Matcha to Chamomile tea, BLK & Bold has perfected the taste of each of their 10+ tea options. With the return to the office on its way, let us help you to choose the best tea for you to get your day started and the best end to any stress-filled day.
Hibiscus Citrus Loose Leaf Herbal Tea, $12.00 – Hibiscus Citrus Loose Leaf Tea creates a bright and invigorating cup. Not only is this tea flavorful with orange and citrus notes, but it's also high in Vitamin C and antioxidants. Coupled with floral aromatics, brewing this cup is an experience from start to finish. Enjoy as-is or over sparkling water and ice for a cool and refreshing beverage.
Chai Loose Leaf Green Tea, $12.00 – This Chai green tea is the perfect balance of sweet and savory. Cinnamon, cardamom spice, and clove help create this refreshing cup with spicy, savory undertones. Like traditional Chai blends, this tea comes finely ground.
Peach Loose Leaf Black Tea, $12.00 – Capture the taste of perfectly ripe, juicy peaches in your cup with this naturally sweet, full-bodied tea. Created with black tea leaves, peach pieces, and natural peach flavor- enjoy it hot or iced for a delightfully bright cup.
For every bag of tea purchased, BLK & Bold pledges 5% of their profits are donated to supporting traditionally underserved both locally and nationally.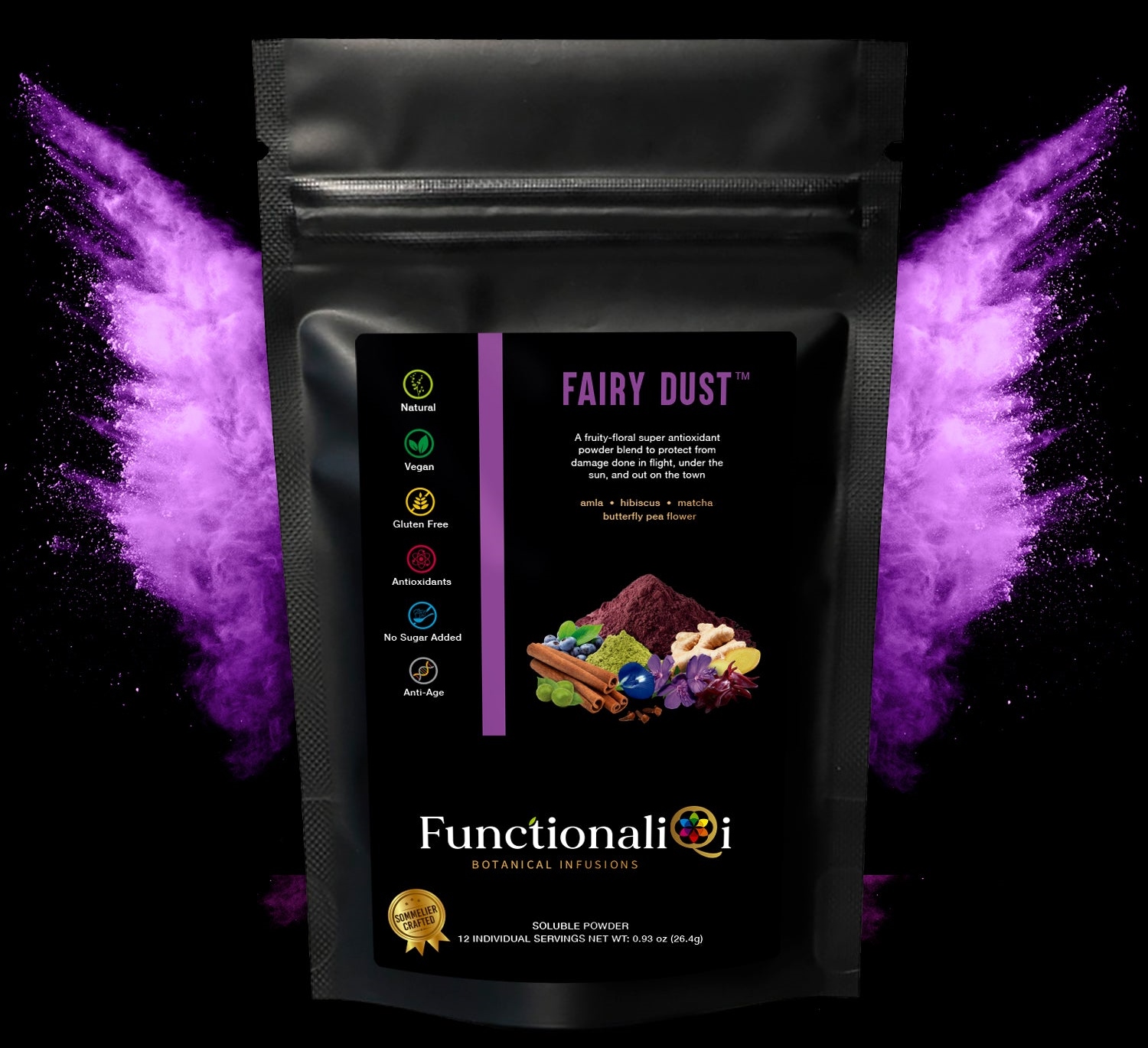 We recently highlighted one of FunctionaliQi Tea's amazing Liver detox teas as a way to jumpstart your Dry January; today we highlight Fairy Dust, a soluble powdered dream team of the highest antioxidant-containing fruits, flowers, and spices. These wonder ingredients counteract DNA damage from free radicals produced by the sun's radiation, natural biological processes, and countless everyday activities. These all-stars also top the charts with vitamin C, collagen production, cognition, and countless other benefits.
A kiss of monk fruit adds just enough sweetness to naturally replace sugary beverages while improving and maintaining your immune system, energy levels, healthy skin and nails, brain health, anti-inflammatory, anti-bloating, healthy weight, digestive health, improved circulation, mood, and wellbeing,  healthy bones and joints, and insulin sensitivity.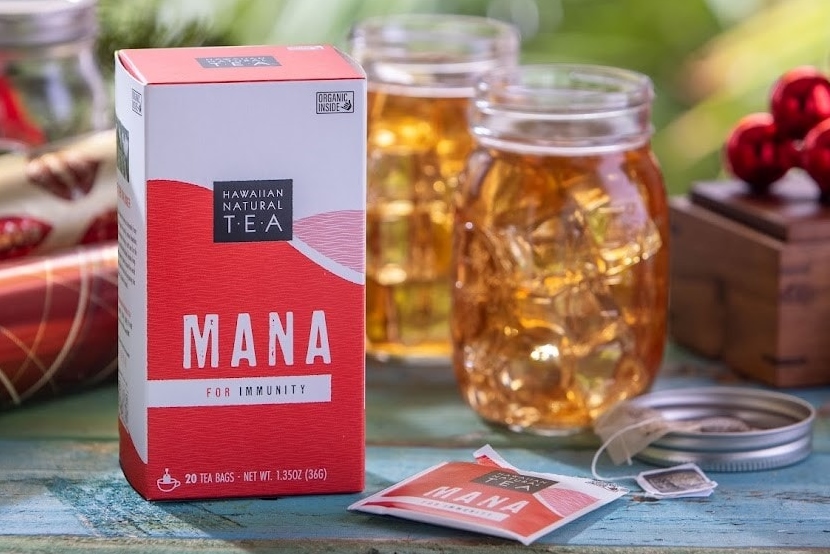 The award-winning gourmet tea company based in Hawaii has come out with even more blends as unique as the islands only this time, focusing on the well-being and overall health of the tea-drinking community. . Sip on Tea Chest Hawaii's Hawaiian Natural Tea's MANA – Tea for immunity's blend of organic cinnamon, organic mint, organic hibiscus, and Hawaii-grown adaptogens, moringa, and mamaki to embrace the spiritual power within all of us. With each sip, you will boost resilience and immune fitness. You can try MANA or one of Hawaiian Natural Tea's other brand new triple health defense teas; NANEA (for anxiety and stress), and OLENA (for inflammation) individually or get all three in their Maika'i Gift Box, available in a few short weeks for the ultimate health support!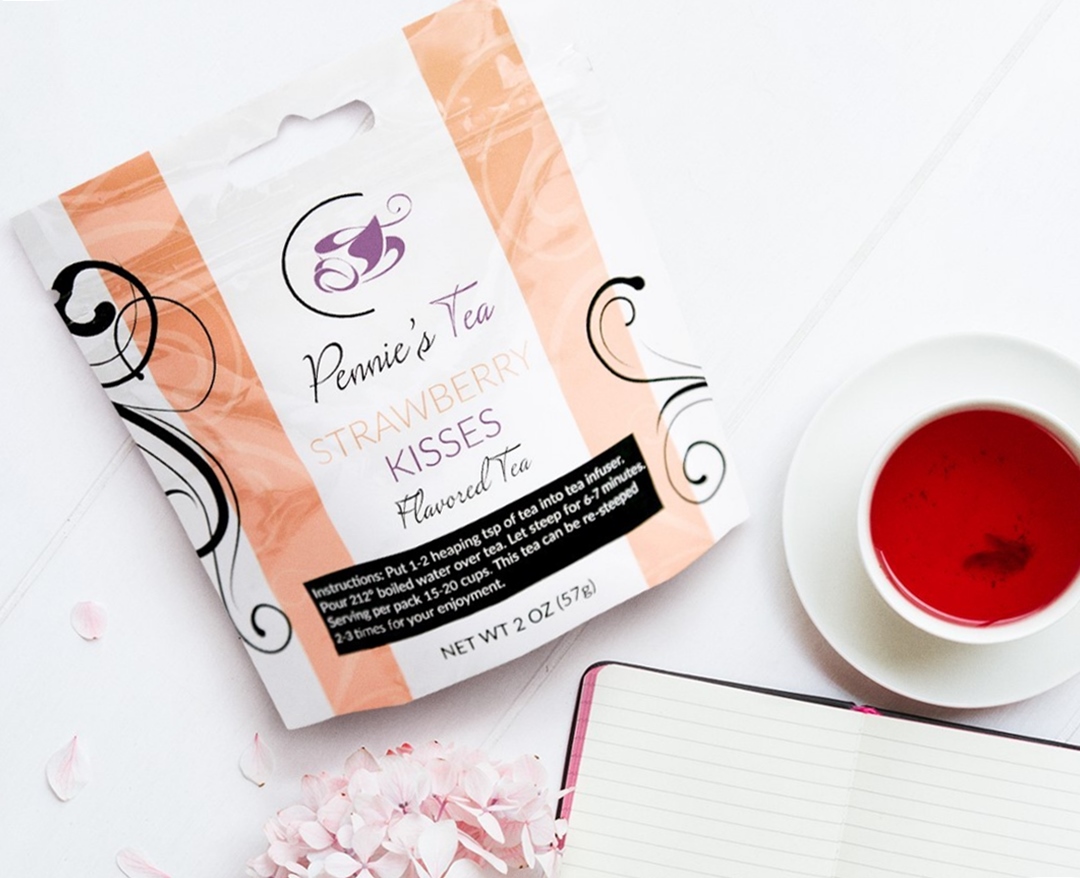 Last August, we introduced you to the fruity and delicious iced teas from Pennie's Teas. Being National Hot Tea Month, it's only right we highlight their hot teas. Pennie's Tea is good for the mind, body, and soul. The selections include herbal, detox, black, green, flavored, and loose leaf teas; they offer a variety so good you'll have no problem finding the blend that works best for you. Sip to relax with a hot or iced tea or help address common ailments, such as bloating, acid reflux, and an upset stomach. Feel good during the coldest season while enjoying these flavorful teas. You'll enjoy it, even more, knowing that proceeds support victims of domestic violence.
There are more teas to come. Are you a tea lover like we are? Will you be celebrating National Hot Tea Month with a cuppa or two? We'd love to hear about your favorite teas to enjoy. Share them in the comments below.