We're halfway through Dry January and National Hot Tea Month. We know it may be difficult to abstain from alcohol but we're here to help. Today, we're sharing more non-alcoholic drinks and beverages to help you keep your January a dry one. National Kombucha Day is almost upon us; what a perfect time to highlight the boldly flavored fermented tea drink made from your favorite teas, that's lightly effervescent and sweetened. Although it is fermented, it contains less than 0.5% traces of alcohol, making it a great addition to your Dry January beverage list.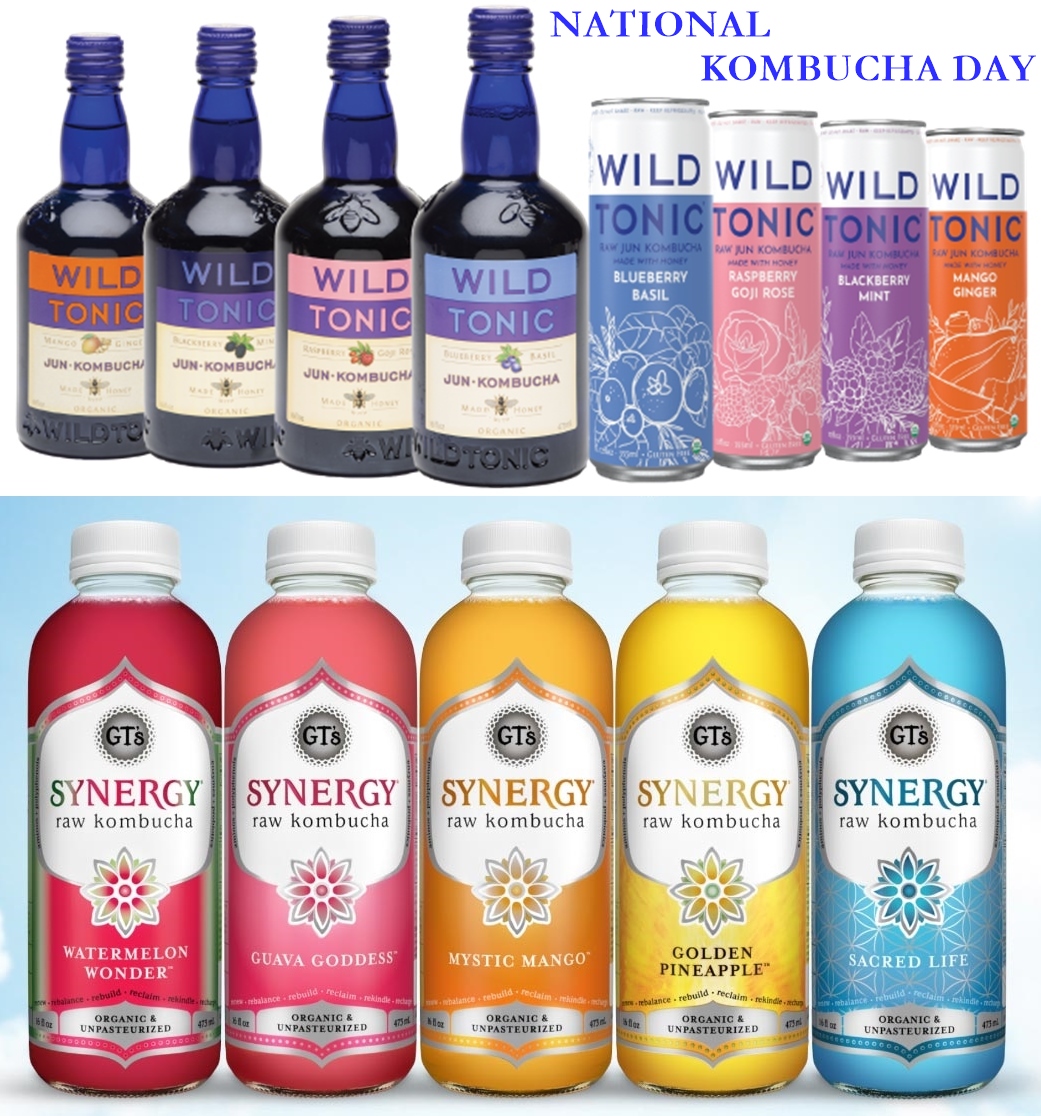 We're currently swooning over two great Kombucha brands right now, GT's Living Foods's SYNERGY Kombucha, an old favorite, and WILD TONIC Jun Kombucha, newly introduced to us. We're here to tell you why we love them and why you should be enjoying them beyond National Kombucha Day. If you love tea, then you'll love Kombucha. It's an amazing way to add probiotics to your healthier lifestyle; it's loaded with B vitamins; plus it boasts all the health benefits that tea has.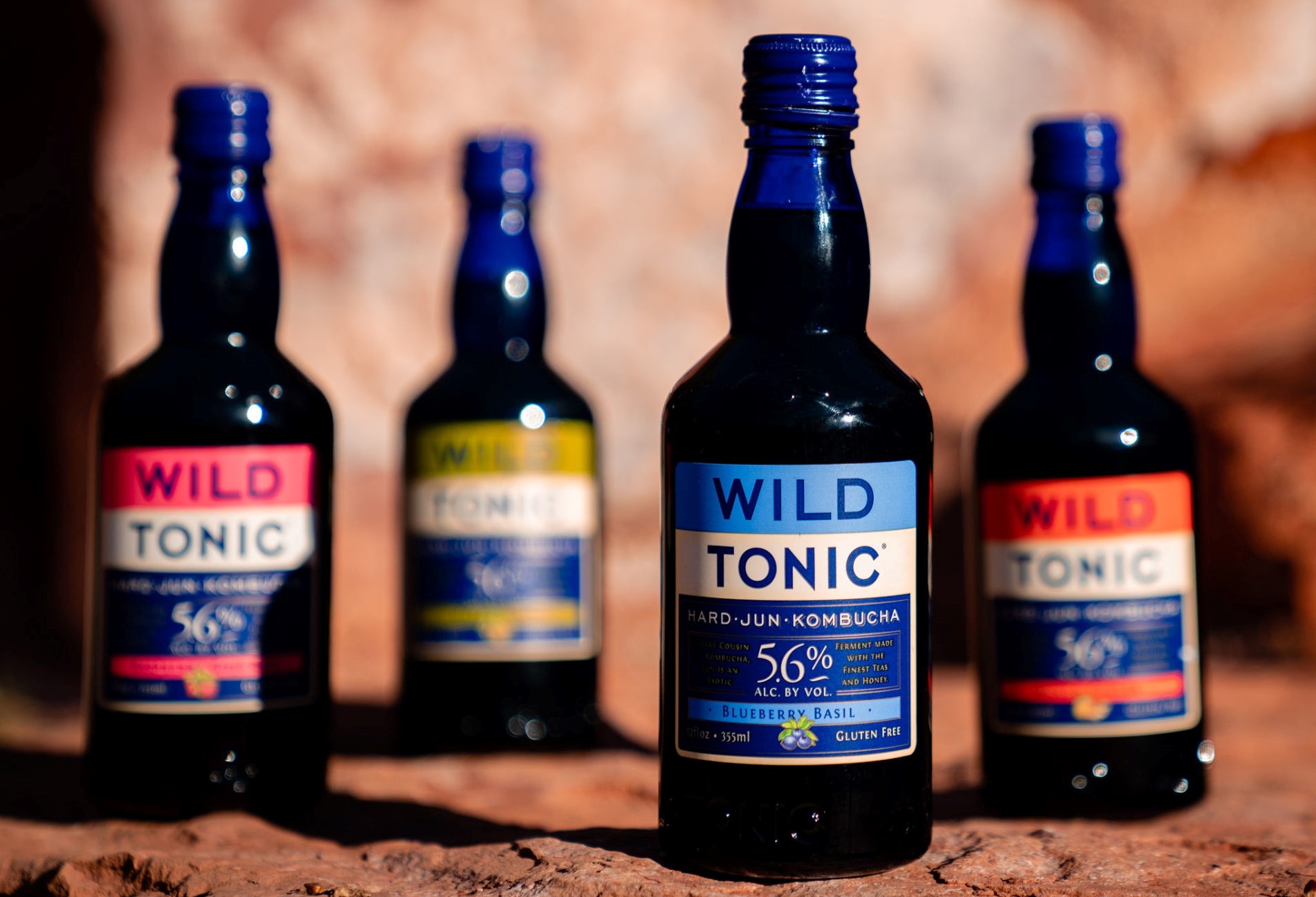 WILD TONIC Jun Kombucha, known as "The champagne of Kombucha," is the perfect functional drink option to celebrate National Kombucha Day. Not only is the brand female-founded, but it is filled with health and wellness benefits, all organic and natural, and features organic honey as its base. The ideal, "New Year, New You" beverage. Housed in environmentally friendly signature cobalt blue 12oz bottles and recyclable cans, this refreshing honey-influenced taste stands out like no other. WILD TONIC Jun Kombucha keeps you hydrated and is rich in prebiotics, probiotics, amino acids, and antioxidants without any artificial flavorings or sulfites; making the bubbly fermented beverage a fan-favorite.
What sets WILD TONIC Jun Kombucha apart from other kombucha drinks on the market is It is crafted primarily with honey instead of cane sugar which produces a refreshing, delicate result, absent of a 'vinegar' bite common in traditional Kombucha. The initial brew of sustainably sourced tea and honey infused with organic fruits, herbs, and botanicals creates the signature smooth taste.
WILD TONIC Jun Kombucha offers their traditional non-alc Jun Kombucha online in a 12-pack of 12 oz cans for $29.99, available at your local grocer nationwide, as individual bottles or can 4-packs, via Instacart and Postmates. The non-Alc flavors include Raspberry Goji Rose, Blueberry Basil, Mango Ginger, Blackberry Mint, and Chai Pear. Their slim can packaging varieties and bottles are available for direct purchase at www.wildtonic.com.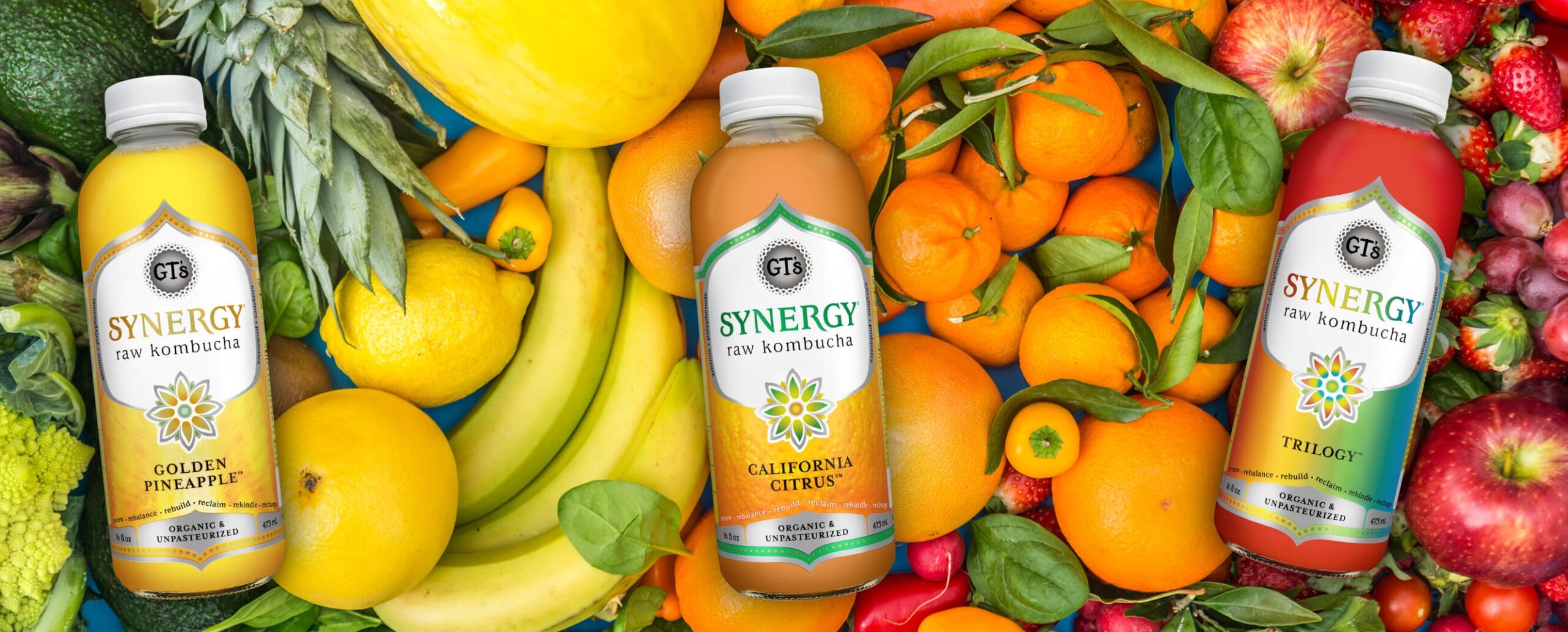 GT's Living Foods is known as the producer of the most popular, best-selling kombucha brand, SYNERGY Raw Kombucha. SYNERGY is authentic raw Kombucha for anyone seeking better health. Fully fermented for 30 days in small batches, this probiotic powerhouse is potent with organic acids, active enzymes, and aminos to support the gut, aid digestion, and boost immune health. Perfect for new and experienced Kombucha drinkers alike, every bottle is 100% organic with elegant natural effervescence and a bright crisp bite.
SYNERGY Raw Kombucha offers a variety of kombucha flavor profiles including sweet, spicy (we love the Gingerade), fruity, earthy, tart, floral, herbal, smooth, and bold. From their classic original to new Chia flavors, and the limited-edition, 25th-anniversary release, Sacred Life. The family-owned and independently operated SYNERGY Raw Kombucha proudly shares more than 40 Kombucha flavors. Every bottle of SYNERGY Kombucha is naturally rich with diverse nutrients to promote your health, including living probiotics, active enzymes, organic acids, aminos, and polyphenols.
This unpasteurized, raw Kombucha also supports the gut, aids digestion, strengthens immune function, boosts vitality, and so much more. SYNERGY is available in 16 Fl Oz; a 6 Pack is approximately $19.75 and it can be purchased online at www.amazon.com, www.instacart.com, www.walmart.com, or in-store at Whole Foods, Walmart, 7 Eleven, Duane Reade, Stop N Shop, etc.