It's been a while since we've done a restaurant review but as more places open up in New York, we'll be venturing out more to bring you more amazing experiences. Our first 2022 restaurant review is the Chinese American flare restaurant & bar, Brooklyn Chop House., where Chinese cuisine is fused with an American steakhouse.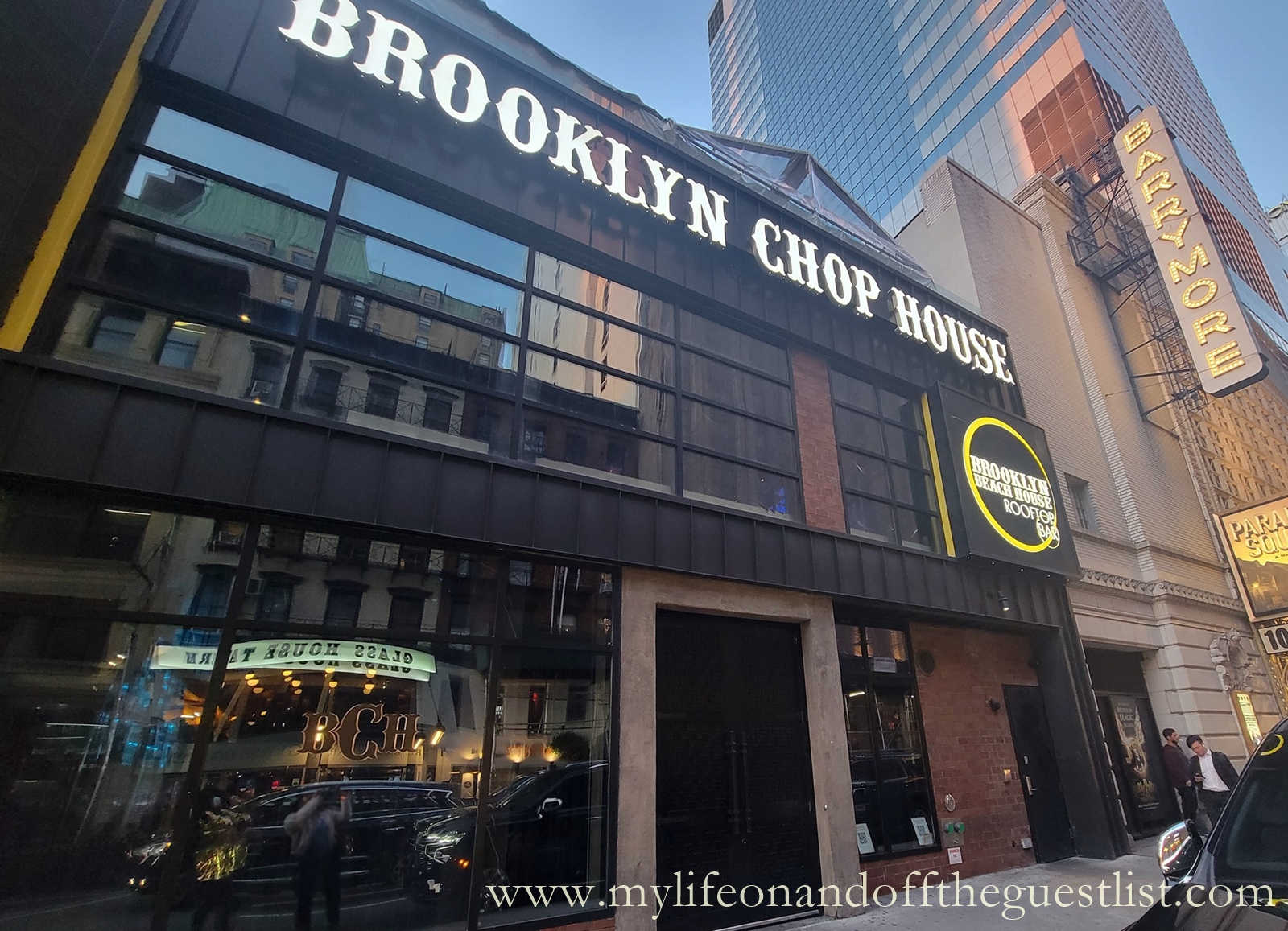 We loved the darkened interior of the restaurant. Although bustling, the lighting and decor make it a great setting for an intimate night out for two. The staff is very attentive without hovering, giving you time to enjoy your meal and conversation with your dinner companion. We highly recommend you ask the staff for their meal recommendations and favorite dishes, they will guide you to gastronomic ecstasy.
For our culinary journey, we started with two of Brooklyn Chop House Times Square's spectacular handcrafted cocktails, ordered appetizers from their small plates menu, enjoyed chicken entrees with sides from their sides for two offerings, and topped off our meal with one of their famous desserts.
COCKTAILS
BK MILK PUNCH & SOUR DIESEL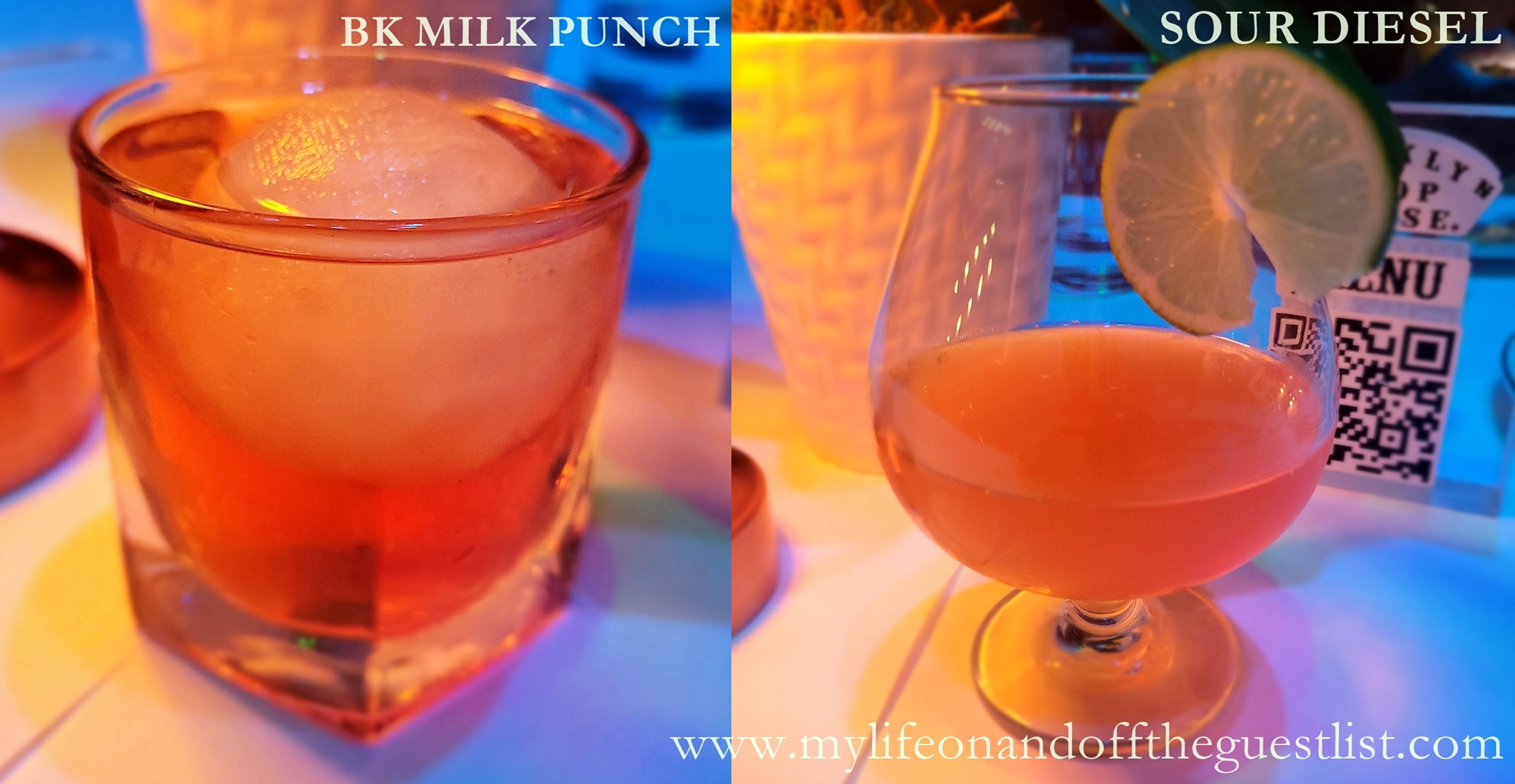 BK MILK PUNCH – Courvoisier VS, Rocky's Milk Punch, Earl Grey Tea, and a Coconut ice cube. Because of the milk punch, we were actually expecting a creamy cocktail, not knowing Rocky's is a clarified milk punch. One sip of this divine libation and we knew we made the right decision ordering. It was the right amount of sweet, and refreshing, and was a perfect pairing to the spicy entree.
SOUR DIESEL – D'usse VSOP Cognac, Fresh Lemon Juice, Peach Schnapps, Grapefruit Juice, and Agave Syrup. Fans of complex cocktails will love this mixologist's creation. Love a Sidecar but desire a drink with a bit more distinct and magical.
APPETIZER
SHORT RIB BAO BUNS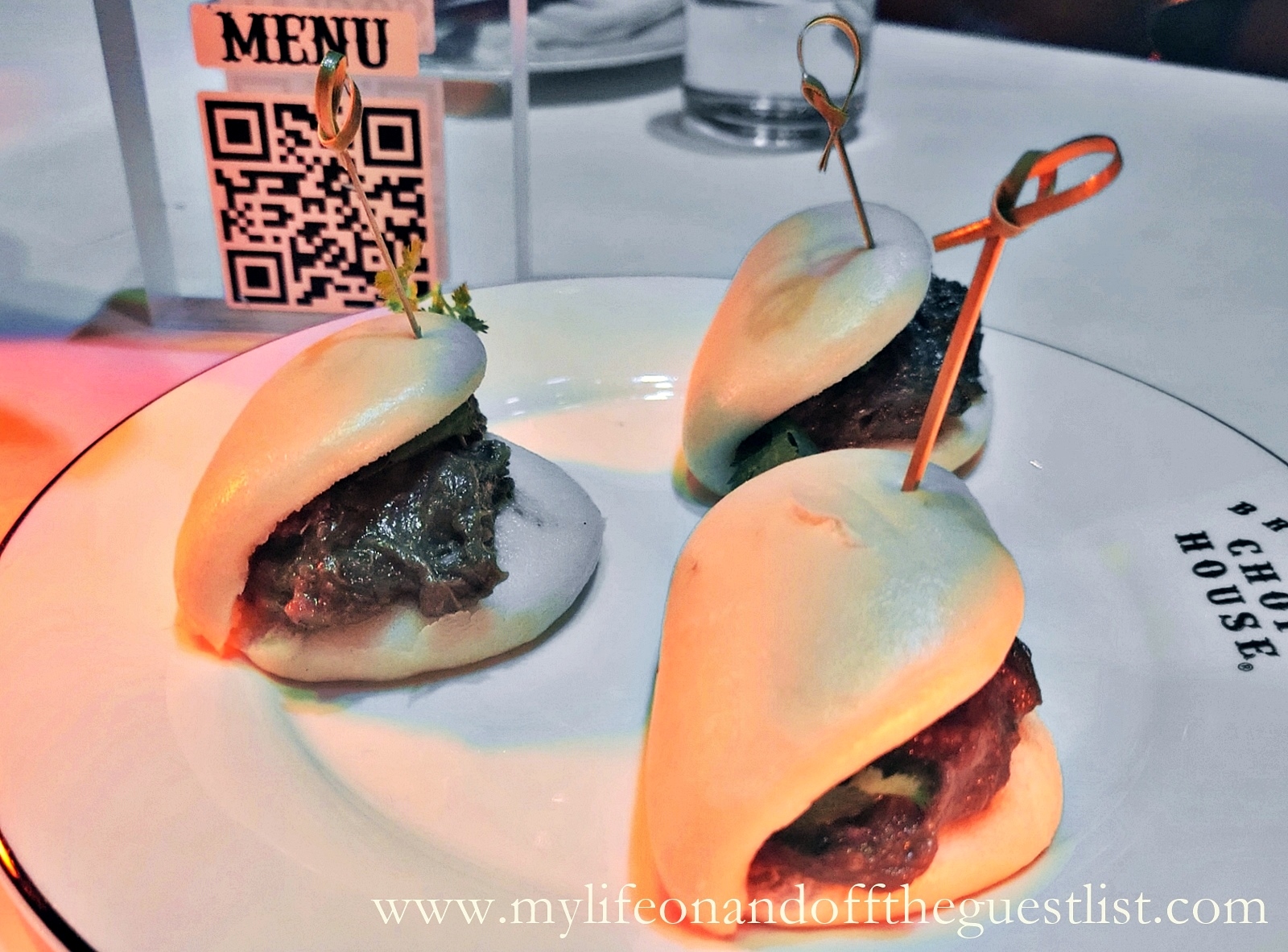 If you've never had the absolute pleasure of experiencing Short Rib Bao Buns, let Brooklyn Chop House Times Square's Bao Buns be your first introduction. The Short Rib was exceptionally juicy and succulent; nestled between the pillowy buns, this must-try starter was very flavorful to the last bite.
ENTREES
SWEET BLACK BEAN BEIJING CHICKEN & SWEET & SOUR CHICKEN W/ CRAB FRIED RICE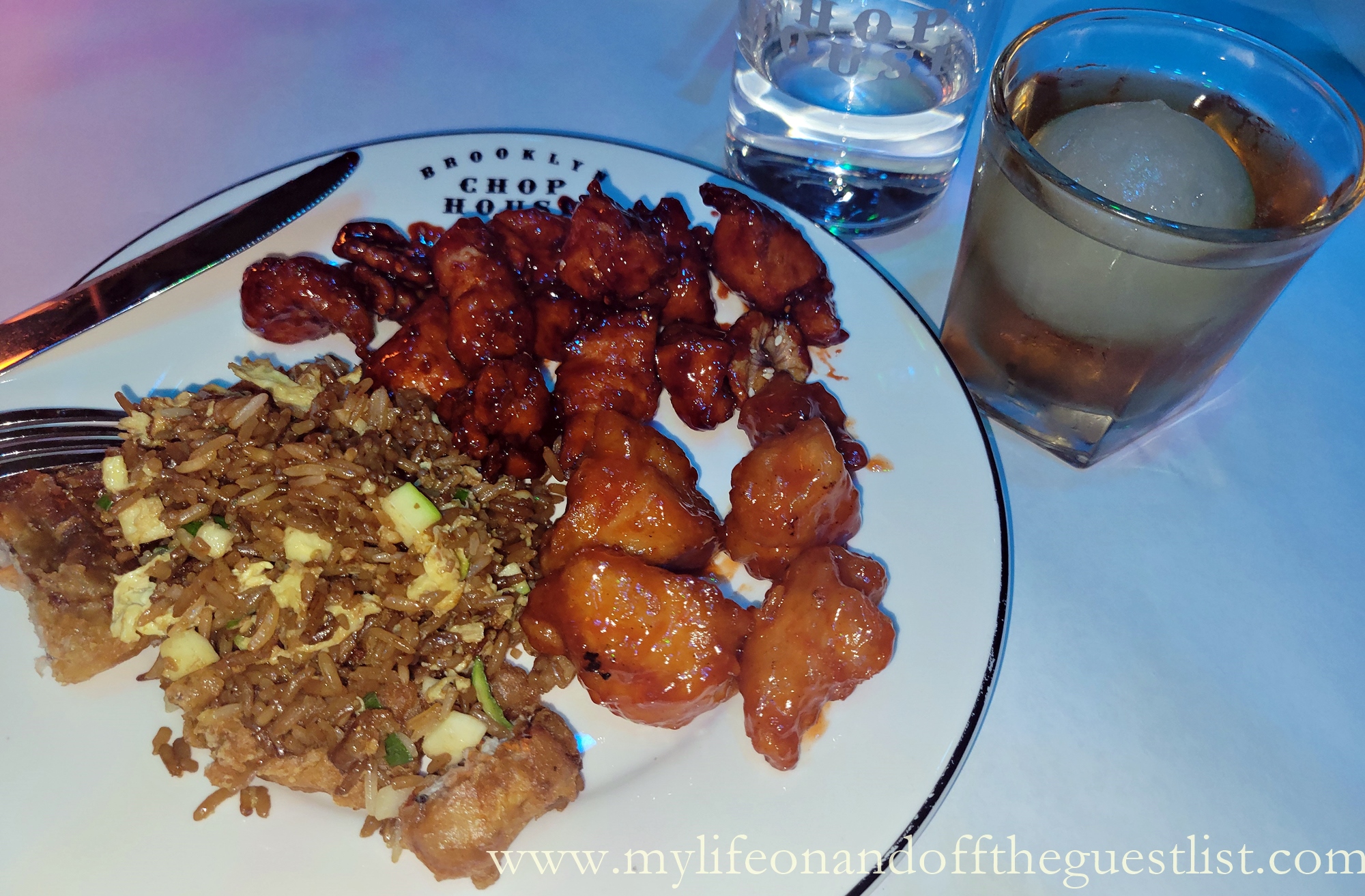 We're not overstating when we say, we absolutely enjoyed everything but our meal standouts were the Sweet Black Bean Beijing Chicken and the Crab Fried Rice (on the sides-for-two menu). If we had the choice to live on one dish alone, this combination would happily be it.

The Brooklyn Chop House's Sweet Black Bean Beijing Chicken was the perfect fusion of peppery sweetness and a savory explosion of flavor. Add in the fact that it's gluten-free and you're in culinary heaven. The Crab Fried Rice is not your typical boring fried rice. Say hello to Brooklyn Chop House's immaculate Soft Shell Crab Fried Rice. The flavor and texture are divine and paired so perfectly with the spicy sweetness of their Sweet Black Bean Beijing Chicken. This is a combination we fully intend on experiencing again. Fans of Sweet & Sour Chicken will be very happy with this classic; this mainstay entree will not disappoint.
DESSERT
CRISPY APPLE WONTONS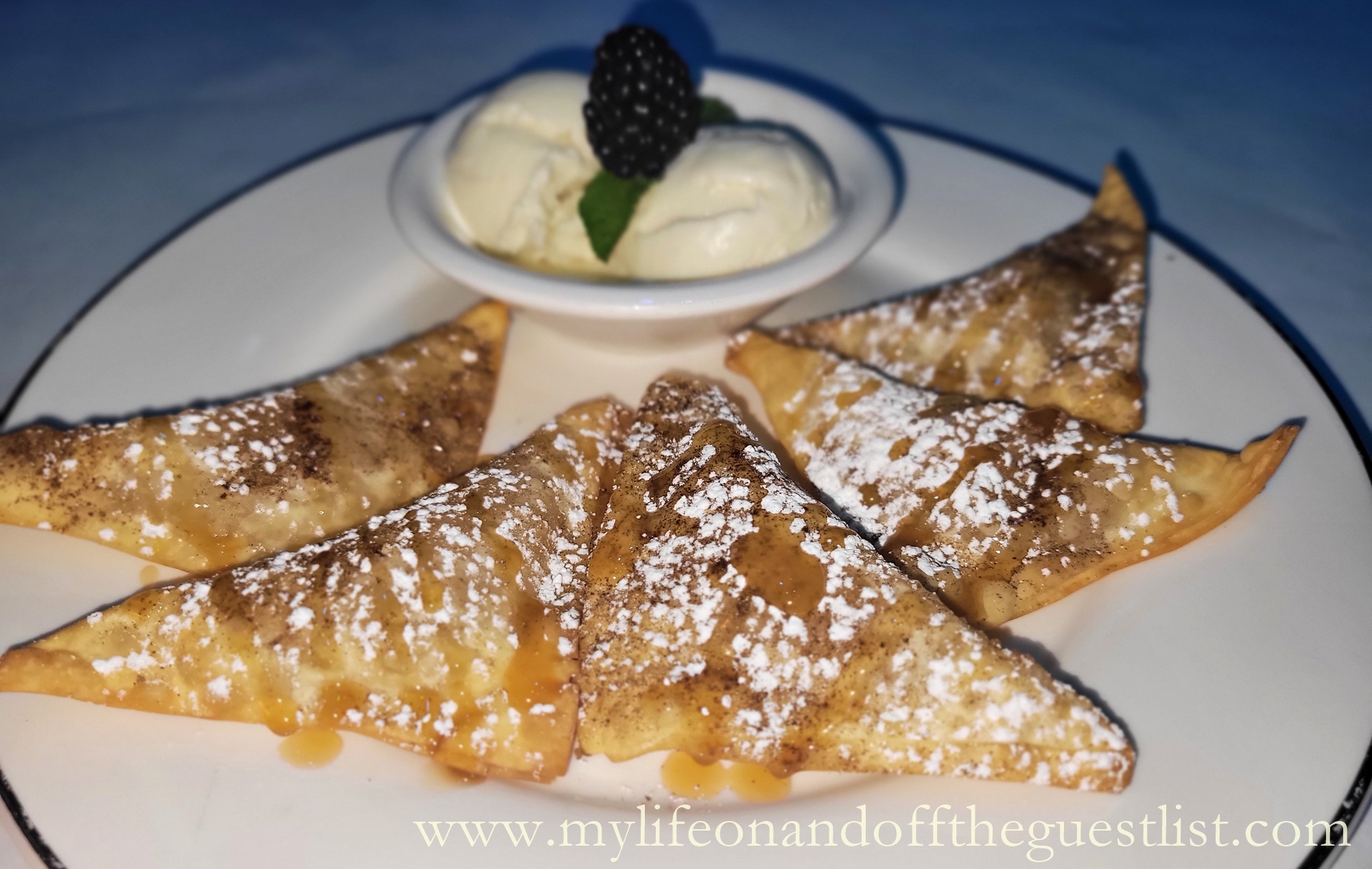 The little bit of room we had left, we saved for dessert and we were very happy we got to enjoy this twist on apple turnovers served a la mode. Dusted with powdered sugar and drizzled with what we believe is a light caramel sauce, this dessert is a decadent must. Even if you don't have room for dessert, you should make room for this palate pleaser. Our entire meal experience reminded us what a culinary delight NYC is. Whether you're looking to rediscover your hometown of New York or just visiting, we highly recommend you pay Brooklyn Chop House Times Square a visit.
Brooklyn Chop House Times Square is located at  253 West 47th Street; visit www.brooklynchophouse.com or call (212) 619-1210 for more information.