Calling all NY Yankees fans. Although you still have to go to the Bronx to catch a game, when it comes to Yankees memorabilia, a trip to midtown Manhattan is all it takes. For those looking for a little bit of big league action without trekking all the way up to the Bronx, must check out the NY Yankees Steakhouse, located a block away from Rockefeller center. This baseball fan favorite restaurant provides an upscale all-American steakhouse dining experience while you're surrounded by official Yankees treasures.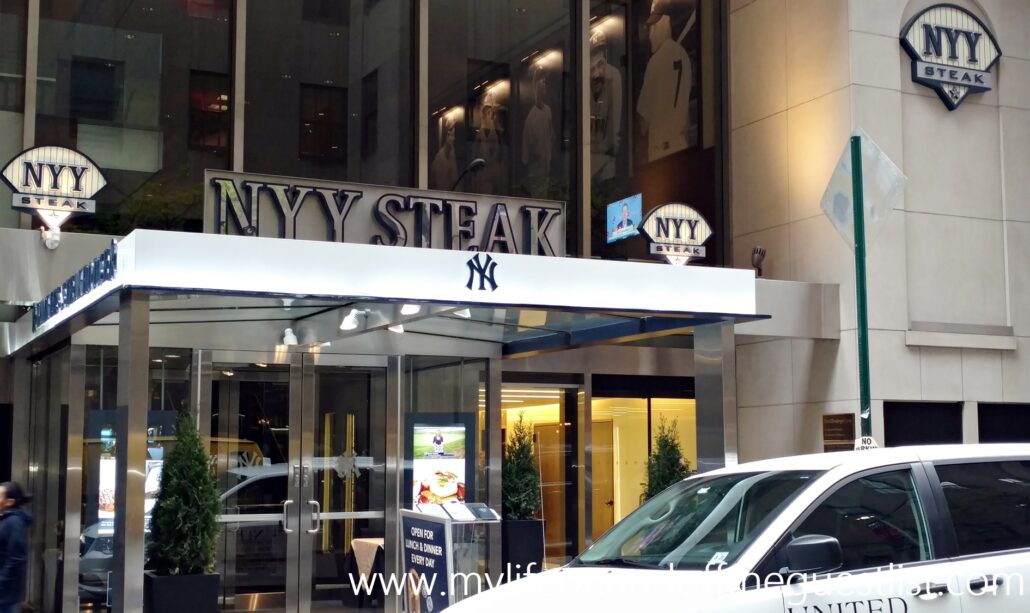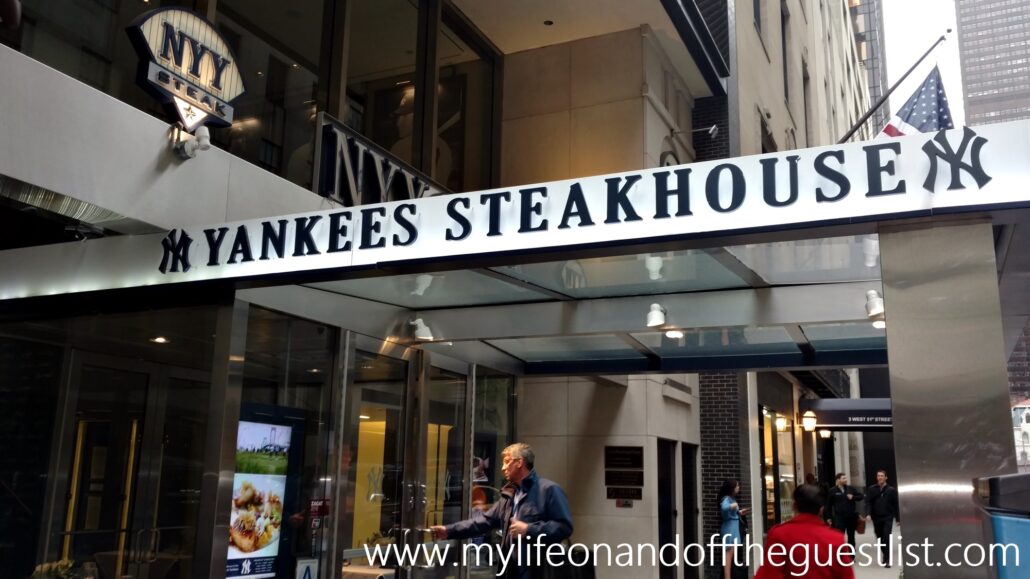 The NY Yankees Steakhouse is the only place in Manhattan where guests can cross home plate upon entry into the restaurant with a newly installed official game-used home plate surrounded by infield dirt from the original Stadium, they can also see the priceless World Series rings from all twenty-seven Yankees championship teams dating back to 1923, and the official trophies from the 1996 and 1998 World Series.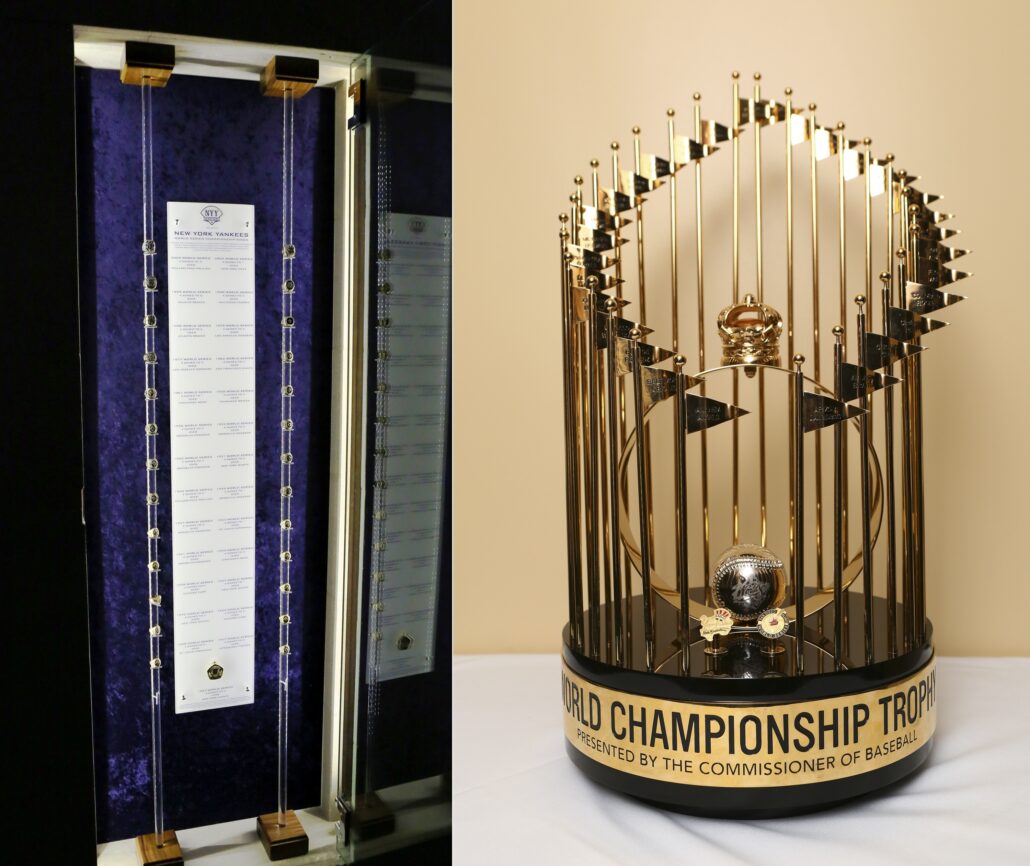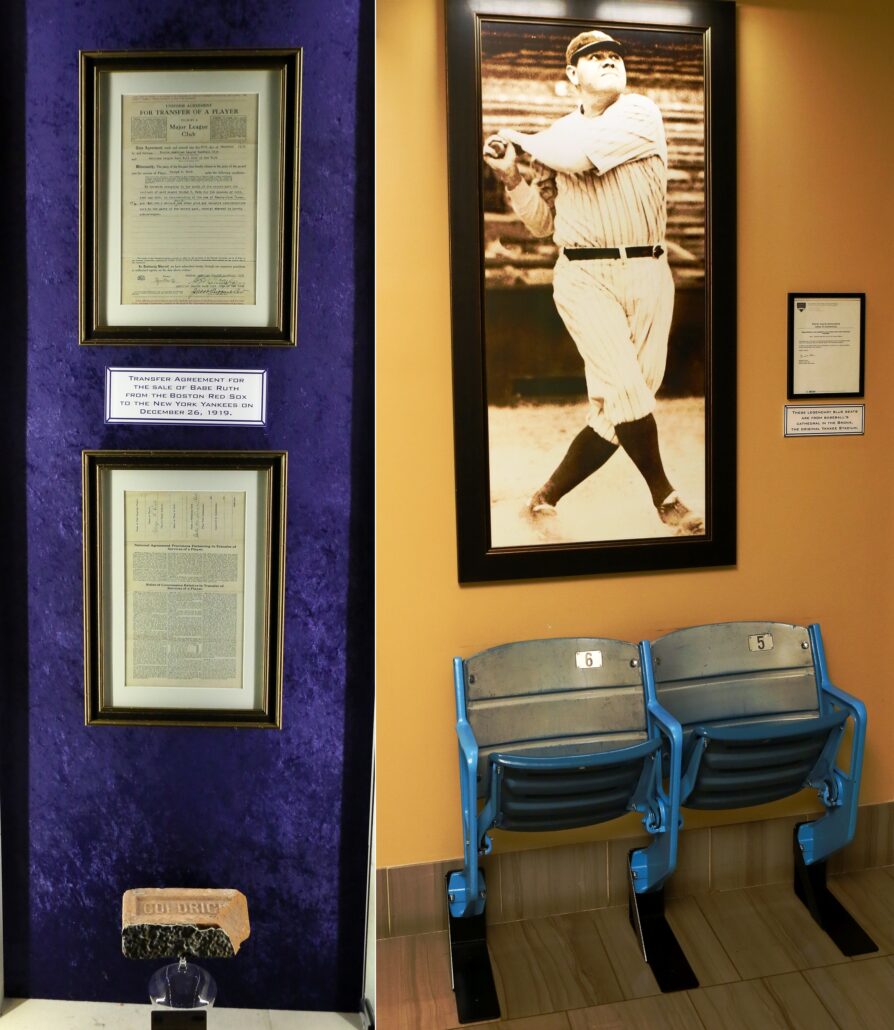 Some of the other new Yankees treasures that Yankees fans can ogle at the midtown steakhouse include:
Two World Series trophies representing the 1996 and 1998 championships

A framed and signed Babe Ruth bill of sale from the Boston Red Sox to the New York Yankees – the beginning of the "Curse of the Bambino!" The case also includes an authentic brick from the original Yankee Stadium which dates back to the 1920's.

A centerpiece paying homage to the" Core 4" including autographed, game-used bases from their final season or the day their number was retired:

Derek Jeter – game used 3rd base from 9/20/14, 6-7th inning

Jorge Posada – game used 1st base from 8/22/15, 4th inning

Andy Pettitte – game used 3rd base from 8/23/15, 5th inning

Mariano Rivera – game used 1st base from 9/24/13, 2nd inning

Legends Bat Case' including autographed bats from Derek Jeter, Yogi Berra, and ten other New York Yankees' legends

Four autographed & framed jerseys representing New York Yankee greats Joe Torre, Don Mattingly, Reggie Jackson and Bernie Williams

Two original stadium seats for guests to sit in and take photos

Two authentic signs from the original Yankee Stadium which were used to direct fans to their seats.

Two jumbo TV screens that bookend the elegant wine case, with the New York Yankees games on full display.
To celebrate the all-star lineup of never-before-displayed New York Yankees memorabilia, the spacious steakhouse held an event to tour the restaurant and its memorabilia showcase. Attendees included media, Yankees fans, and former Yankees greats, Cecil Fielder, Mickey Rivers and Charlie Hayes (pictured below):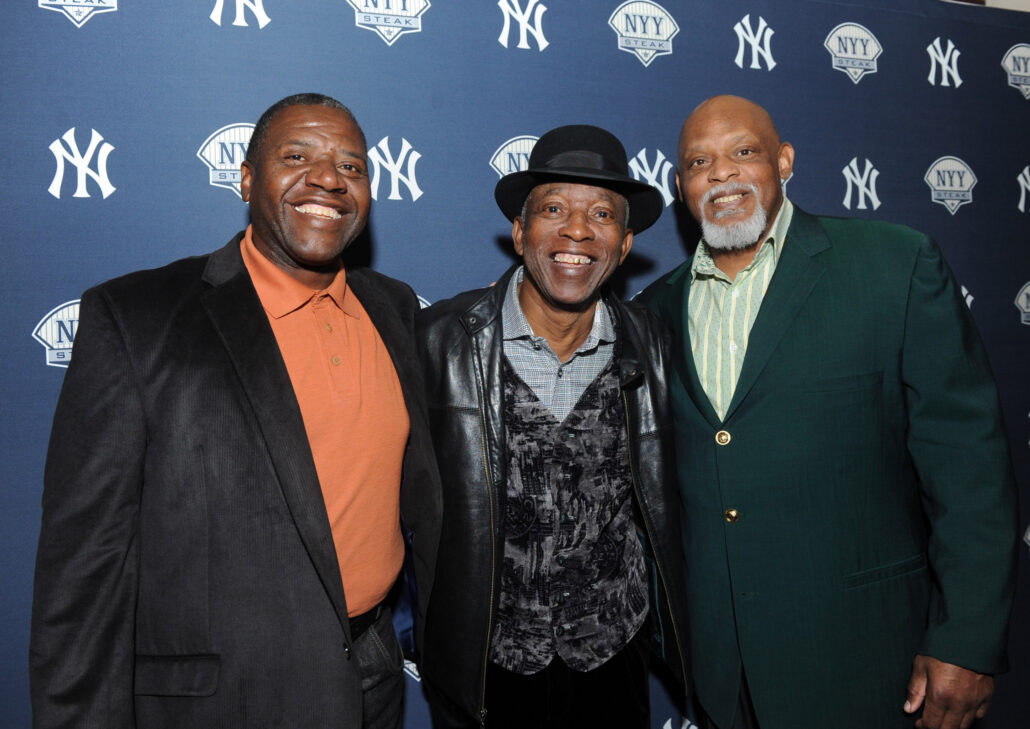 Attendees also had a chance to enjoy the delectable cocktails and food offerings from the NY Yankees Steakhouse including the delicious Yankeetini, and Sour Smash cocktails (pictured below). we definitely advise you partake in these two wonderful drinks, but if wine is your preferred drink of choice, the NY Yankees Steakhouse also boasts an impressive list of nearly 300 wines from around the world.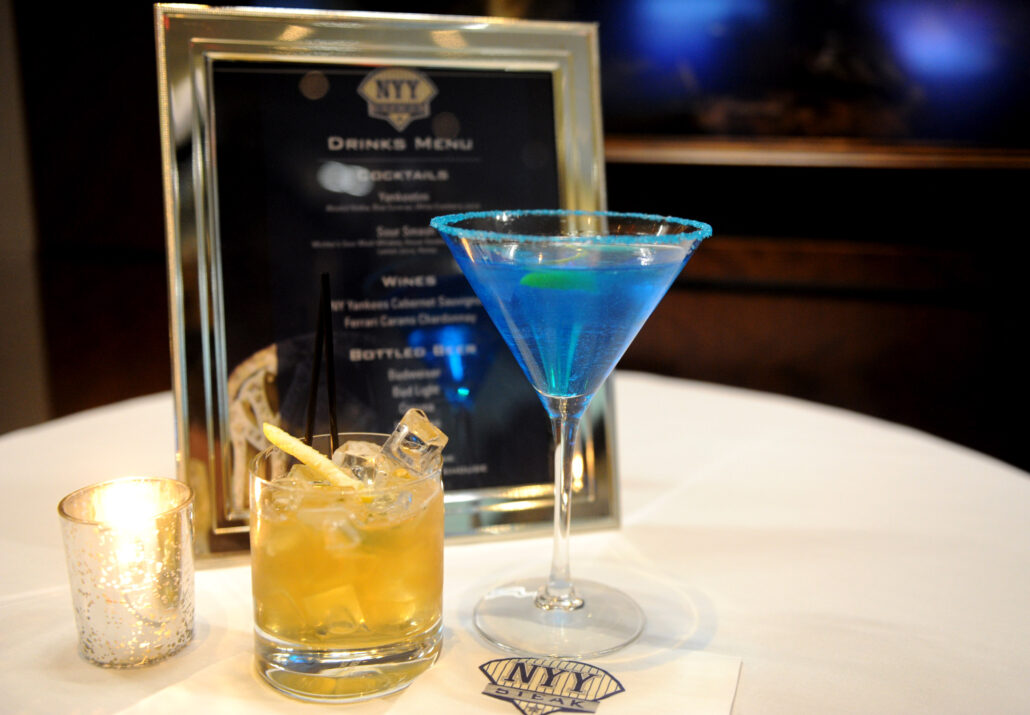 NY Yankees Steakhouse offers a delicious menu including tantalizing appetizers, five-star seafood, USDA Prime steaks and specialty entrees such as the 27oz dry-aged Long Bone Ribeye. Guests can have their Ribeye bone personalized by the chef to make the meal just as memorable as the experience; an example is shown below in the event's customized Ribeye bone, which paid homage to the Yankees' 27 World Series Championships.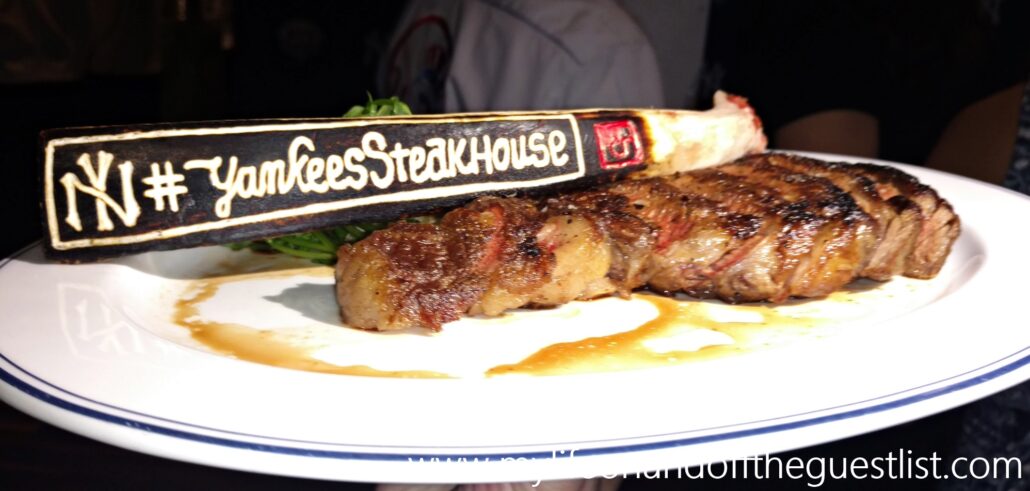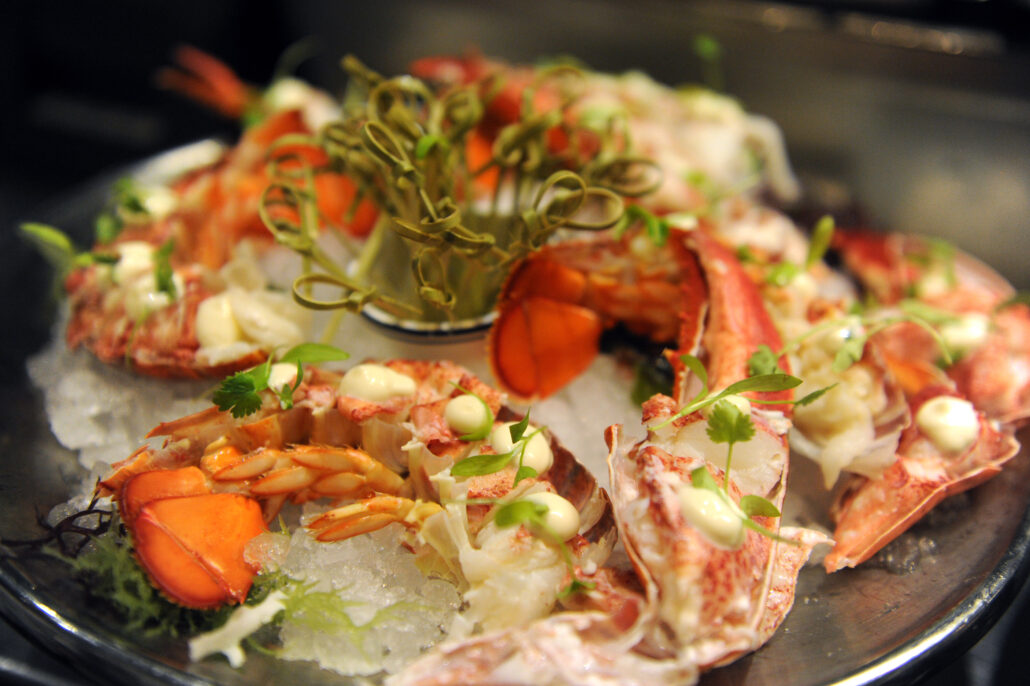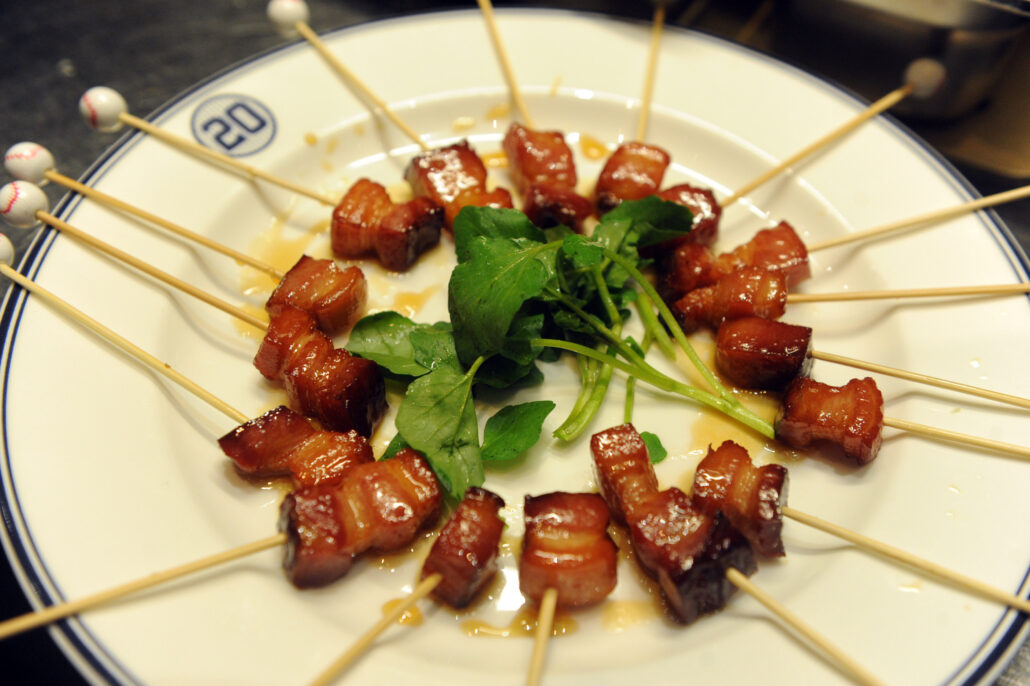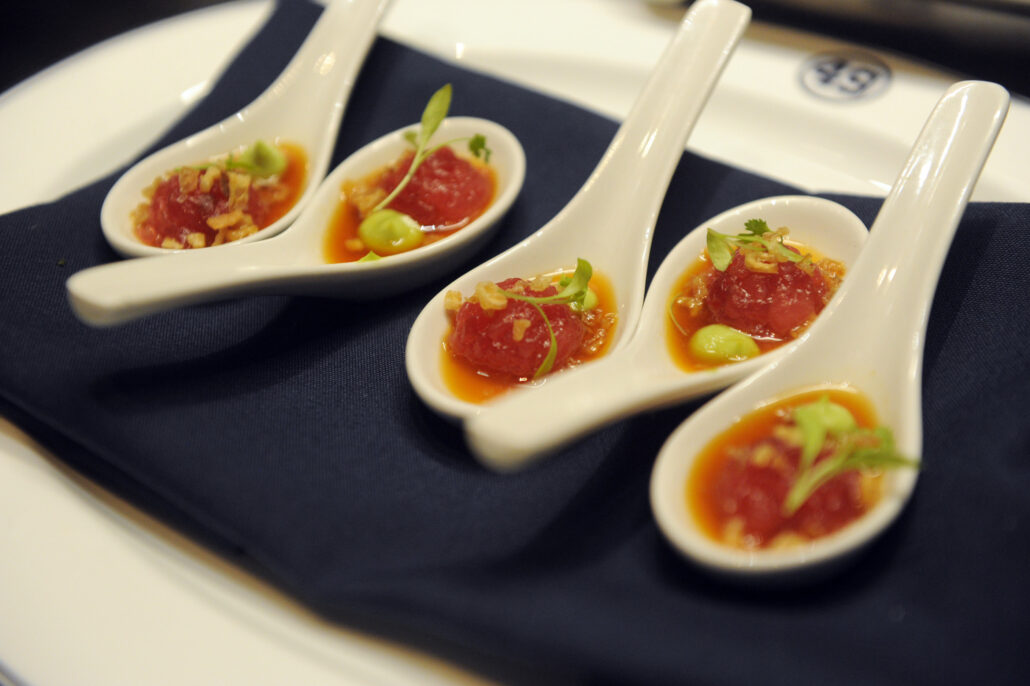 If you're a Yankees fan who wants to enjoy the game and a great dinner experience at a location that's much more than just a typical sports bar, we recommend heading over to 7 W 51st Street and indulging in all the pinstripe glory.