I'm quite sure there's some historically significant importance behind Cinco de Mayo. However, why is it, like every other holiday where you don't necessarily have the day off, that drinking a bevy of cocktails takes celebratory precedence? Perhaps a reason to substitute gooey cake and party games for a heavy-handed aperitif and dabbing, is due to the fact that when life became 'real', there became a greater desire to have occasions to celebrate with Sauza Tequila. No excessive thinking, just celebration, and revelry!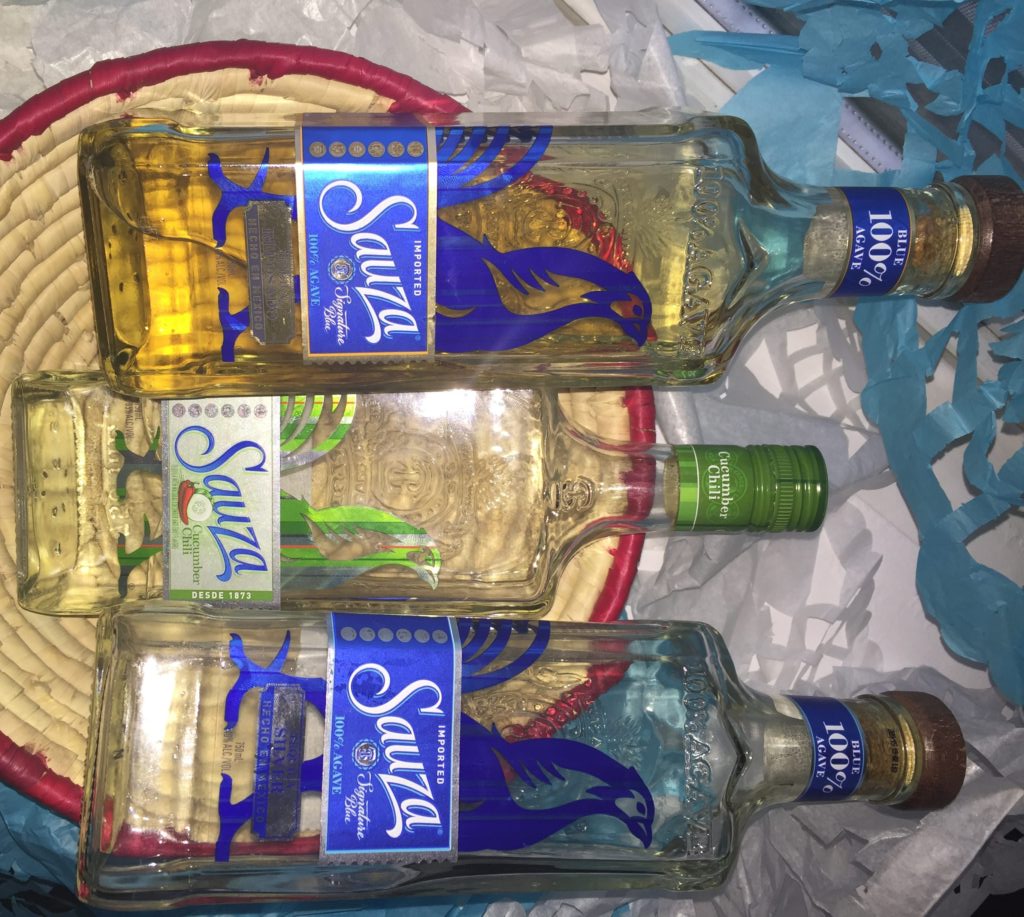 Ironically enough, that got me to thinking. How could I 'Cinco' differently?  I had to face the fact that my evenings to cut loose after work, came few and far between, so I had to explore what I could do to truly capitalize on the festivity of my Cinco de Mayo. Then it hit me. If Cinco de Mayo is a whole day then why just celebrate after work?  So I found some inspiration with three of the smooth sharp varieties from one of my favorite tequila brands, Sauza Tequila, and decided to create a brunch, appetizer and dinner cocktail menu for my Cinco entertaining.  The following three Sauza Tequila cocktail creations are how I Cinco Con Sauza!
Brunch Cocktail with Sauza Cucumber Chili Tequila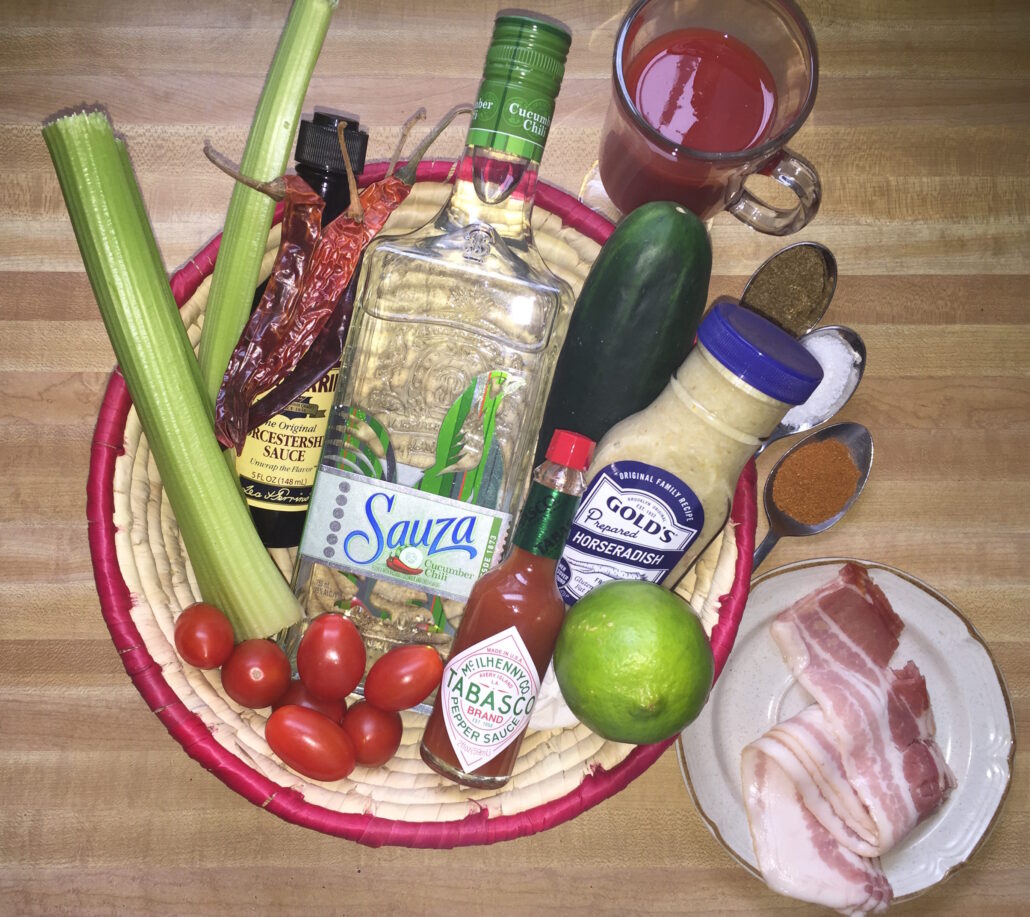 Bloody Maria's Blushing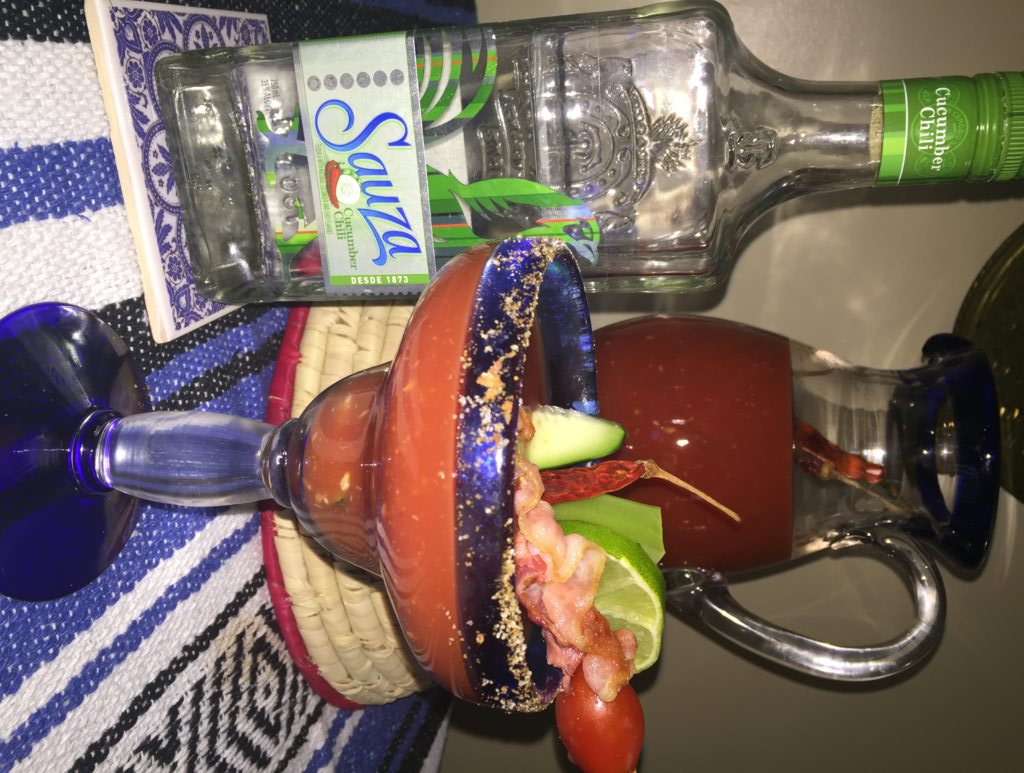 1/2 cups Sauza Cucumber Chili Tequila
24 oz        Tomato Juice
1 tbsp       Tabasco Sauce
1/2 tsp      Chili Powder
1 tbsp       Worcester Sauce
2 tbsp       Prepared Horseradish
3/4 tbsp   Celery Salt
    1               Lime
    1               Cucumber Slice per glass for garnish
    1              Grape Tomato per glass for garnish
    8             Dried Chili Peppers (one per glass for garnish)
    1              Celery Stalk per glass for garnish
    3             Strips of Bacon (1 whole bacon strip/per glass for garnish)
Prep Time: 15-20 mins, with varying times depending on bacon prep method (serves 4-5)
Combine the tomato juice, Tabasco Sauce, chili powder, Worcester sauce, Prepared horseradish, celery salt, and Sauza Cucumber Chili Tequila into a glass canister. Stir then press the juice of one lime into the mixture. Refrigerate for about 1/2 hour. Pan fry or microwave one strip of bacon on a skewer. Separately pan fry or microwave two additional strips of bacon to a very crispy state, remove and pat dry then crumble finely and mix with a tablespoon of celery salt on a small plate. Rub lime around the rim of your serving glasses and roll the salt/bacon mixture around the edge. Pour in cocktail mixture and garnish glasses with a slice of lime, slice of cucumber, the celery stalk, one dried chili and the grape tomato. Toss the rest of the dried chilis in the glass canister and you and your guests can enjoy a deliciously boozy drink inspired by my fave go-to cocktail to order for a bottomless brunch.
Appetizer Cocktail with Sauza Silver Tequila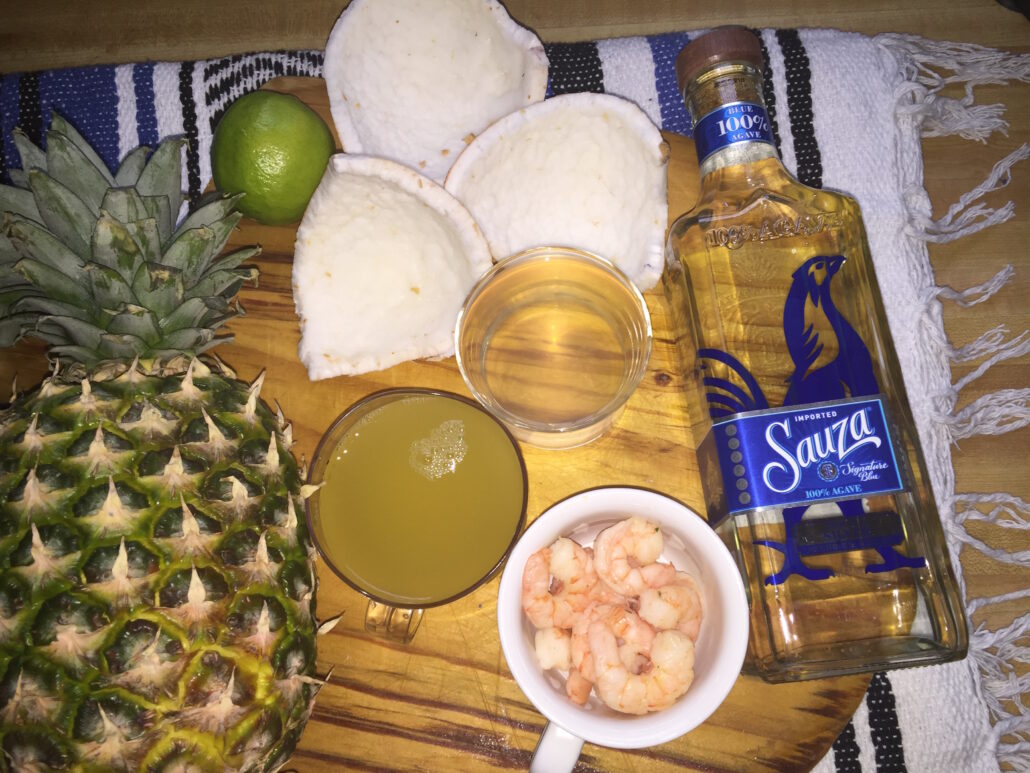 Shrimped With A Lotta Colada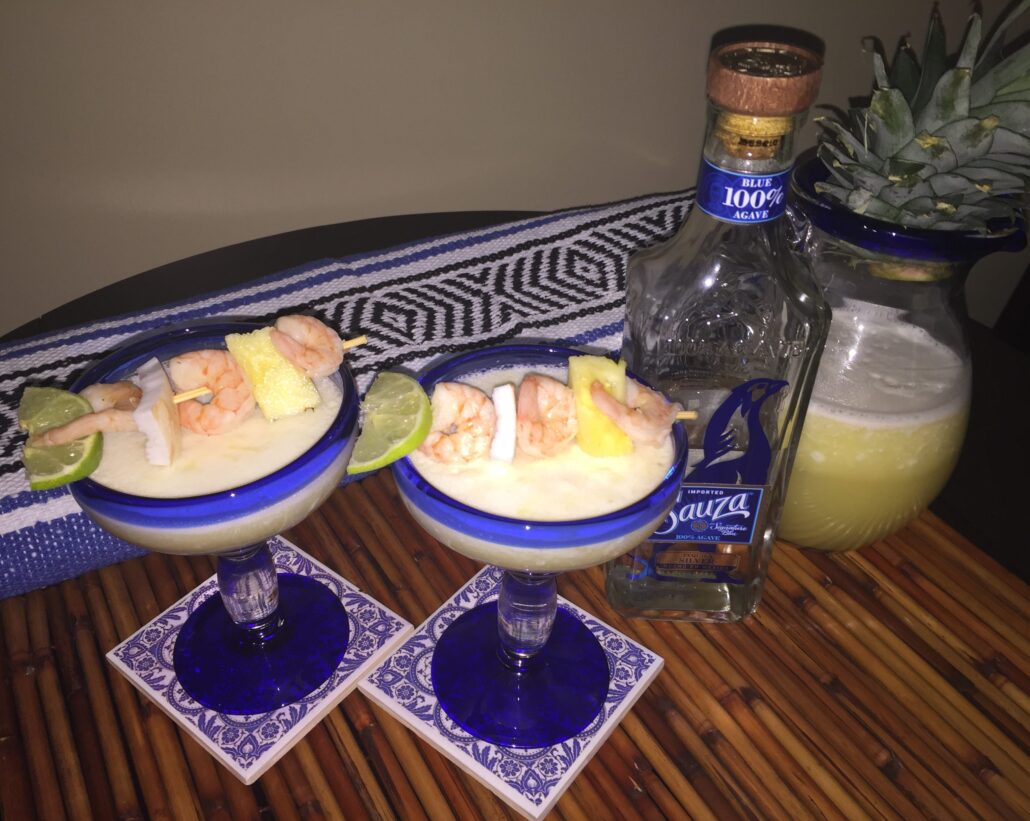 1 1/2 cups  Sauza Silver Tequila
1 cup          Chopped Fresh Coconut
1 cup          Chopped Fresh Pineapple
1/2 cup      Pineapple Juice
   1                 Lime
   6                Coconut Water Ice Cubes
    3              Cocktail Shrimps (per glass)
Prep Time: 20 mins/Note: The ice cubes take about a couple of hours to freeze fully (serves 4-5)
In a 40-oz Ninja Blender or conventional blender add chopped fresh coconut and chopped fresh pineapple then pineapple juice, the juice of one lime, the Sauza Silver Tequila and finally the coconut water ice cubes. Use a cutting blade rather than a mixing blade and blend the mixture for about a minute. Pour into serving glasses and garnish with a lime wheel, shrimp, cubes of pineapple and pieces of fresh coconut. Serve immediately and enjoy my version of a full island fruit flavored shrimp cocktail done up Cinco style with the crisp taste of Sauza Silver.
Dinner Cocktail with Sauza Reposado Tequila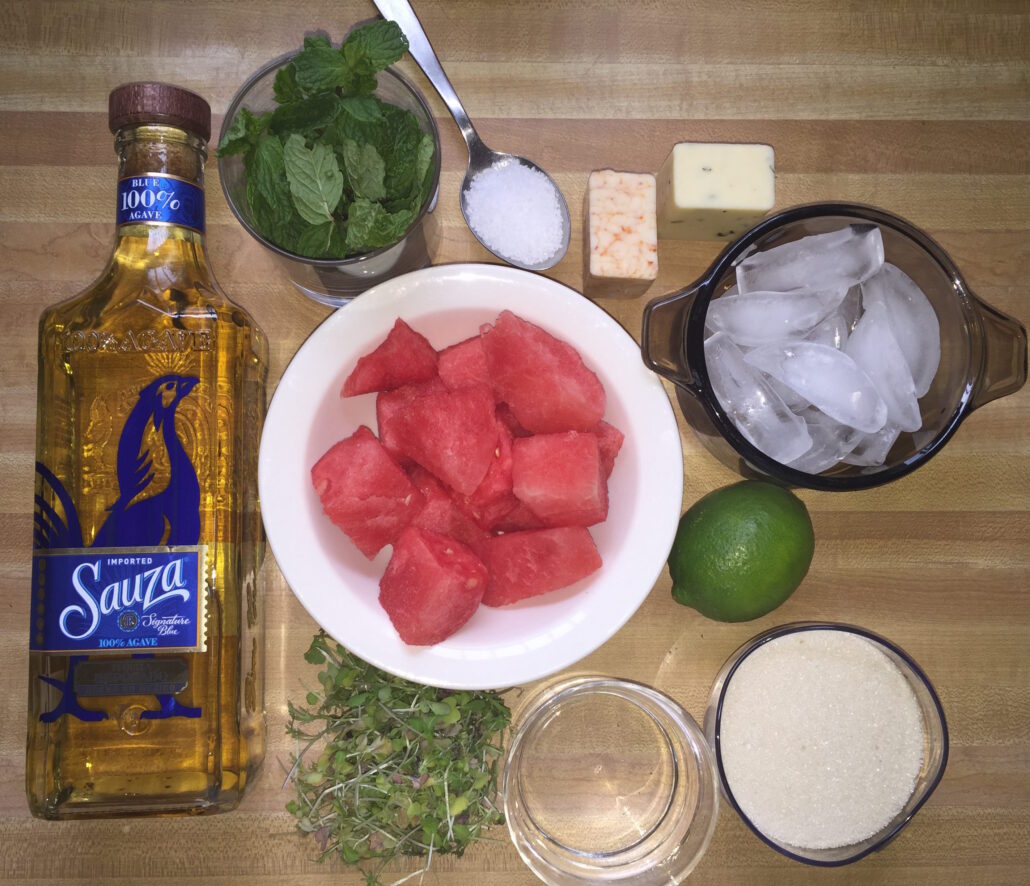 Cinco Salad Revived Margarita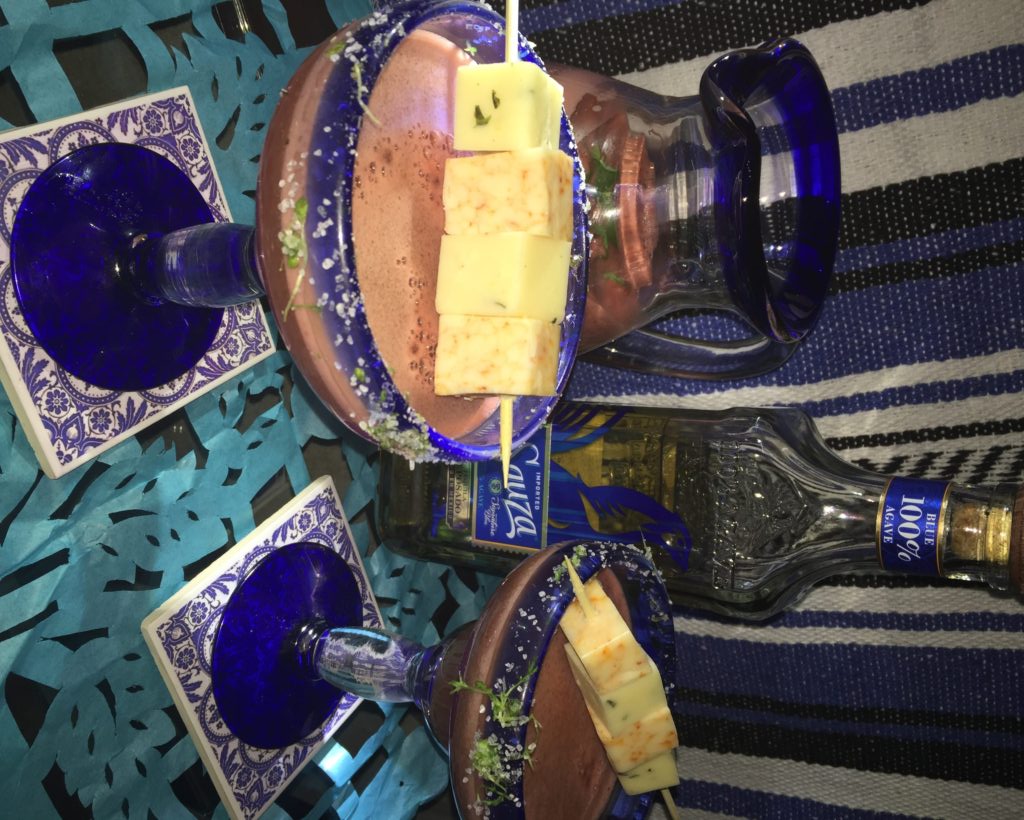 1 1/2 cups   Sauza Reposado Tequila
3/4 cup       Triple Sec
3/4 oz          Simple Syrup
2-3 cups      Fresh Watermelon Chunks
3-4                Whole Sprigs of Mint
1/4 cup        Spicy Microgreens
1 1/2 tbsp    Salt
4 cubes        Two Kinds of Assorted Cheeses (per glass)
     1                 Lime
1 cup             Ice Cubes
Prep Time: 15 mins if using already made simple syrup/ 30 mins if making simple syrup from scratch (serves 4-5)
Using a 40 ounce Ninja Blender or conventional blender combine fresh watermelon chunks and mint sprigs then add the Sauza Reposado Tequila, triple sec and simple syrup followed by the ice cubes. (Note: Simple syrup is just a cup of water and a cup of cane sugar brought to a boil then allowed to cool.)  Use the cutting blades and blend for about one minute. Prepare salt rim by very finely chopping the spicy micro-greens and mixing them with the salt on a small plate.  Rub lime around the rim of the serving glasses and rub the edges of the glasses in the mixture. Pour out the cocktail into the glasses through a cocktail strainer and garnish with two pieces of each of the two kinds of cheese cubed on a wood skewer. Serve immediately, and I hope you and your guests enjoy a remix of a fresh watermelon, mint and feta salad I enjoyed at a cool little restaurant in the East Village some years ago.
Clearly Sauza Tequila has my drink desires covered for however I choose to start my revelry tomorrow. The spicy cool kick of Sauza Cucumber Chili is fresh and inviting. The clean and vibrant taste of Sauza Silver Tequila is satisfying and versatile. Then the lively and weighted Sauza Reposado Tequila is briny and delish. Whether with a spicy zesty brunch, seaside island appetizer or fruity and fragrant light dinner, Sauza's bevy of tequila will ensure that it'll be no ordinary dia.
Sauza Tequila is available at your finer liquor and alcohol stores and please, as always, remember to drink responsibly this Cinco de Mayo!