We've been so busy transitioning our wardrobe from summer to fall, we forgot about another important seasonal switch that has to be made, the transition of our cocktails from summer flavors to fall flavors. We had the pleasure of attending a Pinnacle Vodka event celebrating fall cocktails, and the launch of their new original vodka bottle design (pictured on the left), hosted by charming Charleston Blogger, Chassity Evans.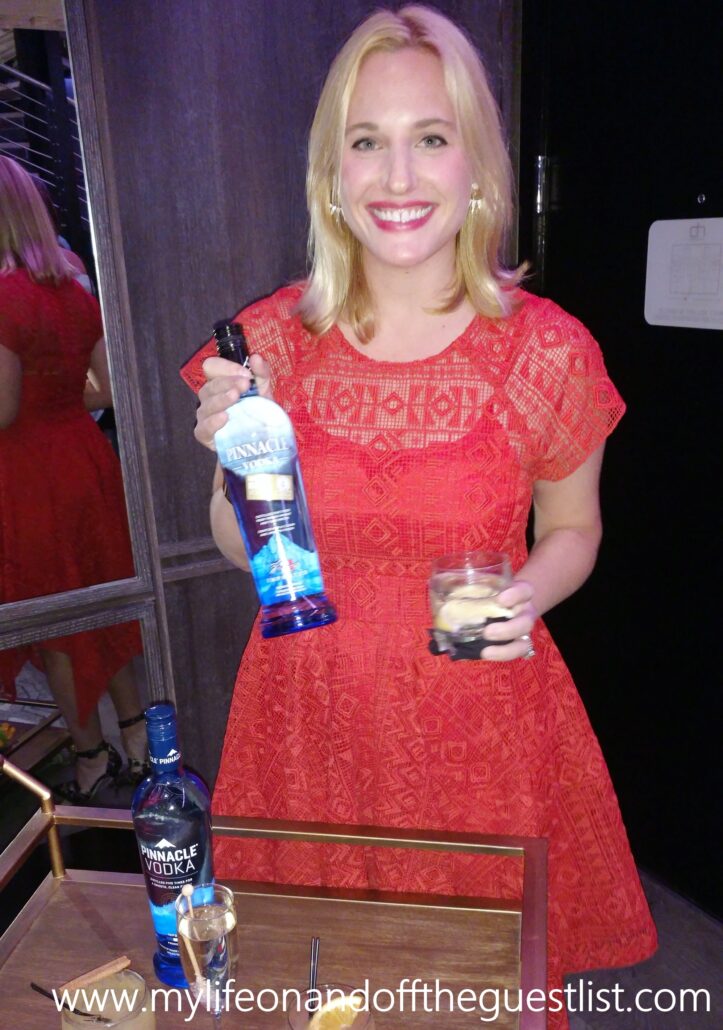 Great, fall-ready accessories are a must for great style, and the best fall accessory is a delicious cocktail made with Pinnacle Vodka. Chassity likes to change things up a bit by incorporating seasonal flavors like in the Cranberry Punch cocktail (the recipe and the two others we enjoyed at the event are featured below). A favorite at the event, this spiced up version of a popular summertime punch includes the award-winning, five-times distilled and made with imported French vodka and a hint of vanilla, Pinnacle Original Vodka.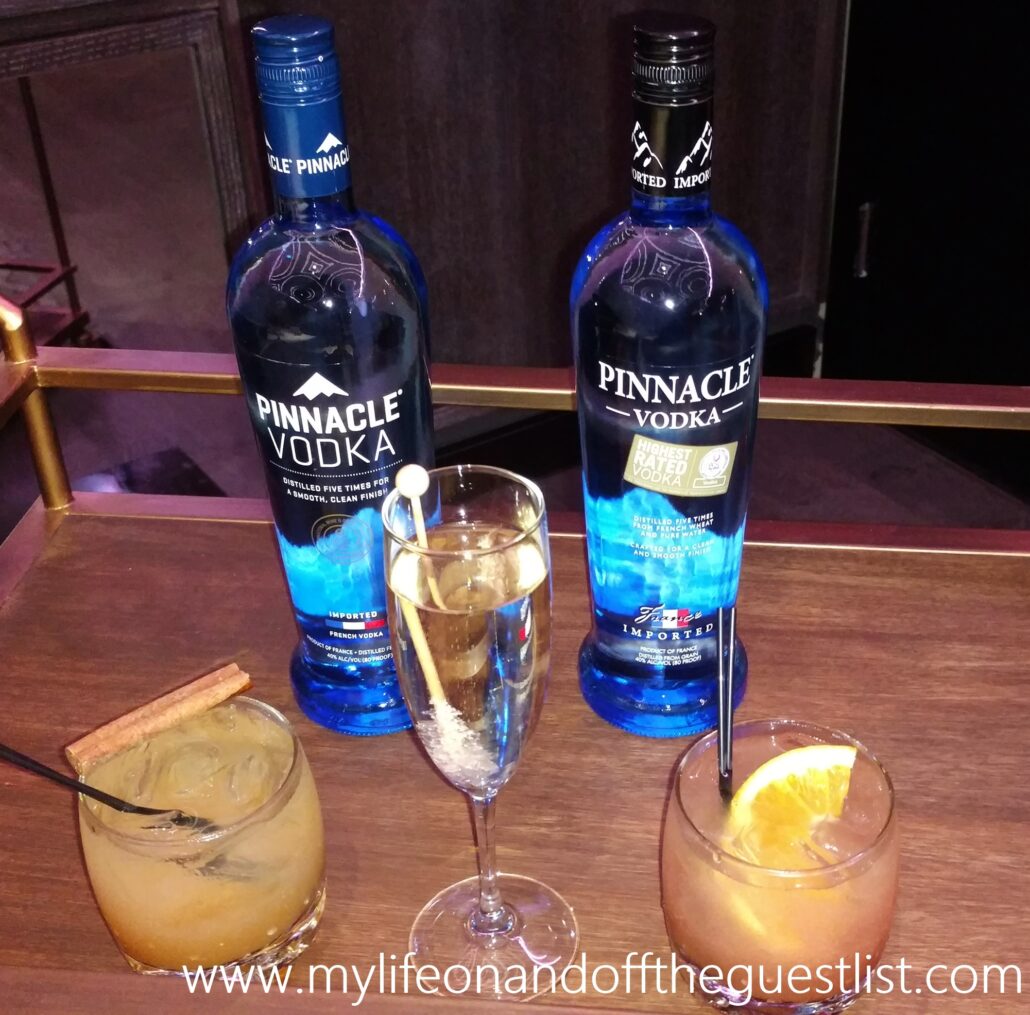 In order of appearance in the photo above, the must-try Pinnacle Vodka fall cocktails are as follows:
Apple Cider Sipper
2 parts Pinnacle® Original Vodka
6 parts apple cider
Cinnamon for garnish
Pour vodka into a glass, then fill the rest of the glass with apple cider. Garnish with cinnamon stick.
Bubbly Bliss
1 part Pinnacle® Original Vodka
2 parts Champagne
Rock Candy Stick
Pour vodka into a champagne flute and then top with champagne. Garnish with a rock candy stick.
Cranberry Punch*
2 parts Pinnacle® Original Vodka
1 part DeKuyper® Triple Sec Liquor
3 parts cranberry juice
6 parts ginger ale
2 parts orange juice
Sprinkle of cinnamon allspice
Sprinkle of nutmeg
Sprinkle of sugar
1 orange slice
Add the first five ingredients to a punch bowl or pitcher and stir. Then add spices to taste, and garnish with an orange slice. *Serves 3-4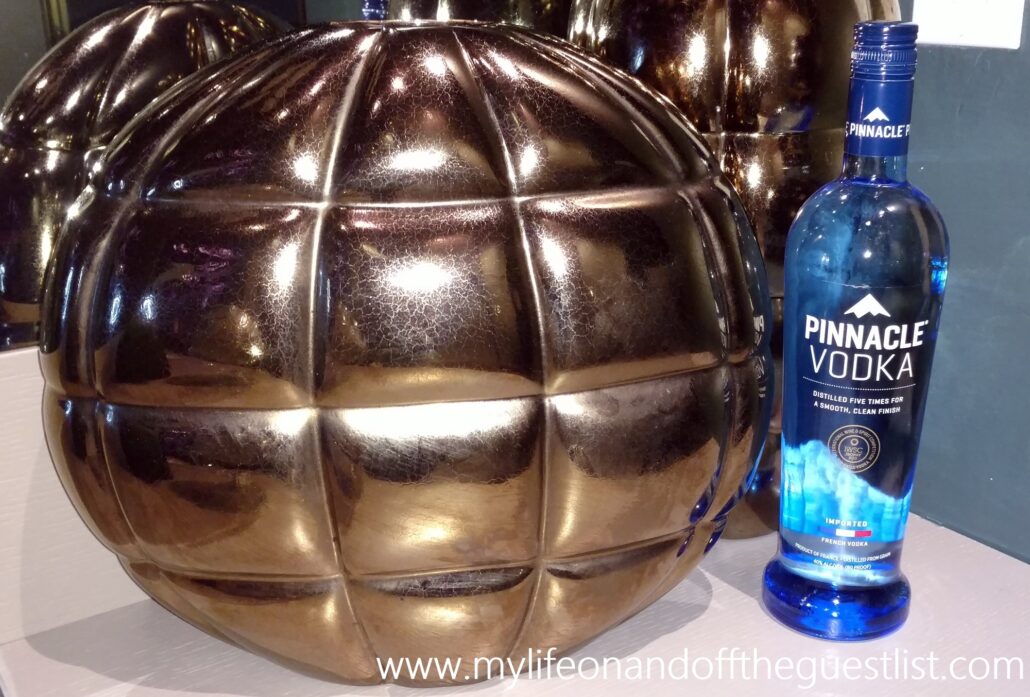 The new Pinnacle Original Vodka bottle design features a more polished and refined look. This new bottle encapsulates the clean and smooth profile of Pinnacle Original Vodka. Along with enjoying an unlimited supply of the delicious Pinnacle Vodka fall cocktails, we drooled over the gorgeous accessories from Bauble Bar, and  also took note of some of Chassity's wonderful tips and tricks for fall accessorizing. Check them out below: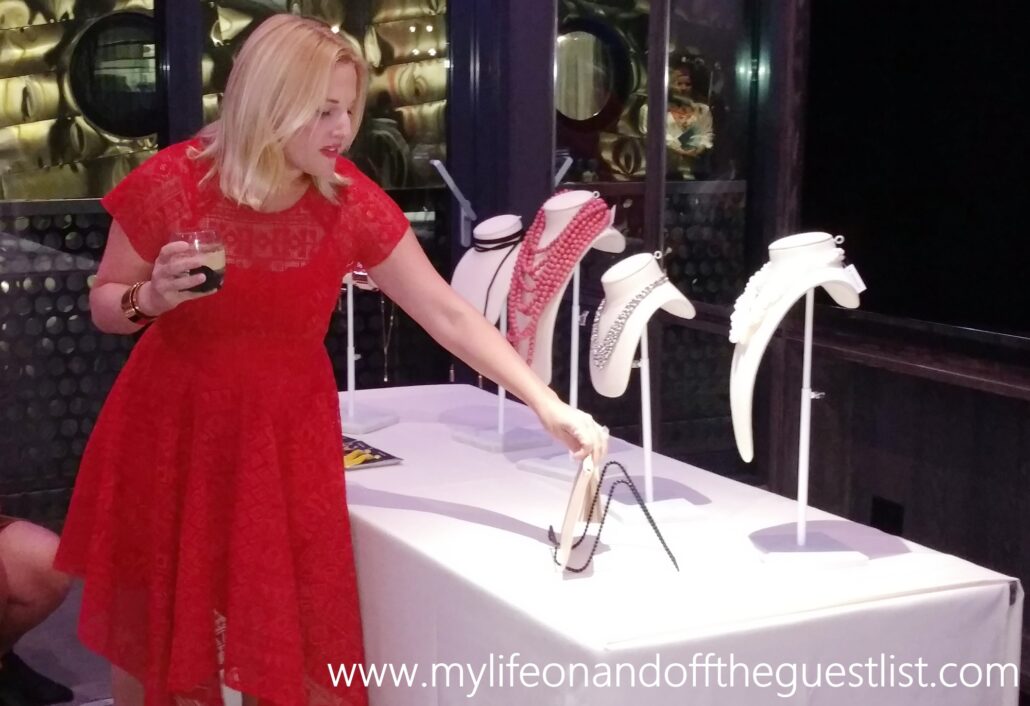 Swap out your beach tote for a leather clutch. Chassity is a fan of this creamy tassel leather clutch, perfect for transitioning from the office to cocktails with friends after work.
Summer may be over but your accessories can still be colorful and feature materials that pair perfectly with sweater weather! Chassity loves the Bauble Bar drop earrings, which have a little color and texture, they're perfect for fall.
Gold accessories are always "in" for autumn, so Chassity recommends pairing a gold structural cuff – a piece that's a perfect complement to Sunday brunch with the girls or Monday's important client meeting.
What do you think of the new bottle design? What tips are you incorporating in your summer to fall fashion transition?