Three years ago, blogger buddy, Christine Ongsueng, an I had the pleasure of reviewing La Pulperia Hell's Kitchen. It's only fitting that we return to experience the menu of the La Pulperia Upper East Side location. Seafood savvy Upper East Siders have known about La Pulperia Upper East Side for four years. Now that the 2nd Avenue line is in full swing, it's easy for everyone else to get to the restaurant– it's right off of the 86th St. stop. Join us as we share our second experience from Chef/Owner Carlos Barroz and Victor Medina.
Atmosphere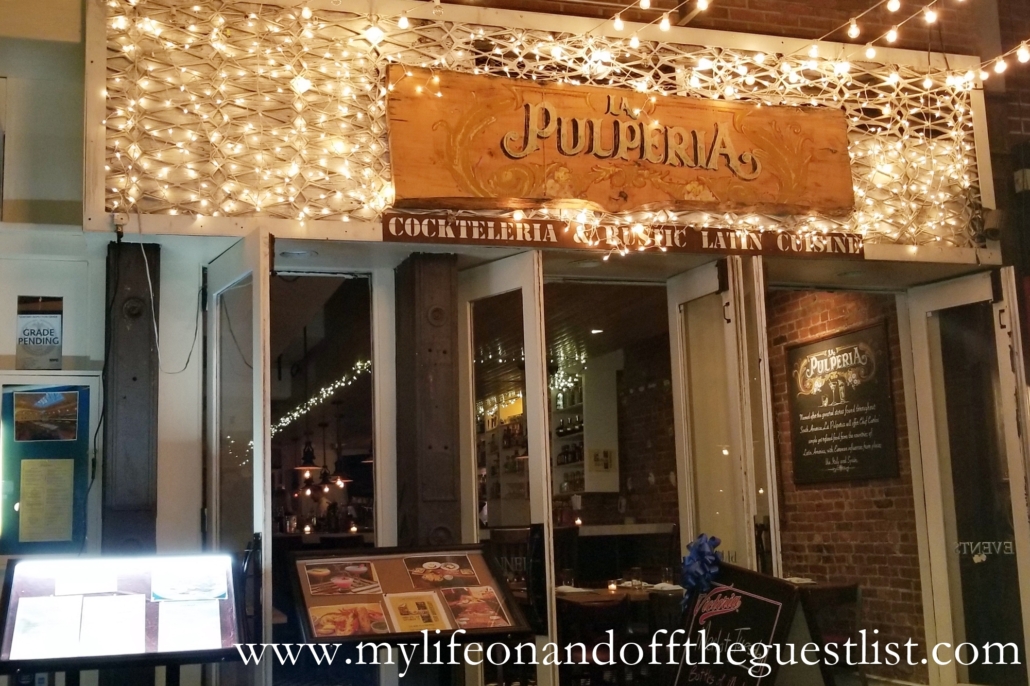 Unlike its sister location, the La Pulperia Upper East Side is spacious and airy, yet inviting and cozy. Named and designed after the general stores or pulperias of South America, the decor features accents of reclaimed Brazilian wood and handcrafted tiles from Mexico lining the bar floor.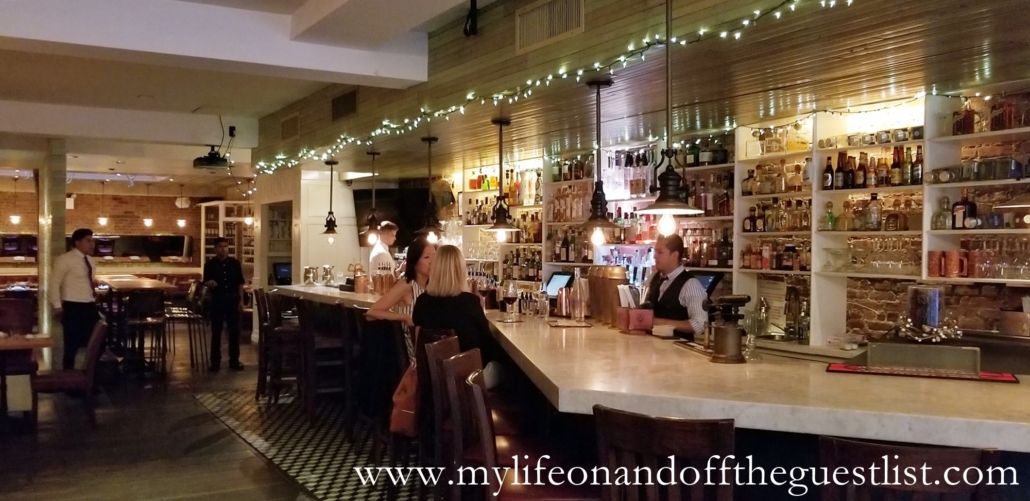 The front and bar area is a great meeting place for friends while the tables in the back make for a great date night option. The staff is as attentive as they are beautiful but you won't have to worry about them hovering. Dining at La Pulperia assures you for a night of complete sensory satisfaction. Our dining experience consisted of wonderful libations, delectable starters, and mouthwatering entrees. Unfortunately, we were too full for dessert
Cocktails
The Coquito Passion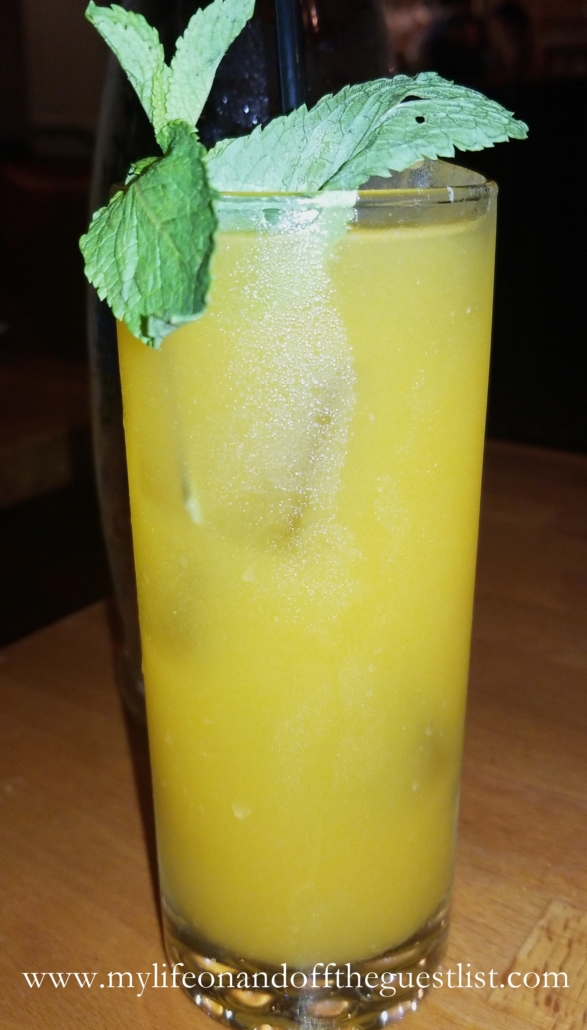 Christine: For something refreshing and lightly fruity, you can't go wrong with The Coquito Passion. Made with Bacardi Silver, Don Q Coconut Rum, passion fruit puree, agave nectar, and topped off with a sprig of mint, it's like a tropical paradise in a glass. I can't ever resist anything that mixes up rum, passion fruit, and agave. It was the perfect drink to imbibe on a balmy September night.
Upper East Side Lady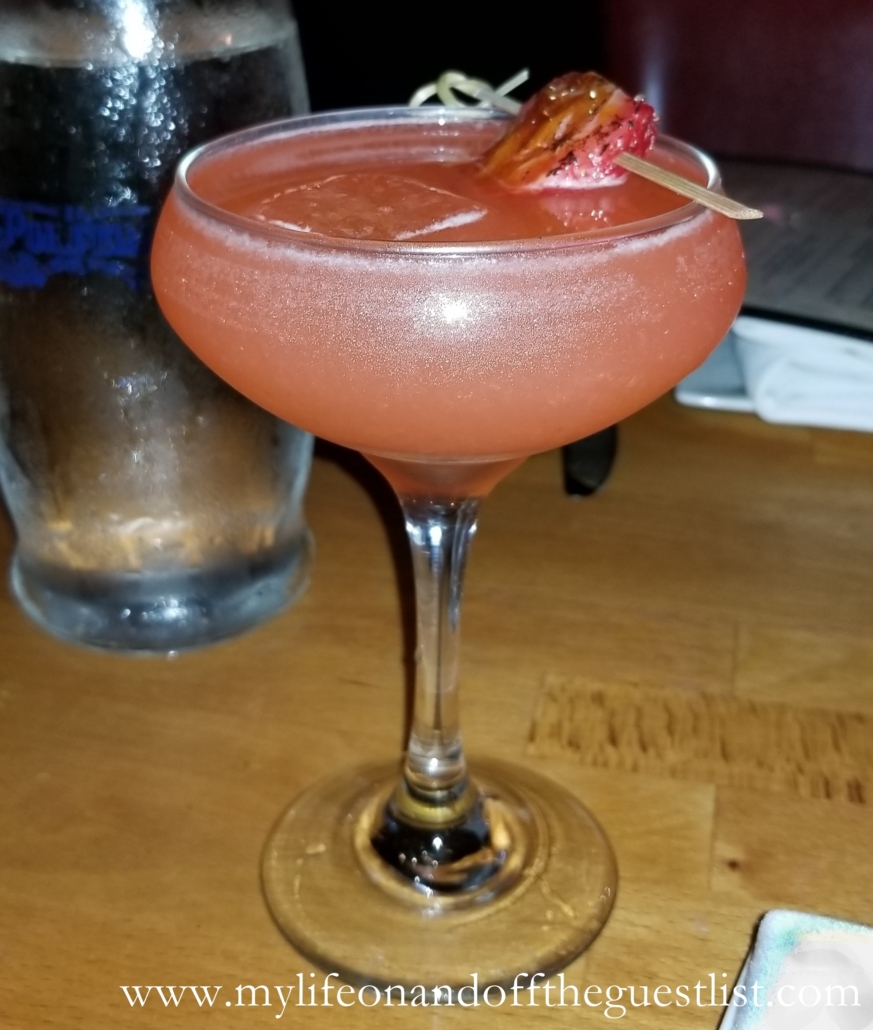 Glasgow: In celebration of the ending of summer, we wanted a cocktail that was slightly sweet yet a bit tart. The elegant Upper East Side Lady cocktail was a perfect choice. Featuring Strawberry infused gin, Elder Flower liquor, lavender nectar, and Gold flakes, this lightly floral cocktail was a great choice to start our evening.
Starters
Lobster Taquitos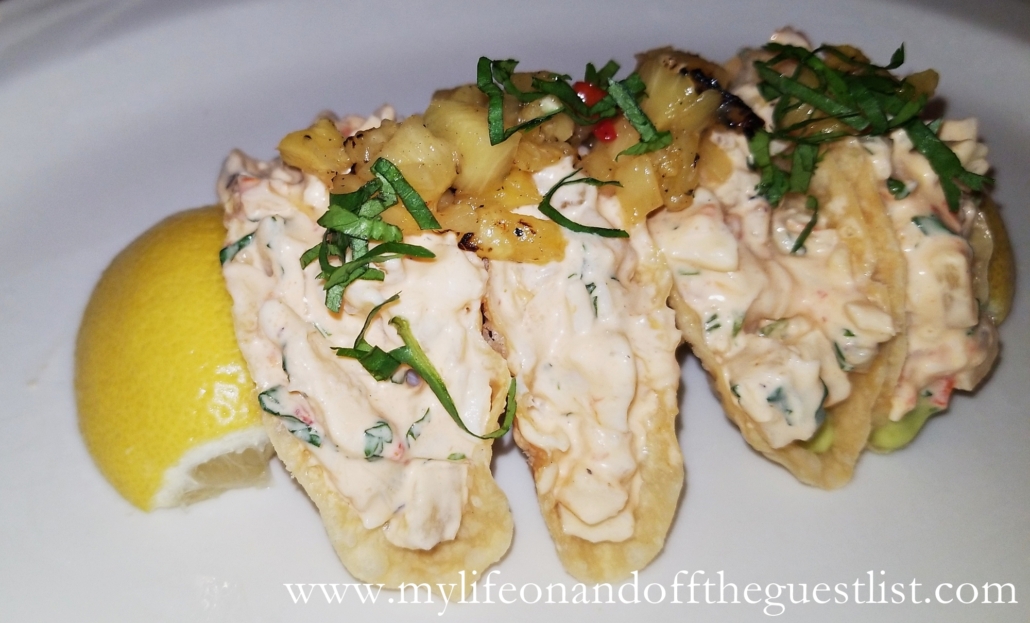 Christine: I usually shy away from things that are described as spicy but the operative, and convincing word here, was lobster. I love lobster and I was eager to try it enveloped in a crispy wonton taquito with some avocado cream and grilled pineapple. There is a bit of a kick to these due to the spicy Kewpie mayo. However, the citrus juices from the pineapple along with the equalizing and smooth avocado cream helped to offset the spiciness.
Glasgow: The seafood lover in me was in pure bliss. The combination of creamy avocado and spicy Kewpie mayo, the smoky sweetness of grilled pineapple, and fresh lobster was divinely enhanced with a generous squeeze of lemon. Although this starter was delicious on its own, the zest of lemon added another dimension to its flavor.
Fried Oysters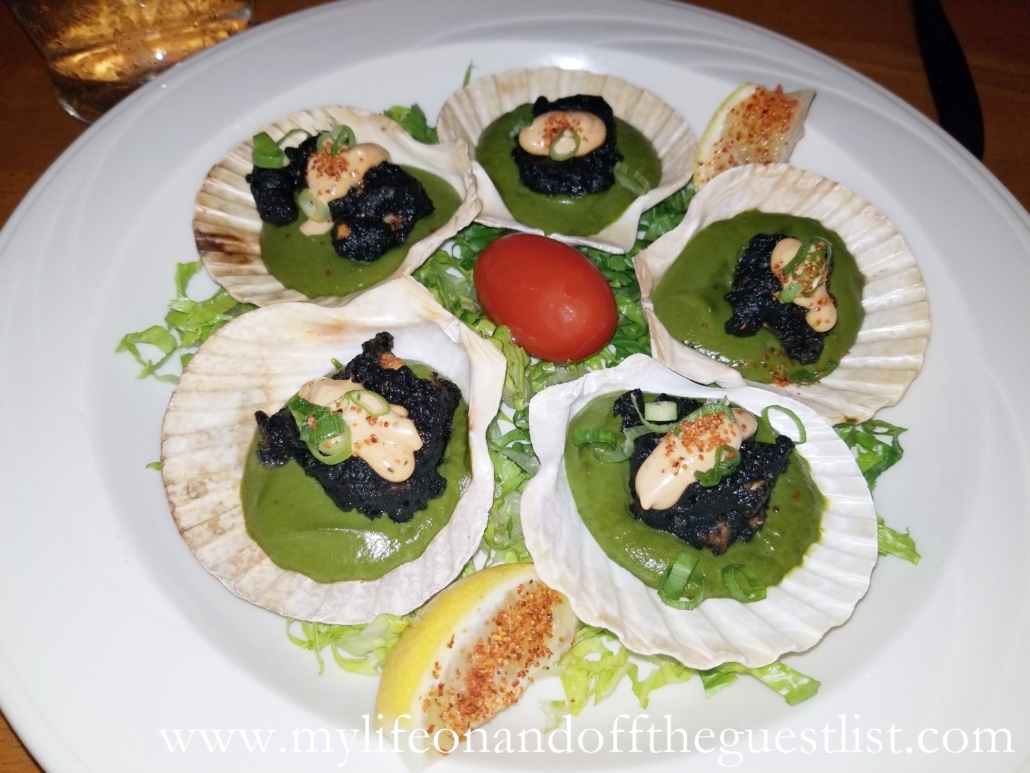 Christine: Determined to train my palette to more spicy dishes, we ordered this appetizer containing 5 black ink tempura-covered oysters that sit on top of a small dollop of spinach cream and topped with chipotle mayo, blue cheese, and scallions photogenically cradled in a shell-shaped serving dishes. Who would have thought that oysters would go so well with an almost mousse-like spinach topping? Be forewarned that the lightness of the spinach cream and mayo can be a bit deceiving. While contemplating the complex mix that overwhelms the blackened oysters, the spiciness permeates your taste buds and lingers long after you're done. For my next helping, I made sure to squeeze some lemon on top to cut back on the spicy mayo's attack… then again I could be just a wimp.
Glasgow: I have to admit that I had never tried fried Oysters before but I am so happy that La Pulperia Upper East Side was my first foray into this delicacy. As a fan of spice and spicy foods, every bite was bursting with the right amount of heat and flavor. The flavor and texture layers of Black ink tempura, cream spinach, blue cheese, and chipotle mayo is an exciting feast for your taste buds. I must also comment on our slight addiction to the amazing cream spinach the fried oysters are plated on. I can enjoy it on and with just about everything.
Entrees
Mocqueca Mixta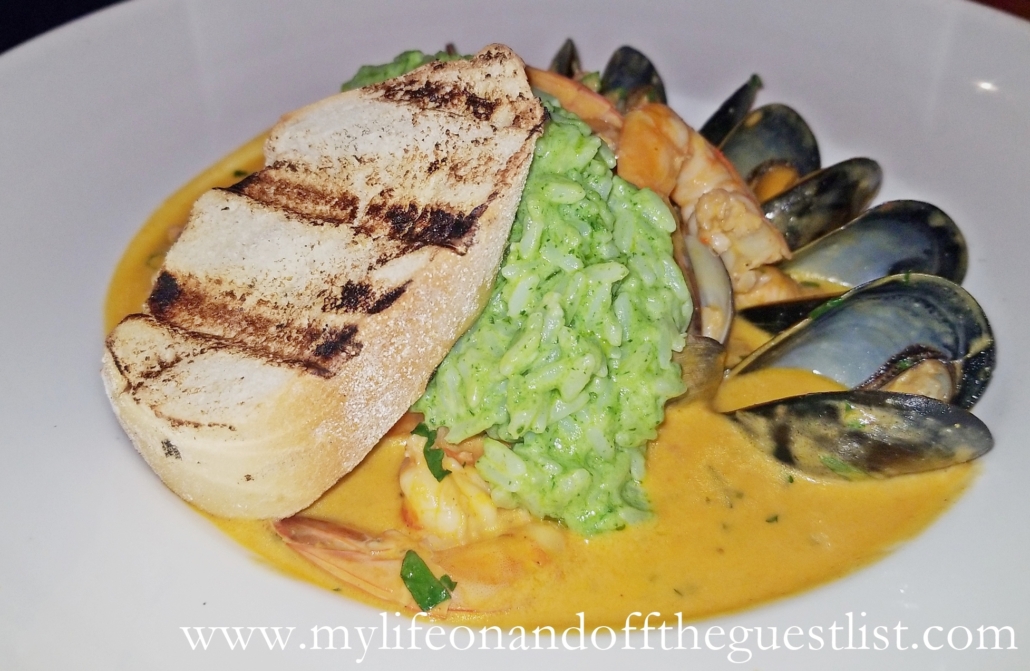 Christine: If you're like me and you tend to have a problem deciding what to get, then this bowl's for you. It's a little bit of everything– mussels, squid, shrimp, white fish, bacalao, chorizo, soybeans, and green coconut rice mixed with dende oil and all cooked to perfection in a creamy curry. This flavorful dish is the heart of La Pulperia, seemingly simple but refined. Every dip into the bowl will find your utensil of choice (be it a fork, spoon, or bread) with a generous helping of any of the main ingredients swimming in the coconut milk based curry. Though the green coconut rice is a side, it is very much worthy of praise all on its own. I could have eaten an entire big bowl of it. It's the best compliment to the stew, bringing out the unique flavors of both the seafood and the chorizo.
12oz Hanger Steak w/ Spinach Mac & Cheese & French Fries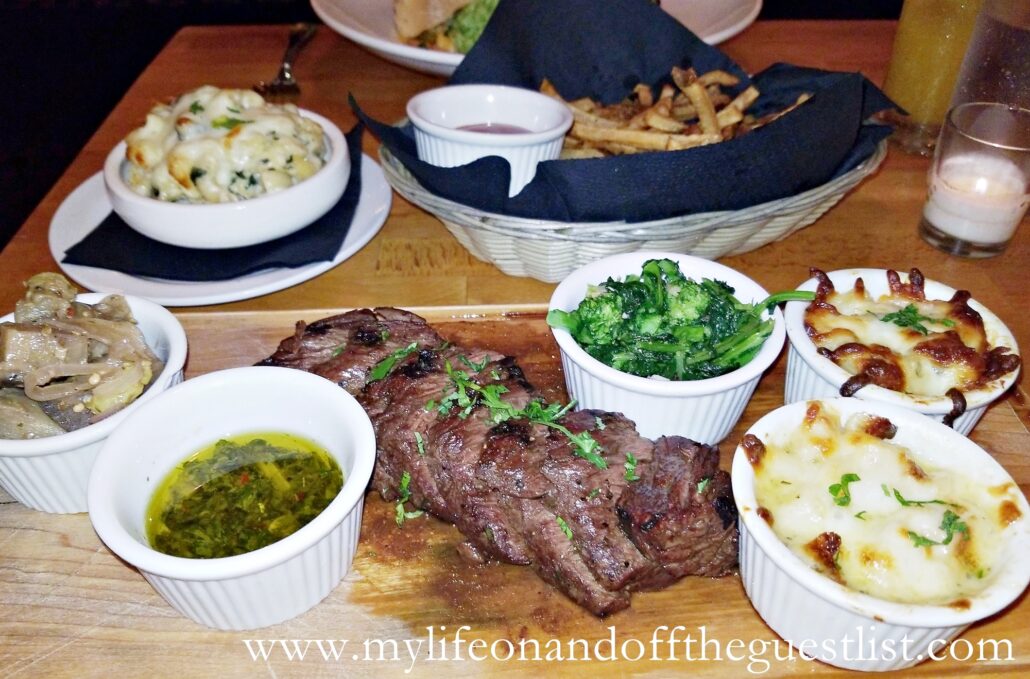 Glasgow: Since our starters were seafood, I decided to switch it up and try the La Pulperia Upper East Side 12oz Hanger Steak. This succulent and mouthwatering steak comes with great rustic sides including spinach mac & cheese, grilled broccoli rabe, and chimichurri sauce. The spinach mac & cheese was so amazing we ordered another and paired it with a side of french fries. Every bite a foodie's dream. The variety of aromas, flavors, and textures tantalizes and hypnotizes you before even taking a bite and I happily surrendered.
Much like the Hell's Kitchen location, our experience of La Pulperia Upper East Side was a dream. From the ambiance, staff, cocktails, and food. We were in culinary heaven from start to finish. We highly recommend treating yourself to this great rustic Latin restaurant.