The Paris Fall/Winter 2021-2022 Haute Couture shows have begun and we're starting our viewing with a collection we can only describe as a beguiling and pleasurable feast for the eyes. Our first show for the Paris Haute Couture Fashion Week season is the Najib Alioua Fall/Winter 2021-2022 collection. For his small but powerful Couture collection, Najib Alioua invites us aboard the very elegant Orient Express.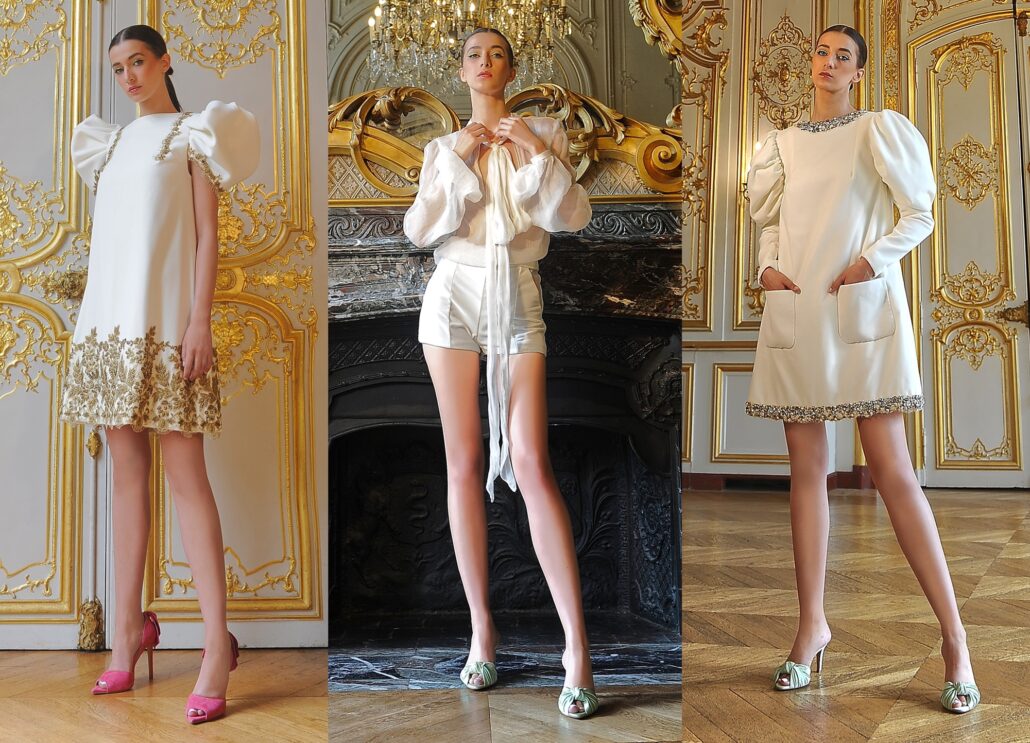 The Najib Alioua Fall/Winter 2021-2022 Couture collection was set against a luxurious, refined, chic, and elegant setting, perfectly suited for his ostentatious collection. He brilliantly combines the harmony of classicism and romance with a modern edge that still reads as timeless. The limited offerings boasted Calais Solstiss lace embroidered on silks, handmade embroidery, corolla sleeves, cotton velvet, luxe tweeds, and, leg-of-mutton and exaggerated puff sleeves. All standout details that were key to giving extraordinary life to his dresses, trapeze coat, and pantsuits.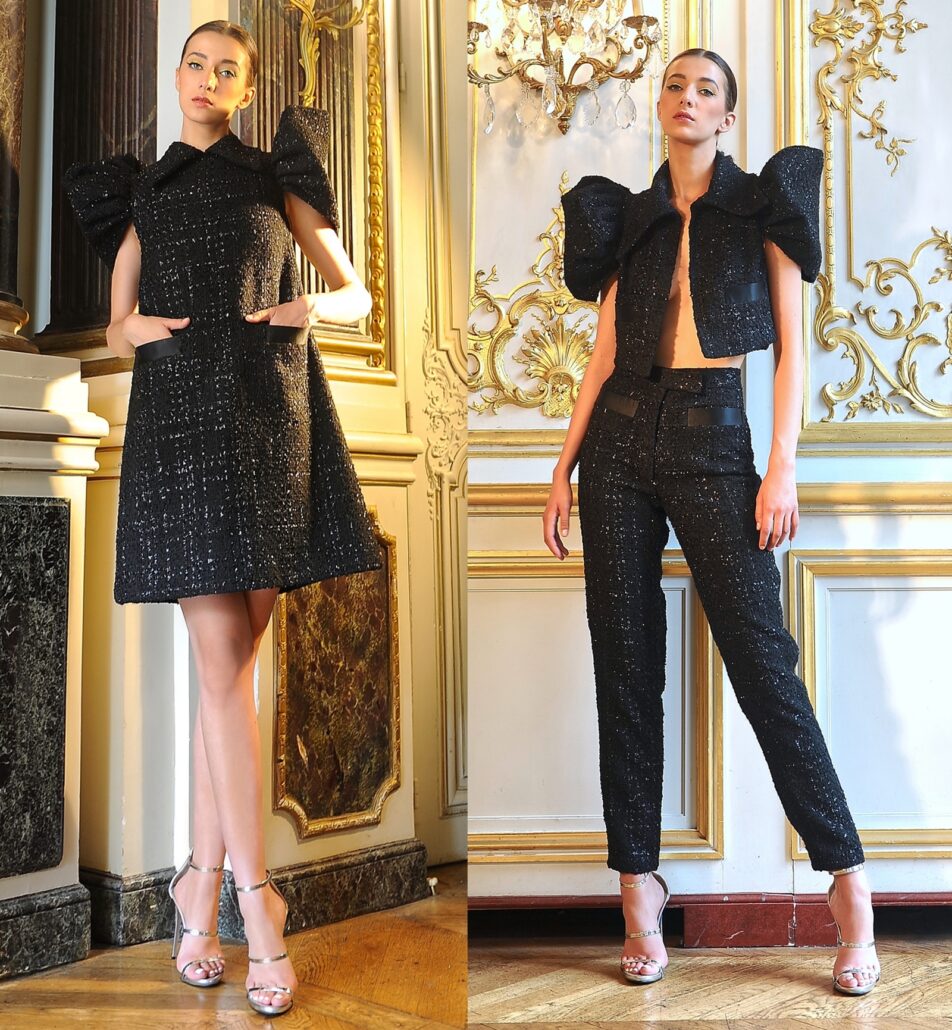 Although this is our first viewing from the designer, we couldn't help but notice his attention to detail and structure, all of which were perfectly executed in the Marseillais workshops of Najib. The keyword for the Najib Alioua Fall/Winter 2021-2022 is hybridization or a crossbreeding of ideas, fabrication, and so on. You will clearly see a mix of cultures and inspiration in his collection. It captivates and beckons you, much like an invitation to travel.
Najib Alioua's wife is a woman of the world, so it's no surprise to know she was a great inspiration to his collection; she's always seeking quality and originality, preferring comfort to ostentatiousness. Naturally, the next stop on this high fashion train was Paris.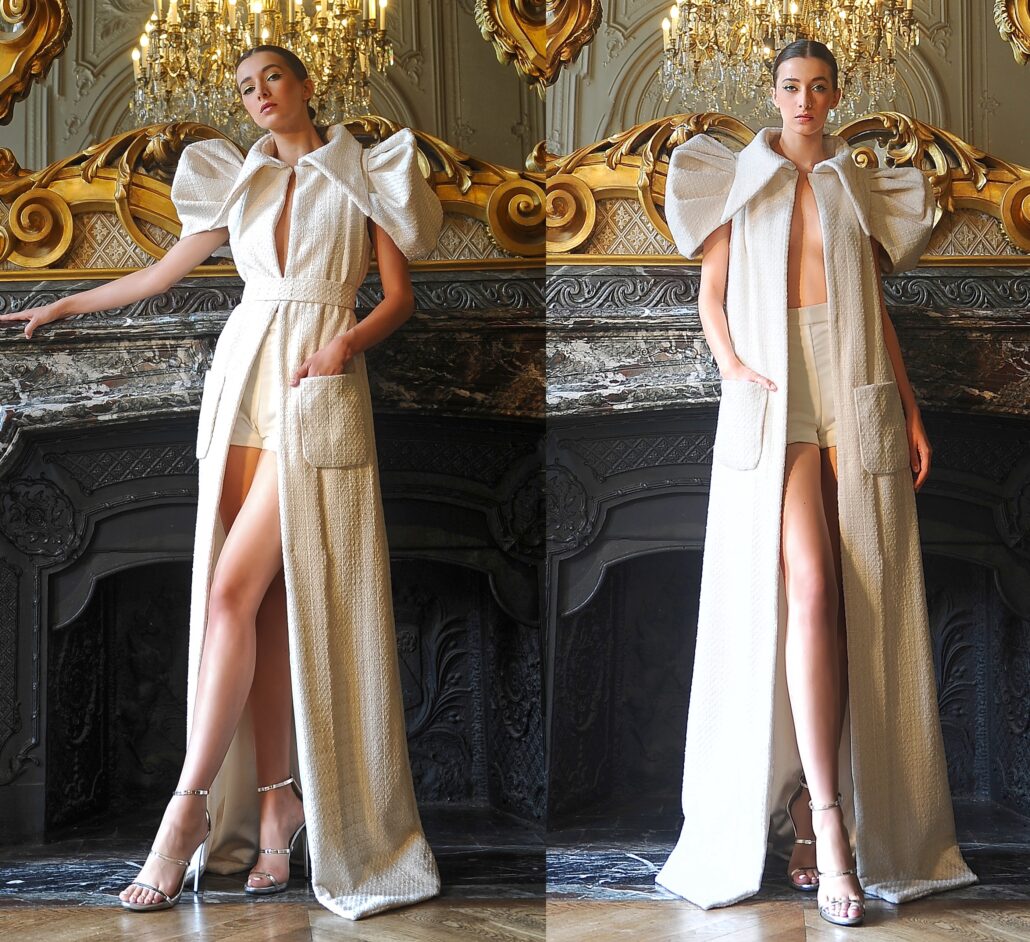 We're still deciding which looks we love the most; although the absolutely, breathtaking maxi coat and short set you see above is easily ahead as a must-have. We love how the self-belt entirely changes its look and are absolutely looking forward to seeing more from Najib Alioua. We hope you join us on Najib's Orient Express.
We'd love to hear your thoughts on the Najib Alioua Fall/Winter 2021-2022 collection during Paris Haute Couture Fashion Week. Share your thoughts in the comments below. Follow all our haute couture fashion coverage here.
All images courtesy of Greg Alexander © Méphistophélès Productions