Sometimes the gifting season can become anything but jolly. Finding the perfect gift can become an extremely stressful task. We all strive to get the perfect gift but you're never sure if the item you purchased will in fact spark joy in the recipient.  One way to alleviate that stress is by giving a gift the people on your list are sure to find favorites, a subscription box! When it comes to gifting a subscription box gift, once you have the correct category, you'll never fail. Know someone who loves fashion? Give them the gift of a monthly fashion subscription box. Have some beauty addicts or curly-haired family and friends on your list, there's a subscription box for them too. No matter the category, there's sure to be a subscription box to match those on your holiday gifting list.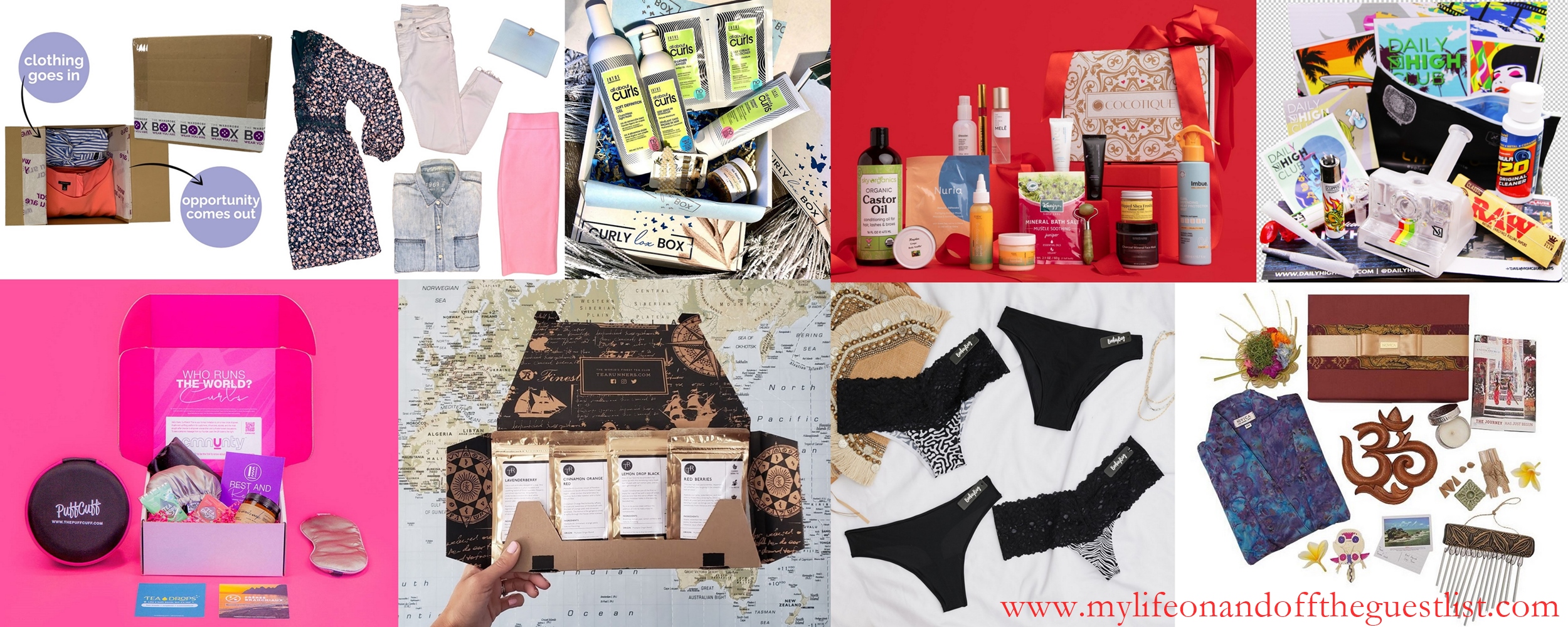 Today, we make it easier for you to handle gift-giving this holiday season by highlighting some of our favorite subscription box gifts that'll have you and yours very merry well after gifting season has come and gone. We're talking gifts from several categories including beauty and wellness; fashion and accessories for the fashionista on your list; gifts that give back, and gifts for those who live the "high" life. We've got it all for you from Novica, The Wardrobe Box, BootayBag, Cocotique, CurlyLox Box, PuffCuff, Tea Runners, and the Daily High Club.
FASHION & ACCESSORIES
NOVICA Undiscovered Box, $59.99/Quarterly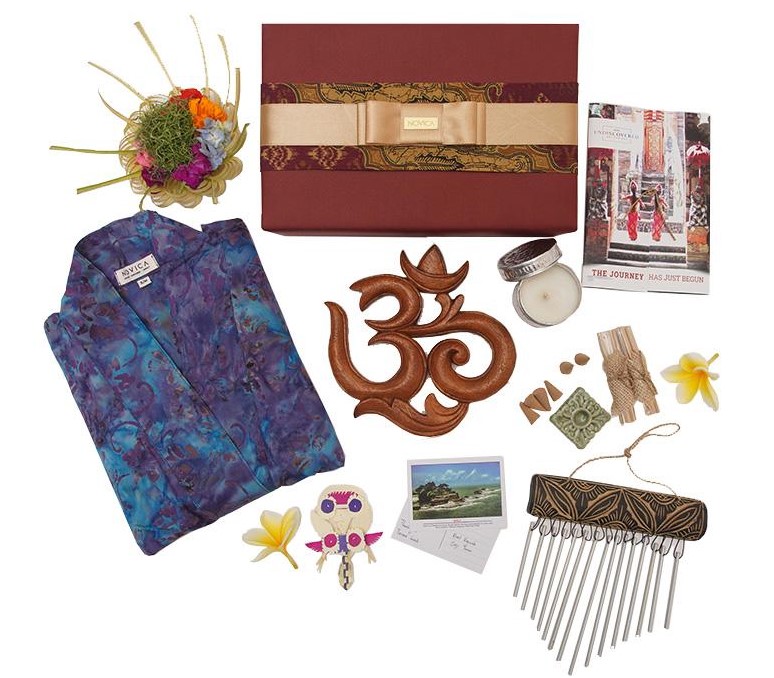 The 'Undiscovered Box' is a first of its kind fully-customizable subscription box filled with unique handmade, fair-trade treasures from across the globe including Asia, Africa, and Latin America. Shipping quarterly with seasonal focuses, each treasure-filled box leads subscribers off the beaten path for an "insider's journey" into the unique traditions of a specific nation, featuring culturally significant products that capture and share local cultural traditions such as weaving and hand carving, passed down through generations.
Each Undiscovered Box features five (5) truly unique handcrafted treasures, valued at over $200 per box, including options for gifts, jewelry, accessories, and decor from a specific nation, carefully curated with the help of a local Artisan Guide. Each customer can select their most beloved (5) products from a highly curated selection, including gender-neutral options. The debut box brings exotic travels to your front door and transports the customer to BALI, also known as the Island of the Gods, with the help of a local artisan guide named Seji Taram who is a traditional Balinese Woodcarver.
Product highlights include: a handwoven open-weave throw by Balinese textile artisan Elis Mufarroha; a handcrafted Balinese bathrobe; a carved teak wood bowl; Sacred Om Relief Panel; a handcrafted "Golden Hands" bracelet clasping an orb of polished blue agate; a beautiful Tropics Incense Set with glazed ceramic holder; a Pillars of Light Candle made from an eco-friendly, unscented blend of beeswax and palm wax; and more. Magical touches from local Artisan Guide Seji include a gifted "good luck" Cili Doll and a signed postcard.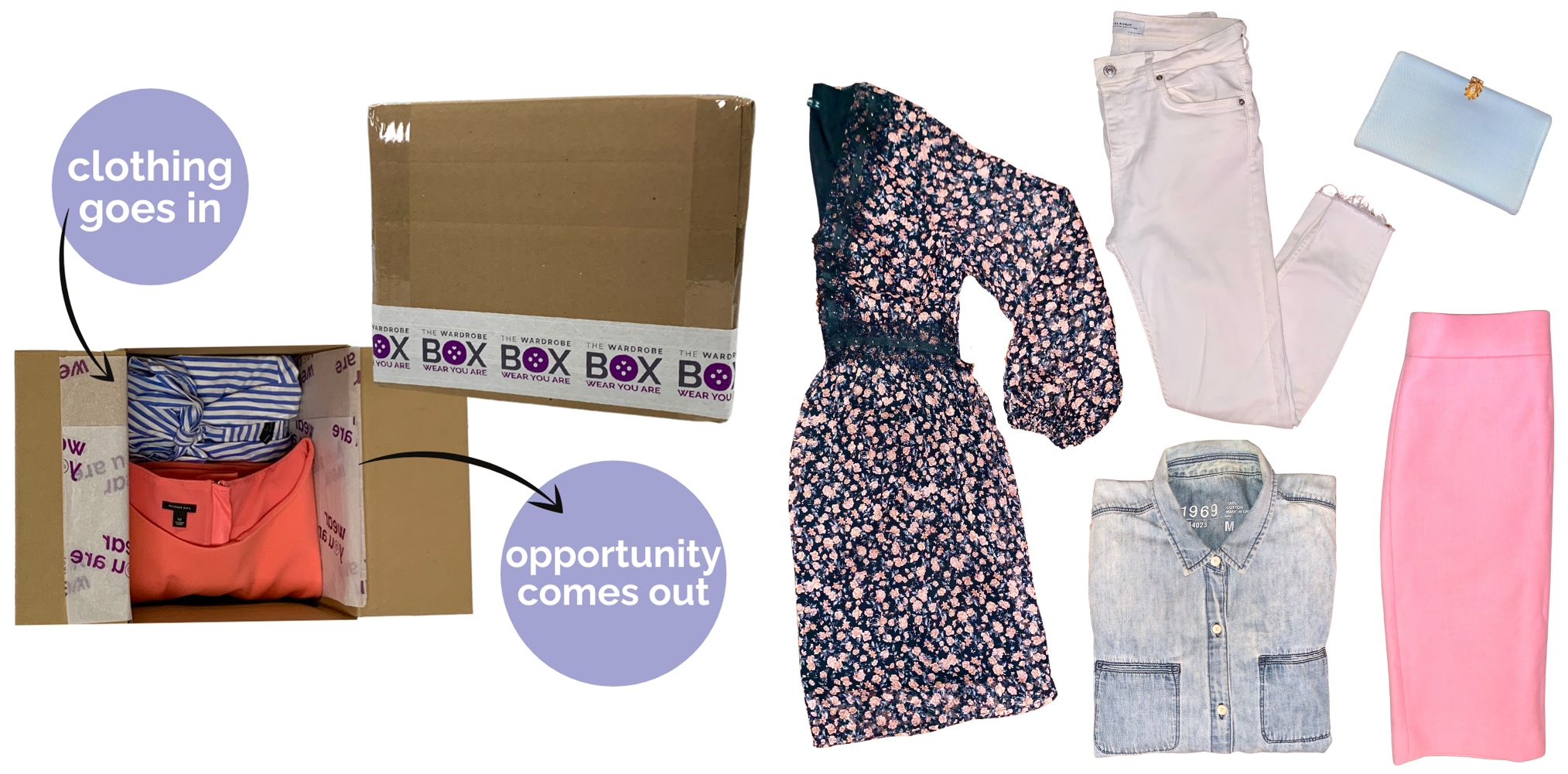 This subscription box is a triple threat, offering style, sustainability, and a social mission. Not only is The Wardrobe Box an amazing fashion-loving gift to give, but it also gives the opportunity to help give fashion a second life, and works to eliminate clothing insecurity. It's the perfect gift for holiday gifting and giving back. We highly recommend this for your Giving Tuesday shopping as it supports an amazing cause and mission.
The Wardrobe boxes are available for all genders, sizes, and style preferences and feature high-end brands like Vince Camuto, Anthropologie, Tahari by ASL, Free People, J. Crew, and Banana Republic – some new with tags! – and specialty vintage items. Just fill out the style profile for yourself or your gift recipient (style and color preference, sizes, brands you/they love, etc), and get the perfect, personally curated Wardrobe Boxes of previously-owned style. Each season, Wardrobe Box subscribers will receive four new-to-them pieces of clothing and one seasonal accessory for 70-90% off retail prices. In addition to providing curated fashion and an environmental benefit, every purchase sends a Box to someone in need of clothing to transform their life.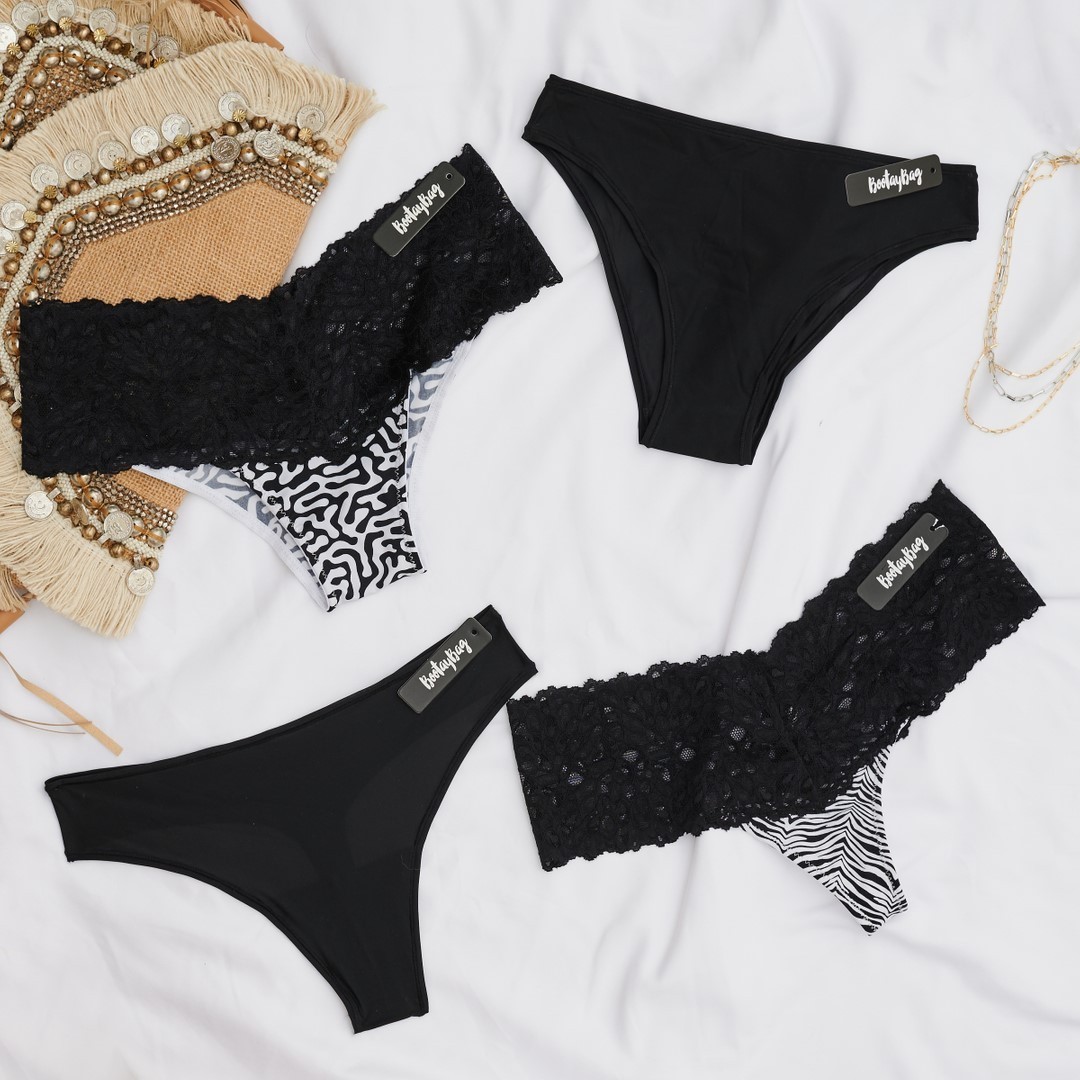 BootayBag is a monthly underwear subscription box that is the passion project by real women (for real women) who hate digging through mall sale bins for their undies. The idea behind the brand was to fix the lack of affordability and convenience in the underwear shopping process. How It Works:
BUILD YOUR BAG: It's simple – choose your size and style preferences and we'll do the rest! Get your fave undies shipped free to your door every month! Every month BootayBag releases 4 totally new styles to choose from.
MAKE IT YOURS: They make it easy for you to skip, change, and add more to your monthly bag in your customer portal, and unlike other subscriptions, it's never a surprise! Follow them on Instagram for an exclusive look into your monthly bag.
BEAUTY
Cocotique Holiday Box, $45.00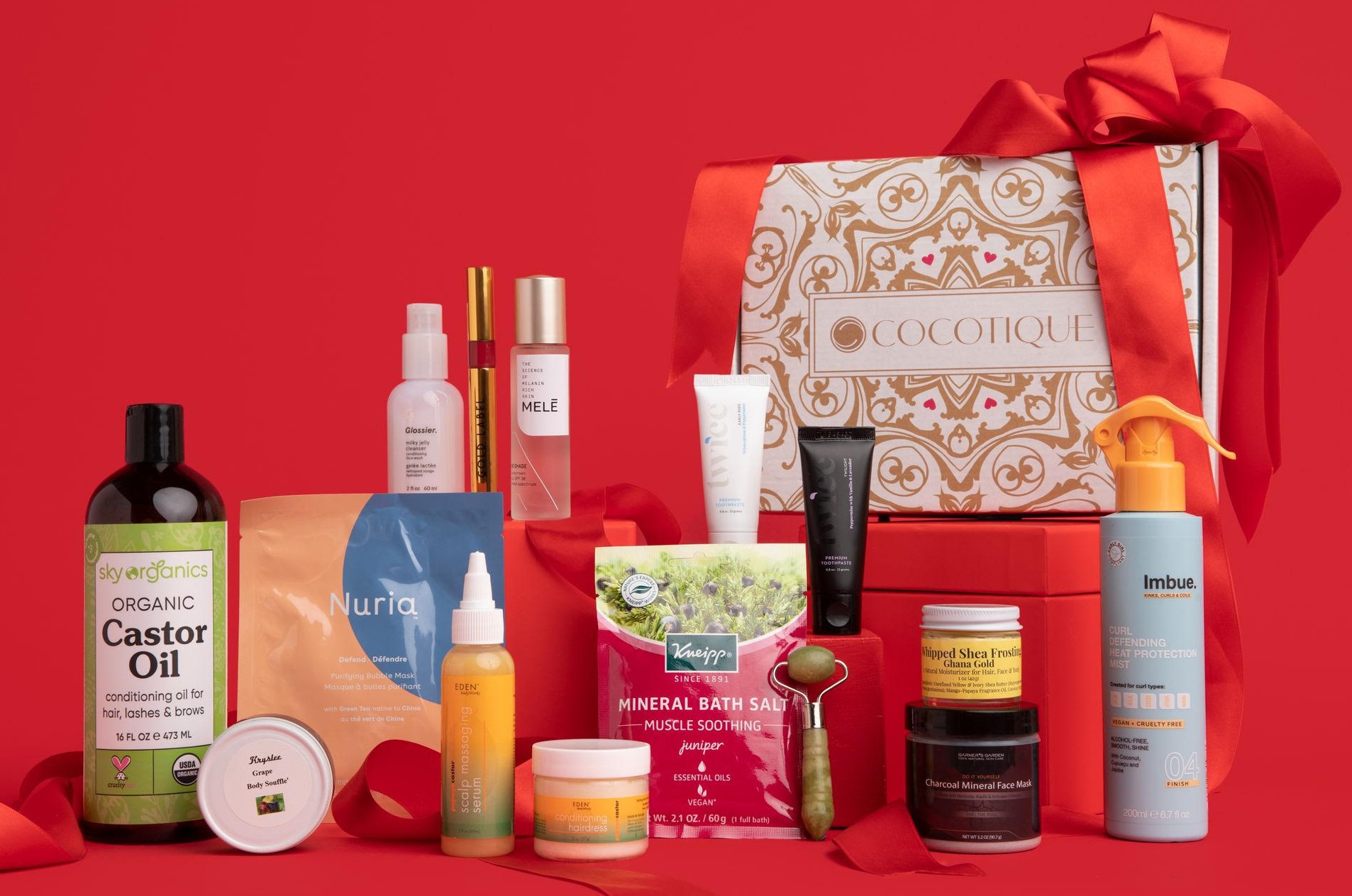 In case you didn't know, Cocotique is THE original beauty subscription box for Women of Color. This box is brimming with your favorite beauty brands for women of color and just in time for the holidays, they've launched their limited edition Holiday Box; a perfect gift valued at $125.00 for only $45.00. What does this box include? Check this list below:
AFTERSPA Mini Jade Roller: This jade roller is conveniently travel-friendly due to its mini size yet still packs all of the depuffing and circulation-enhancing punches of a full-size roller.EDEN BODYWORKS Papaya Castor Conditioning Hairdress: This ain't your momma's hair grease! Papaya Castor Conditioning Hairdress is a styling hair balm fortified with scalp healing Vitamins A & C, plus moisturizing Castor Oil to smooth the hair cuticle; all you need is a small bit for stronger, shinier, more nourished tresses.
EDEN BODYWORKS Papaya Castor Scalp Massaging Serum: An award-winning best defense against a dry, irritated scalp! Made with a soothing blend of Vitamins A, C, D & E, it works like magic to hydrate and nourish while also promoting healthy hair growth.
GARNER'S GARDEN DIY Charcoal Mineral Face Mask: Garner's Garden 100% all-natural DIY detox face mask conveniently gives you the best base ingredients so that you can create your ultimate facial and body mask.
GLOSSIER Milky Jelly Cleanser: Enjoy this cult-fave pH-balanced daily cleanser with five skin conditioners that won't leave your skin irritated or feeling tight.
GOLD LABEL COSMETICS Matte Lip Pen: This vegan matte lip pen goes on smooth, leaves your lips with a stunning color payoff, and is incredibly long-lasting. Trust Fund, Empowering, or Style Section.
IMBUE Curl Defending Heat Protection Mist: Alcohol-free Heat Protection Mist defends against thermal styling up to 220°C / 428°F, environmental aggressors, and UV rays.
KNEIPP "Muscle Soothing" Juniper Mineral Bath Salt Soak: The Kneipp Muscle Soothing Juniper Mineral Bath Salt Soak delivers a stimulating blend of essential oils for the perfect ritual to comfort overworked muscles.
KRYSLEE Body Souffle: Highly moisturizing, skin softening, and beautifully scented Shea Butter sugar-based exfoliating bath scrub.
MELĒ No Shade Sunscreen Oil SPF 30: This quick-absorbing oil gives you daily protection from the sun and environmental aggressors for healthy protected skin. Free from parabens, alcohol, mineral oil, and sulfates, and formulated without phthalates or hydroquinone.
NURIA Defend Purifying Bubble Mask with Green Tea: Purify your skin with this Green Tea, native to China, infused bubbling sheet that lifts away dirt, dust, and oil that can clog pores and make skin look rough.
SMILE TWICE Classic Duo 2-Pack Tubes of Toothpaste (Invigorating Wintergreen & Peppermint for DAYTIME & Calming Vanilla Lavender Mint for NIGHTTIME): Inside each tube, three powerful vitamins blend with expert-selected ingredients to keep your mouth in check. It's a multi-tasking, mouth-loving toothpaste that tastes great and works even better.
SKY ORGANICS Castor Oil: Packed with nourishing fatty acids that moisturize and condition hair, this multipurpose oil helps moisturize and condition the hair and scalp to combat dryness – so your hair can thrive!
YAA YAA NATURAL Ghana Gold Whipped Shea Body Frosting: This waterless whipped frosting has an island tropical vibe to complement its smooth and fluffy texture, which immediately melts into your hair and body. The unrefined Ghanian grown shea butter provides vitamin A within which protects your skin cells from free radicals.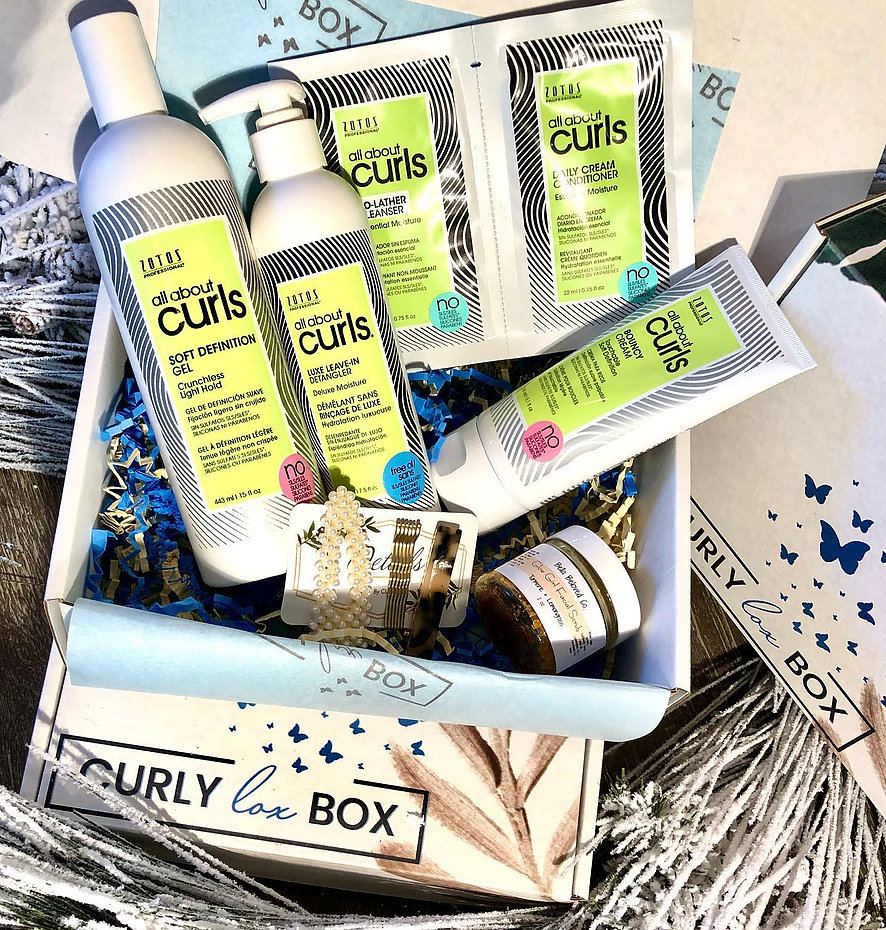 Just in time for the holidays, the CurlyLox All About Curls Holiday Box subscription box is here to help you fall in love with your curly crown all over again. This curly hair-loving box boasts hair products, hairpins, facial scrubs, jewelry, and more. CurlyLox Box is an easy, all-in-one way to try out new brands that are perfect for the season. In case you miss out on this limited edition box, CurlyLox has many other obsession-worthy boxes, like their Ultimate Holiday Curls Box. It's everything you need to make sure your curls are on point this Holidays season! At more than 50% off, you get the following:
Full-size Flora & Curl Sweet Hibiscus Curl Activating Lotion. Retail value: $20
Full-size Flora & Curl Sweet Hibiscus Curl Defining Gel. Retail value: $21
Deluxe Travel size Naturally Drenched Rebalance treatment. Retail value: $18
Full-size NOAP Solid Conditioner bar. Retail value: $28
Ems Gems hand-crafted clay earrings to bring your whole look together. Retail value: $21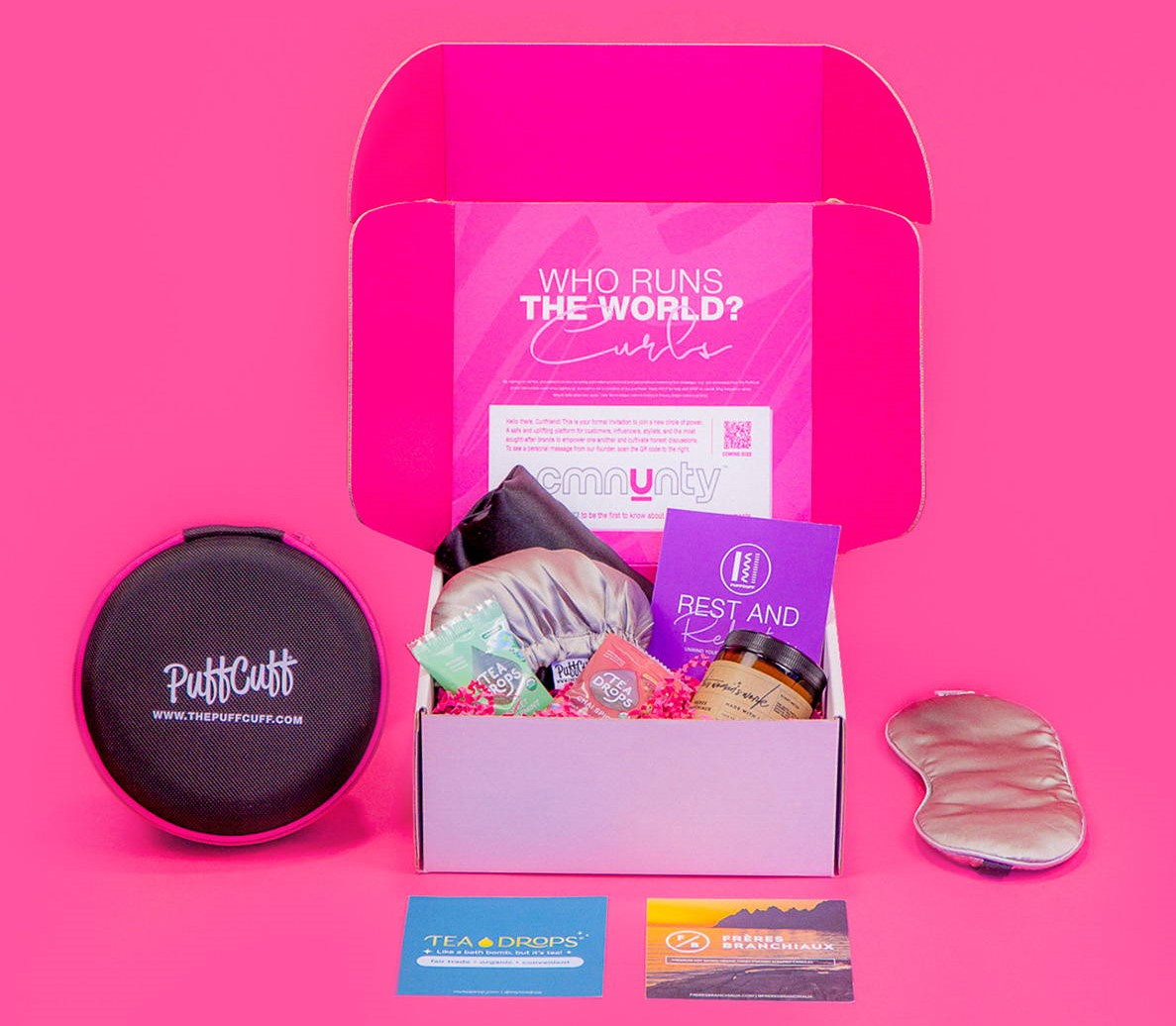 The Curlfriend Subscription Box by PuffCuff is a quarterly subscription box featuring products for curly hair and products from women-owned businesses. Who better than the makers of the curly hair-friendly round banana clip to all you need to make your curly tresses look their best. Even if you're on vacation or just chilling at home, their first subscription box, the Rest and Relaxing Box, is stocked with soothing, silky products that will enable you to unwind. We hope we see a collaboration between them and CurlyLox Box for curly hair nirvana.  The contents of this premiere box are as follows:
1x Bonnet
1x Silky Sleep Mask
1x Silk Pillowcase
1x Hardcover Carrying Case
2x Tea Drops
1x "This Woman's Work" Candle from Frères Branchiaux Candle Co.
Each purchase comes with 4 quarterly boxes, plus 1 bonus launch box, for a total of 5 boxes over 15 months. This is a purchase pre-order for the Rest and Relaxation box. Boxes will be shipped in early January. When you purchase their launch box, you'll receive a FREE FIFTH BOX. This great gift is only $199.99 FOR ALL FIVE BOXES.
HEALTH AND WELLNESS
Tea Runners Customizable Loose Leaf Tea Subscription Box, $30.00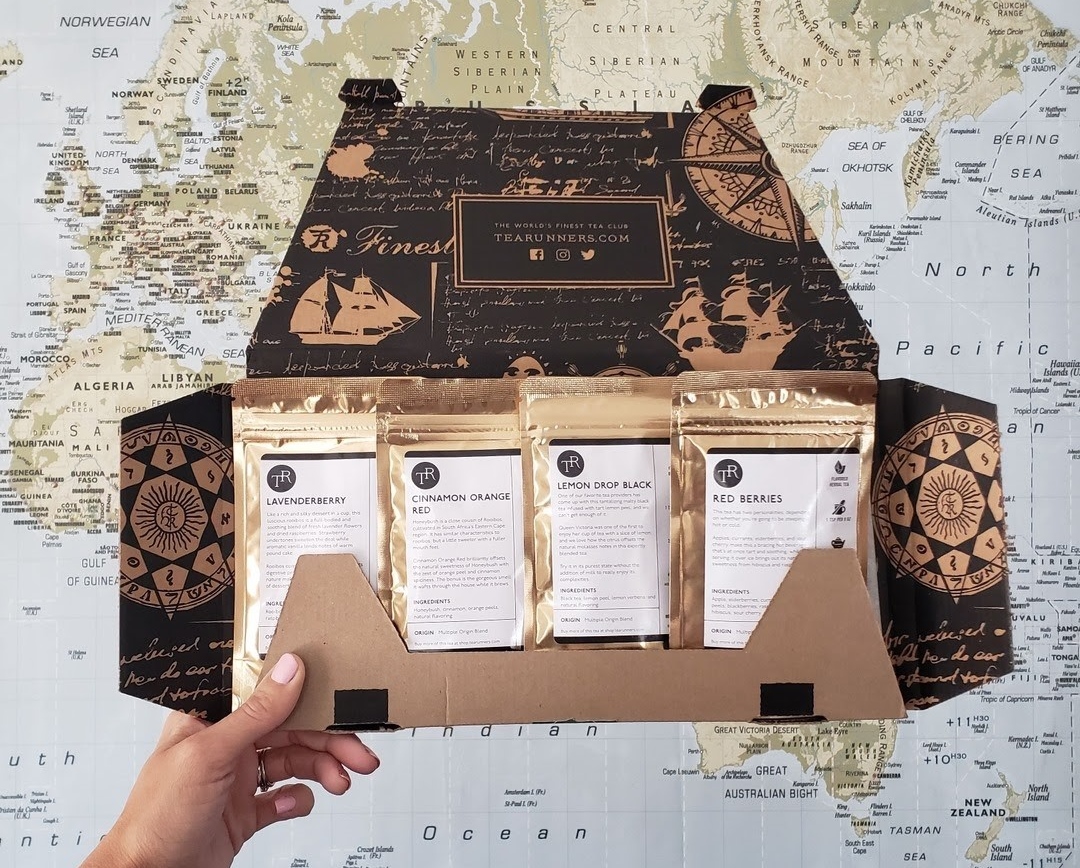 Through this extraordinary tea discovery service, members receive a curated or customized collection of four top-quality loose leaf teas, along with tasting notes and brewing instructions. Many of the teas included in the monthly subscription boxes are award-winners from the Global Tea Championship Awards, and most of the teas come from award-winning companies. However, they know snazzy awards aren't everything. Some of the brand's absolute favorites are just fabulous teas they've discovered along the way from hard-to-find companies around the world. Supreme quality is of the utmost importance at Tea Runners. Also available on Amazon.
Forget the fancy packaging and gimmicks, the Daily High Club El Primo is about stuffing a massive box to the brim with awesome smoking supplies. This Limited quantity subscription box includes:
Daily High Club 10mm "Old School Camera" Bong
Premium 10mm Male Glass Bowl
Custom Daily High Club Bong Mat
Formula 4-2-0 Glass Cleaner Solution
Elements 1 ¼ Wide Classic Pre-Rolled Cones
RAW Classic King Size Slim Rolling Papers
Lit Club Resealable Travel Bag
Buddies Airtight Travel Tube
Full-Size Clipper Lighter
Custom Daily High Club Sticker Set
Would any of these subscription box gifts fit some on your list? We'd love to hear your thoughts on these holiday subscription box gift ideas.