For the past several weeks, while office AC units have been set to Siberia levels of cold, overindulging in delicious foods and drinks, interacting with a few sick people, not getting enough sleep, and basically running ourselves ragged. Normally, all of this would result in us being very sick right now, but NOT surprisingly we're not and that is thanks to products from one brand – The Ginger People. No, we're not talking about a group of cool redheads; we're talking about the makers of the most wonderful ginger-based products we've ever had.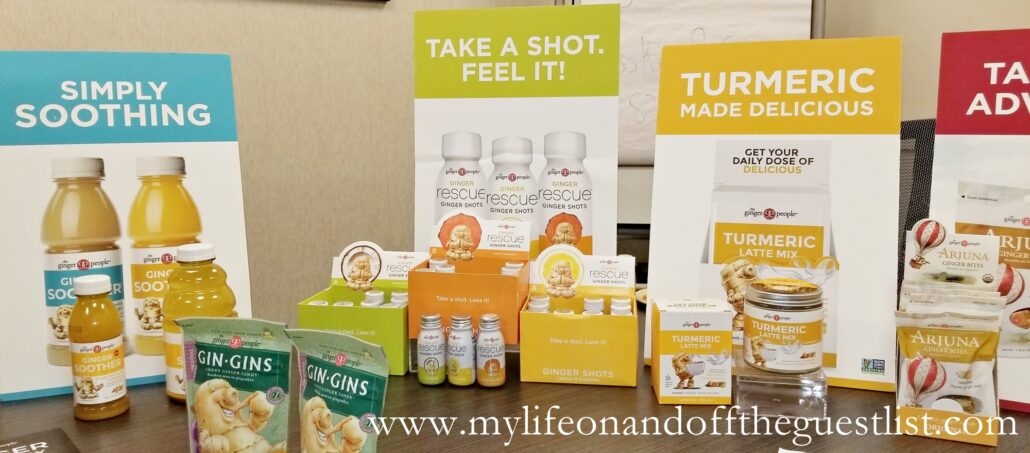 We are now all aware of the amazing health benefits that ginger has to offer and the products from The Ginger People are what we have to thank for getting us healthily through everything we mentioned above. Ginger energizes and stimulates the circulatory system, it helps with nausea, is an amazing anti-inflammatory food, a powerful anti-Cancer, helps with digestive issues and anti-flatulence, is a fantastic cold and flu remedy, a great migraine reliever, highly antioxidant, and of course wonderful as an aphrodisiac. We had the pleasure of getting to know the delicious product from The Ginger People including Ginger Rescue Ginger Shots, Turmeric Latte Mix, Gin Gins Ginger Candy, Ginger Soother Tonics, Arjuna Organic Ginger Bites with Turmeric, and Ginger Rescue Chewable Ginger Tablets.
Ginger Rescue Ginger Shots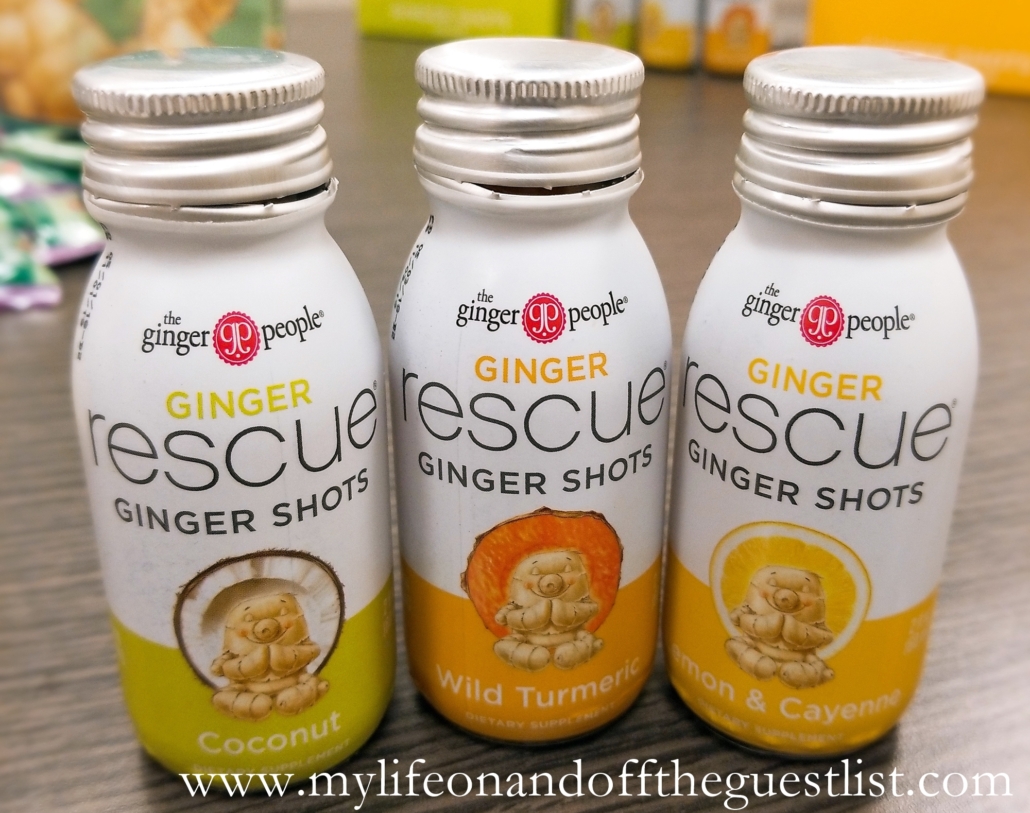 Enjoy a healthier day with one shot of caffeine-free boost of energy. The Ginger Rescue Shots are available in three flavors: Wild Turmeric, Lemon & Cayenne, and Coconut. All three offer a potent supply of proven health benefits your body will thank you for. Each shot is intense and made with 30% ginger juice. Non-coffee drinkers will love this as a caffeine alternative. You'll love the sweet creaminess of the coconut, the earthy and peppery taste of the Wild Turmeric, and the hot and spiciness of the Lemon & Cayenne. We highly recommend this for those sluggish feeling days.
Turmeric Latte Mix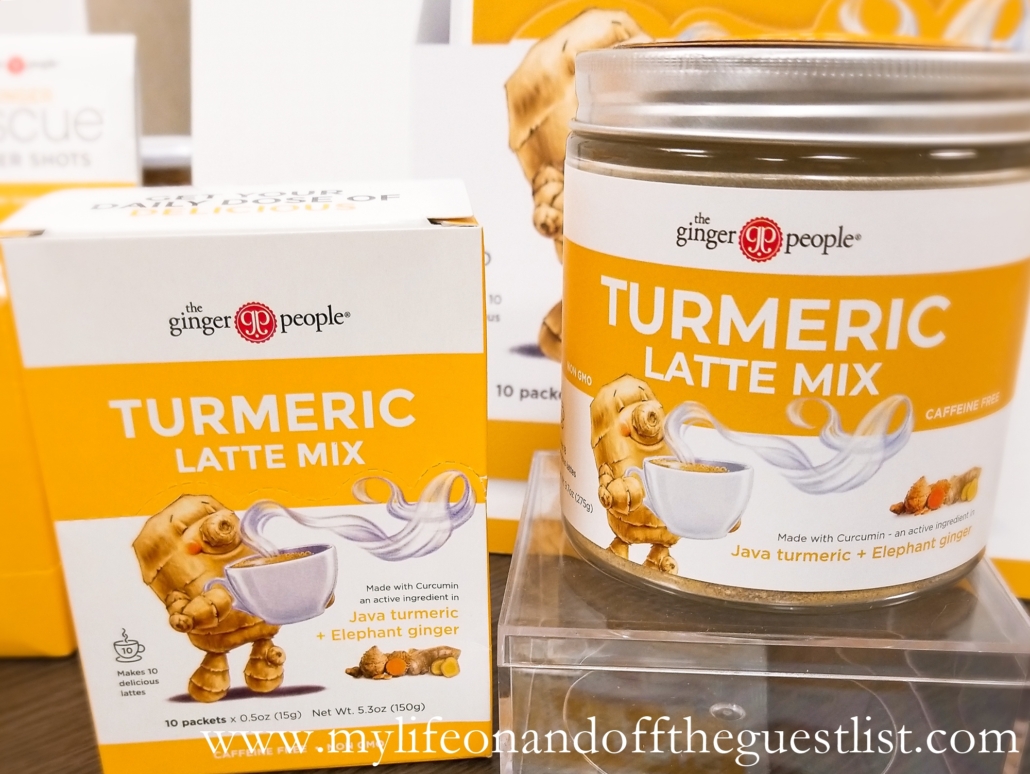 Another of The Ginger People's great turmeric and ginger combinations is their Turmeric Latte Mix. It's double the health benefits in an addictive hot creamy beverage. This caffeine-free, plant-based powdered mix is supercharged with ginger and Curcumin, the power behind turmeric. All you have to do is add your favorite milk and prepare to indulge in this nourishing hot drink. If you've ever enjoyed a golden milk, this will blow you away.
Ginger Soother Tonics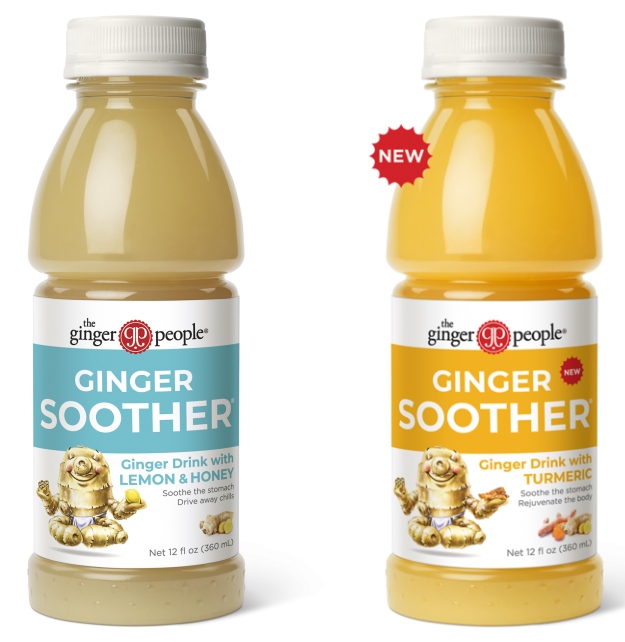 Say goodbye to your upset stomach with these delicious, soothing tonics. These stomach-settling ginger elixirs are available in two flavors: Lemon & Honey and Turmeric. They are made with antioxidant-rich, fresh-pressed punchy Peruvian ginger, lemon juice and pure honey and wild Fiji Red "Aromatica" turmeric respectively. These should be your go-to drink whenever you and your stomach has a disagreement.
Gin Gins Original Chewy Candy
Chewy ginger candy is one of our favorite things and to say we're addicted to The Ginger People's delicious original ginger chews is an understatement. As the #1 selling ginger candy in North America, we know it will be your favorite as well. You'll never worry about the fear of nausea again once you grab a bag of these. In fact, the only thing you have to worry about is how to stop eating Gin Gins. We're still working on that.
Ginger Rescue Chewable Ginger Tablets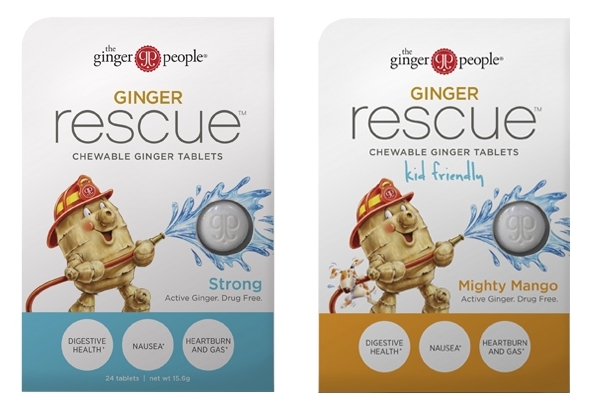 For those who need a little more potent way to fight nausea, just grab a pack of The Ginger People's 24 chewable and tasty tablets. These drug-free tablets boast greater ginger actives to help promote digestive health, relieve motion sickness, and ease gas and indigestion. Available in two options, Strong and Mighty Mango for kids and those with sensitive stomachs, one tablet works wonders, especially when you need fast relief.
If you've been looking for a way to integrate ginger into your health and wellness regime, check out all the products from The Ginger People. You'll thank us.