As the year comes to a close and we're experiencing yet another wave of a Coronavirus variant, prioritizing our health is more important than ever. Now, more than ever is the time to be vigilant and hyper-focused on our total well-being and health. With the new Omnicron variant, it is essential we start preventative measures, instead of defensive ones to stay healthy and safe. This is why, today, we're sharing some wonderful products for better health, wellness, hydration, and nutrition in 2022.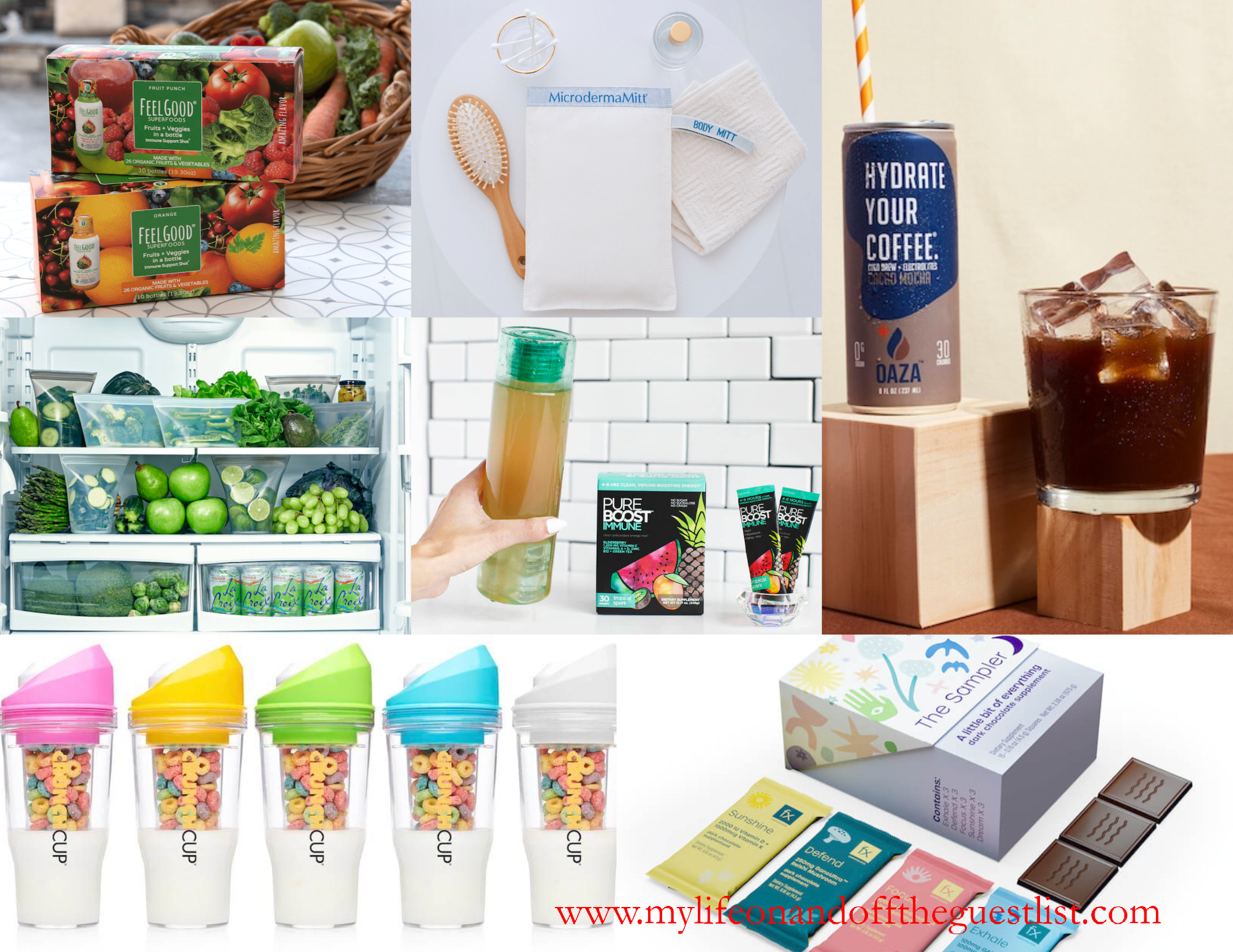 Whether you're committed to New Years Resolutions for a healthier 2022 or just want to stay as healthy as possible to fight off the new Covid19 variant, we've got some amazing products for you. We hope you'll be like us and get better acquainted with the health, wellness, and nutrition products from FeelGood Superfoods, Pureboost, Fx Chocolate, Oaza, MicrodermaMitt, CrunchCup, and Zip Top.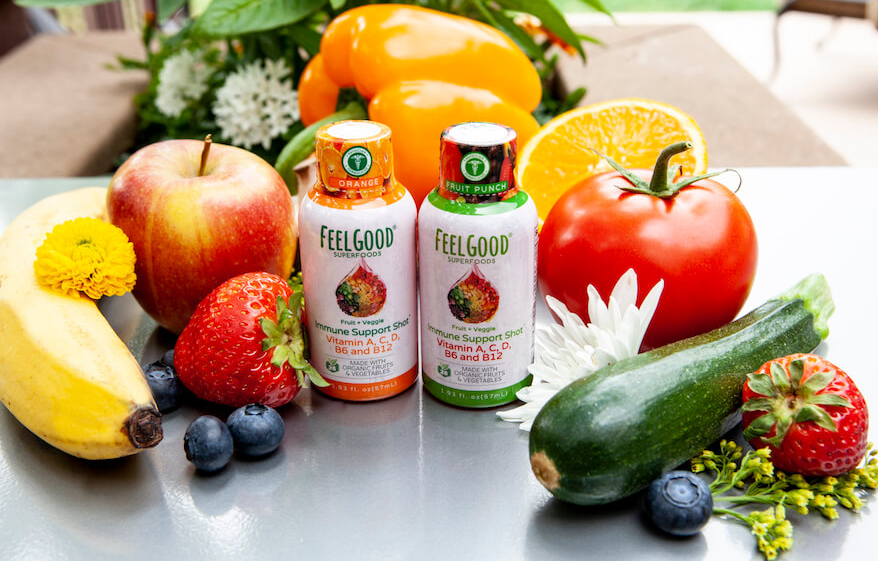 For a healthier 2022, a strong immune system is key. The vitamin-packed FeelGood Superfoods Immune Support Shot is the best way to start supporting your immune system. This quick and delicious shot boosts your immune system with all-natural daily fruits and veggies shots fortified with essential vitamins. Each shot is packed with the natural healthful goodness of 26 organic superfood ingredients. The physician-formulated Immune Support Shots provide 1000mg of vitamin C, plus vitamins A, D3, B6 & B12.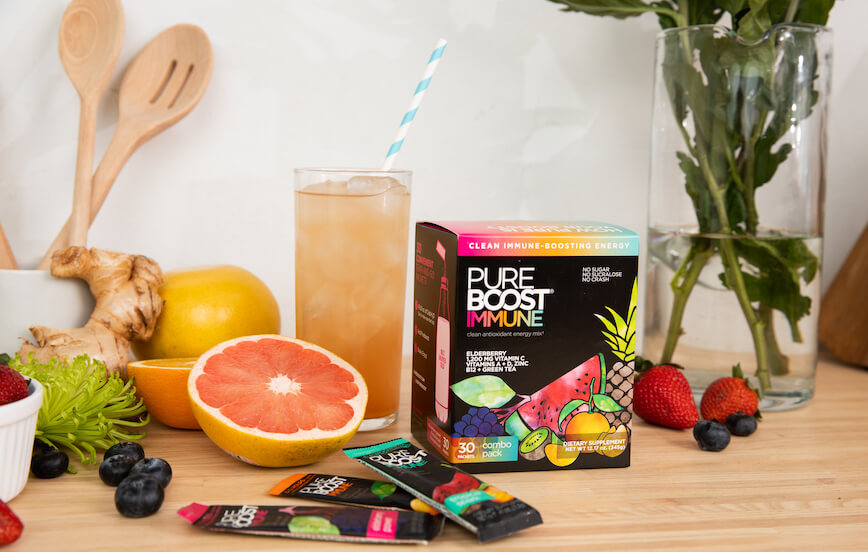 Boosting your immune system is not a one-and-done treatment. We're looking into all the ways and products we can use to strengthen our bodies to fight this new variant and possible future variants. Another must for immune system boosting is the Pureboost Immune energy drink mix. This clean, immune-boosting energy mix has no sugar, no sucralose, and no crash. Made with delicious natural flavor, Pureboost is bursting with immune-supporting electrolytes, vitamins, and minerals like B12, Elderberry, 1200 mg of Vitamin C, Zinc, and more.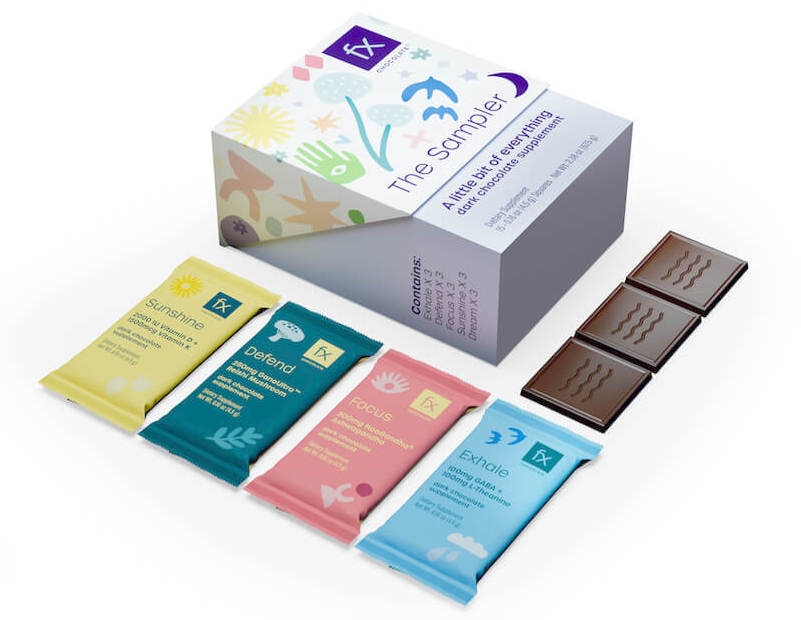 Like everyone else, our vitamin intake has increased exponentially and while we're used to taking our vitamins and supplements in typical pill form, there's a new way to ingest supplements, chocolate! Backed by a team of scientists and researchers, Fx Chocolate blends biodynamic cacao-based products with therapeutic doses of functional health ingredients into artisanal chocolate bites for a delicious and simplified way of ingesting supplements. Fx Chocolate is vegan, has zero sugar, is keto-friendly, and is gluten-free.
Each Fx Chocolate formulation contains sustainably sourced, active ingredients crafted by an award-winning chocolatier. Flavors include Defend, Sunshine, Dream, Exhale, Focus, and Zen, During the winter season, we highly recommend the Fx Chocolate Sunshine as a delicious way to get your vitamins D and K.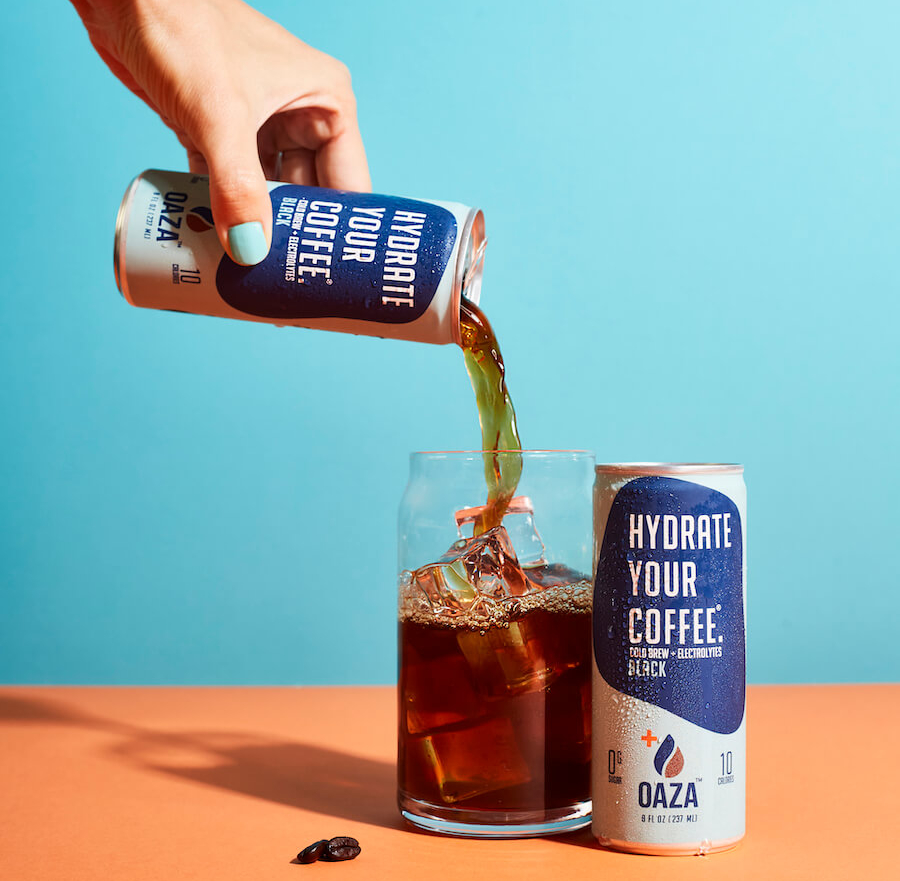 We all know for overall wellness, keeping your body hydrated is very important for proper function. But, sometimes, your body needs an energy boost for you to stay awake and alert. The answer comes in the form of Oaza hydrating coffee. Sourced from Colombian dark roast coffee, sweetened with monk fruit, and infused with electrolytes, Oaza stands apart from other canned cold brews. With as little as 10 calories all the way up to 30 calories, Oaza is a hydrating coffee with ingredients that keep you going throughout the day. Sugar-free and dairy-free make this cold brew perfect for coffee drinkers looking to avoid the post-caffeine slump.
Available in 3 flavors, classic dark roast, oat milk latte, and cacao mocha, Oaza is an electrolyte-infused coffee that maintains your energy, keeps you focused, and tastes delicious. It is a refreshing, regenerative, and revitalizing way to stay alert and hydrated.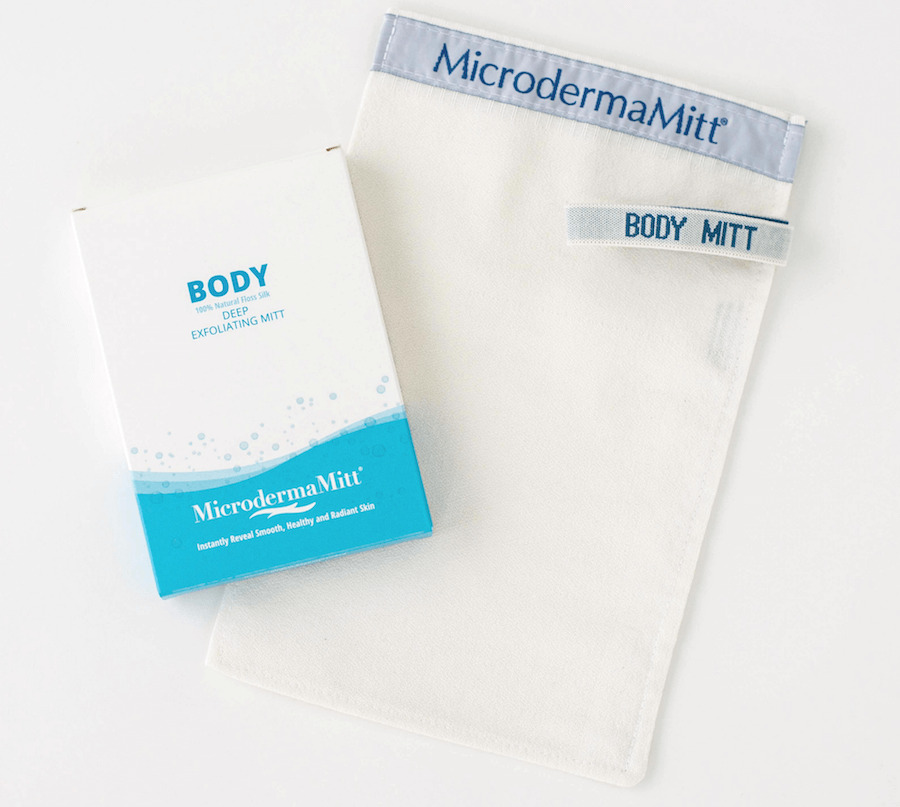 Achieving better health, wellness, and nutrition in 2022 means taking care of the outside of your body as well as in. As we all know, healthy skin is always in! The MicrodermaMitt exfoliating mitt for the face and body is all-natural and made from floss fibers that swell when wet, to gently grip dead skin and other impurities trapped in your pores. Your skin will instantly feel smoother, healthier, and look more radiant. Inspired by the exfoliating gloves used in hammams as part of the Turkish hammy (bath) ritual, to purify and detoxify the skin. Their method of deep exfoliation will leave your skin feeling smooth, silky, and looking fresh, and radiant.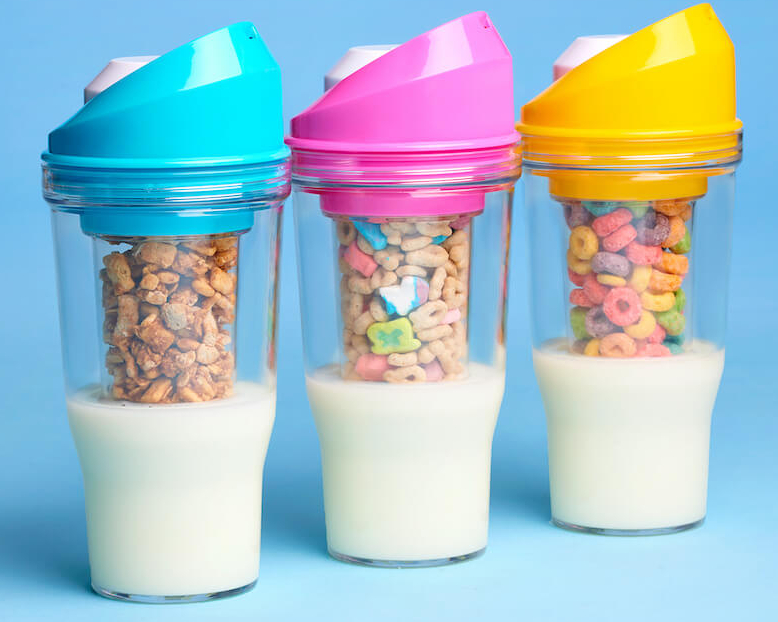 Raise your hand if you hate soggy cereal. Nutrition is an important part of any wellness journey, especially on the go. Ditch the spoon and bowl and take your cereal on the go with The CrunchCup. Whether you're sitting on the couch, at your desk, or on the move, you can enjoy your cereal anywhere with this dual-chambered, reusable, dishwasher-safe tumbler made of durable, BPA-free Tritan. The CrunchCup supercharges your cereal experience by making cereal portable and longer-lasting. The secret to this revolutionary cereal cup lies in its ability to keep milk and cereal completely separate until the moment it hits your mouth! Since the milk and cereal are housed in separate chambers, you'll never have to worry about soggy cereal again.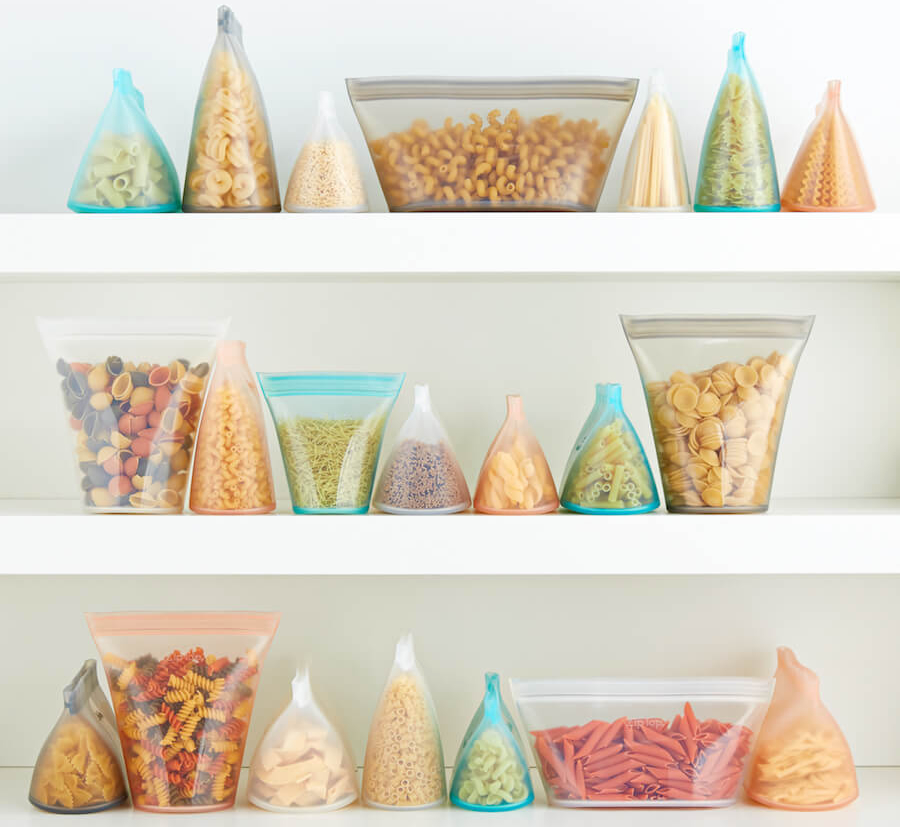 We've sung the praises of the amazing Zip Top containers in one of our early holiday gifting ideas. Whether it's taking breakfast on the road, preparing lunch ahead of time, or packing snacks that fuel your body through any activity, having the tools to take nutrition on the go is a must. Zip Top containers make taking any meal or snack to go simple and sustainable. The reusable silicone containers stay up and zip shut, making it easy to stay mess-free when snacking, fueling up, or enjoying lunch in the office.