Welcome back to joining us on another culinary journey and this one is spectacular. We had the absolute amazing pleasure of reviewing organic, Peruvian restobar (restaurant+bar), Baby Brasa New York. Founded in 2016 by restaurateur, former model, and singer Franco Noriega Haltenhof, Baby Brasa New York brings iconic Peruvian cuisine and Brazilian flair to New York.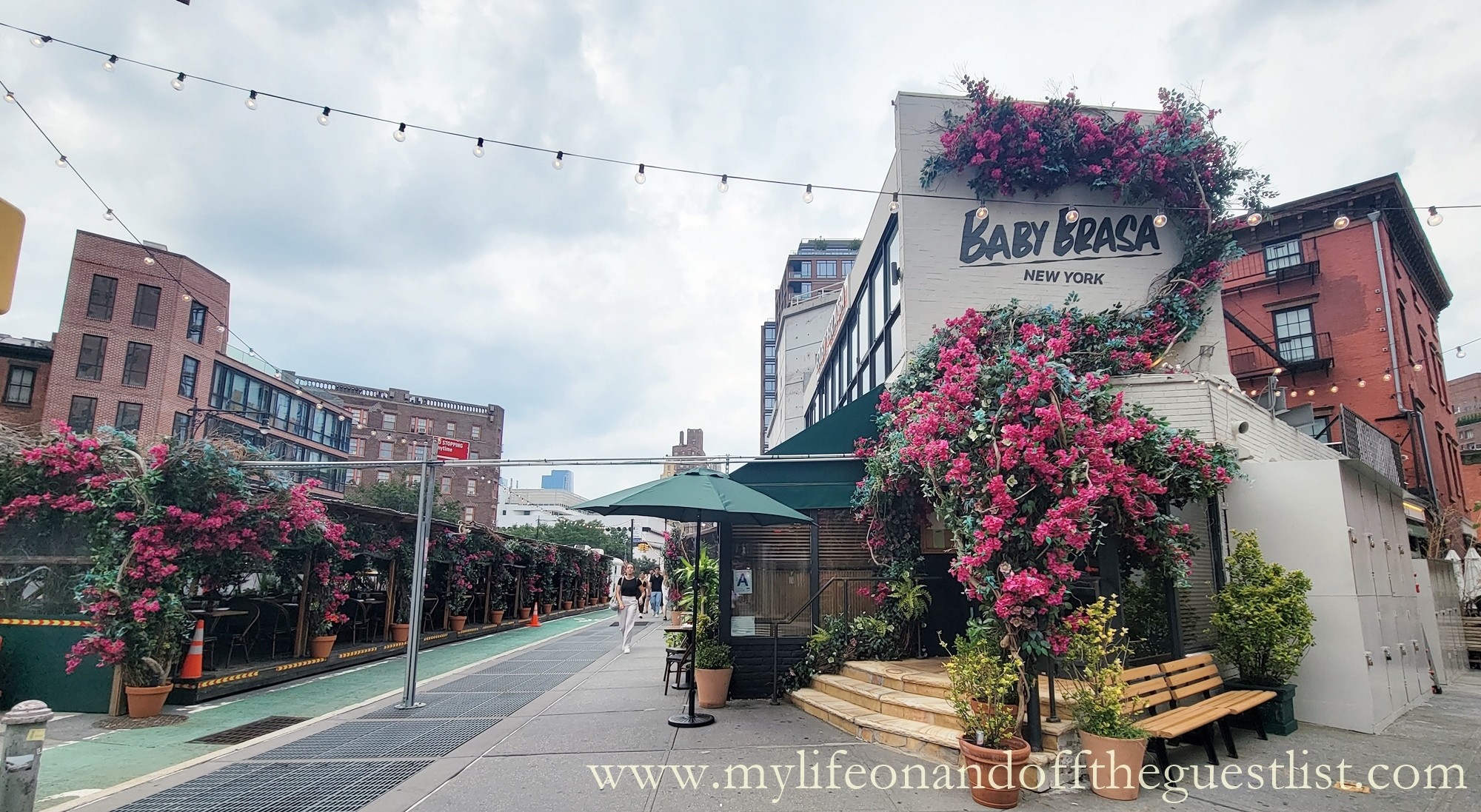 Taking advantage of a beautiful summer evening, we decided to enjoy Baby Brasa's spacious outdoor seating, which had us surrounded by vibrant, tropical flowers. As fate would have it, our reservation also happened to fall on National Peruvian Day and we partook in many off-menu specials on that day. We loved our experience so much, that we went back a second time to try some of the other cocktails and dishes we didn't get to enjoy on our first visit. Keep reading for our mouthwatering Latin American food journey.
COCKTAILS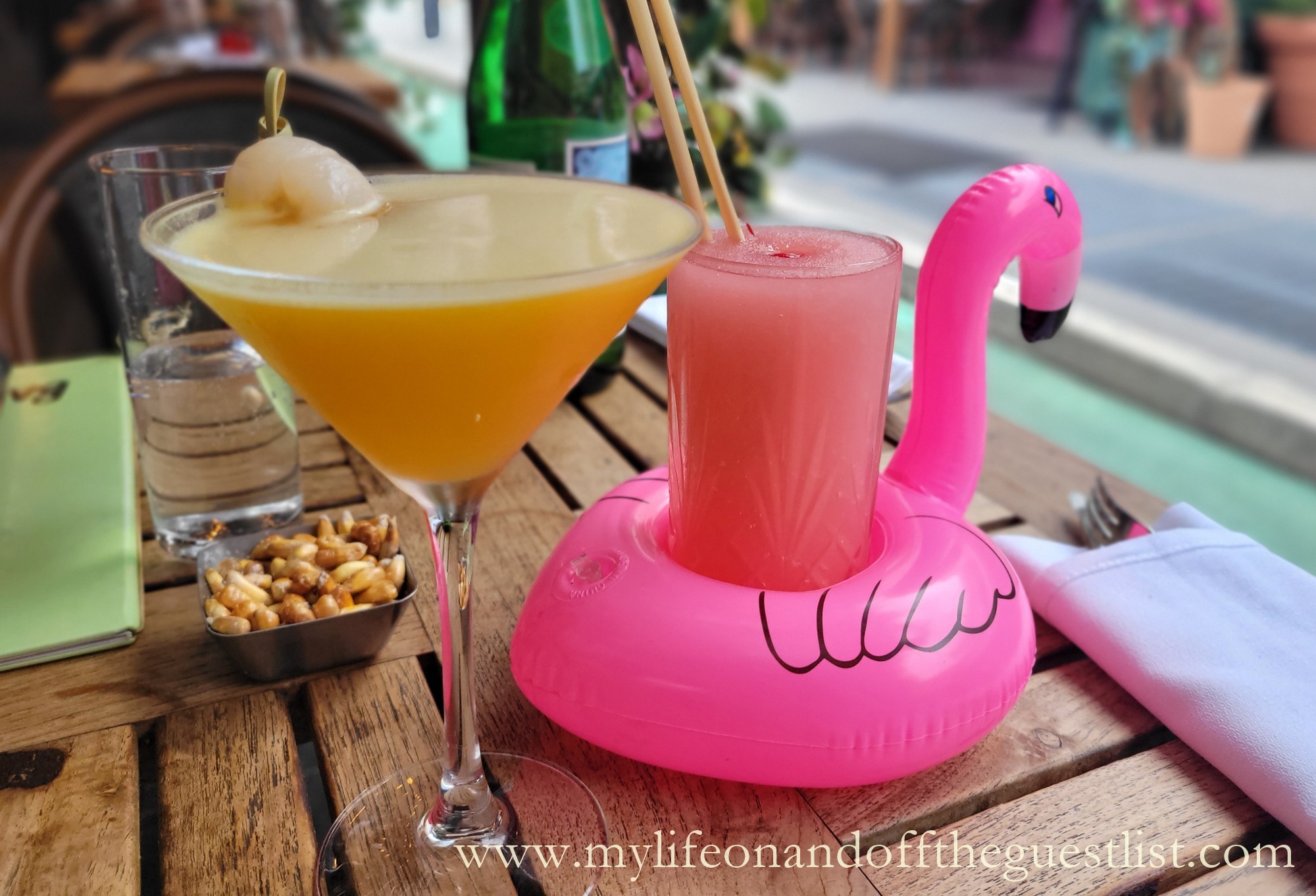 On our drinks, we ordered two of Baby Brasa's signature cocktails, the Baby Brasa Martini (Grey Goose Vodka, St. Germain, Lychee, and Passion Fruit), and the Pink Flamingo (Tito's Vodka, Frozen Whispering Angel Rosé, Watermelon Purée, and Lime Juice). The day was significantly warm so these refreshing libations went down quickly and smoothly. The martini was the perfect combination of sweet thanks to St. Germain and lychee and slightly tart from the passion fruit – an absolute winning combination. The Pink Flamingo is fun, sweet, very refreshing, and fruity. The taste of the watermelon really stands out.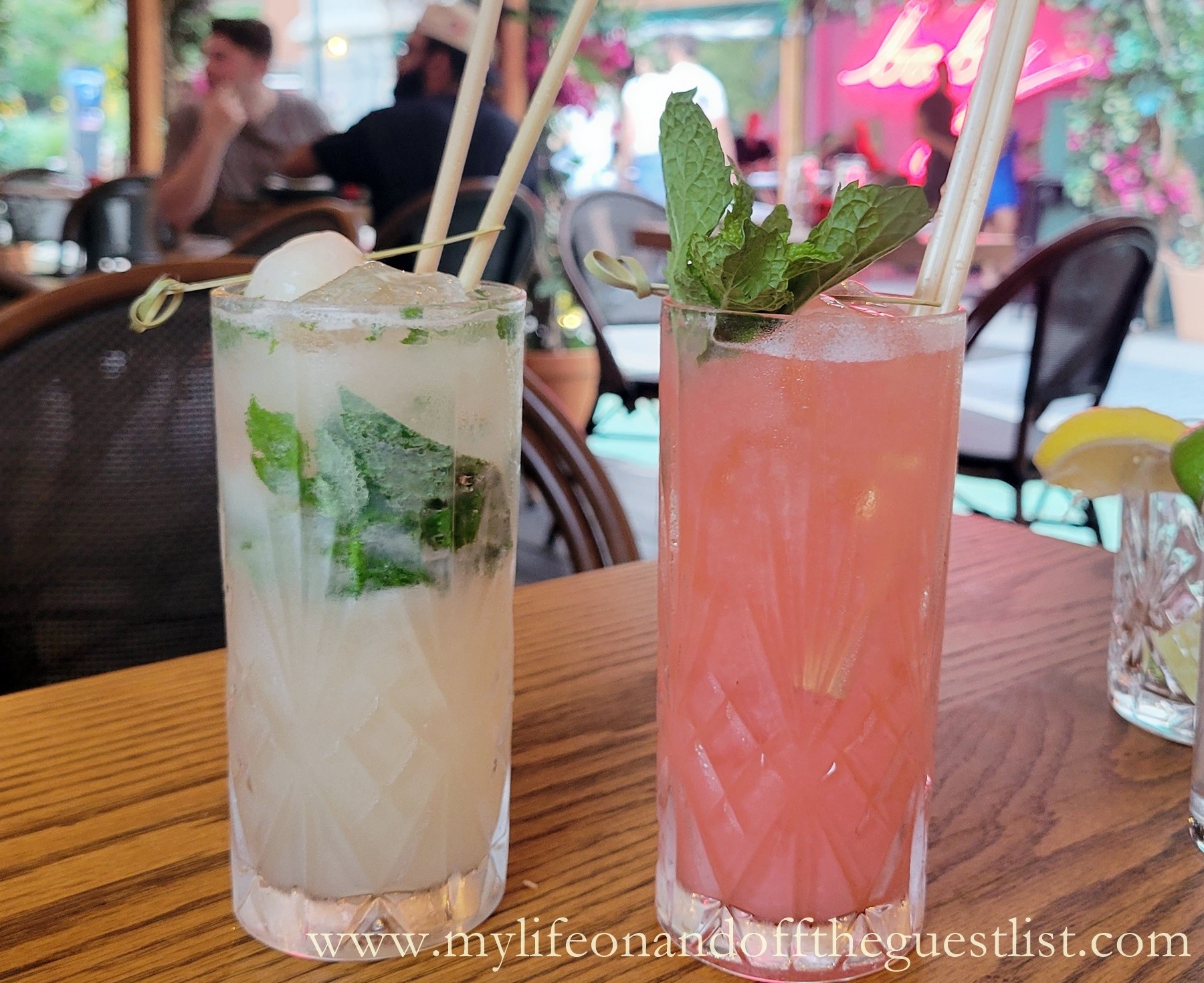 The second cocktails were a double lychee delight. The non-alcoholic Lychee Mojito (Lychee, mint, ginger ale, and raw sugar cane) and alcoholic Lychee Libre (Bacardi rum, lychee, strawberry purée, and mint) are the sweet and aromatic summer drinks we'd happily enjoy year-round.
APPETIZERS
OCTOPUS CEVICHE – Fried octopus, steamed octopus, red onions, sweet potato, Rocoto lime marinade, cilantro, Peruvian steamed corn, and crunchy corn nuts.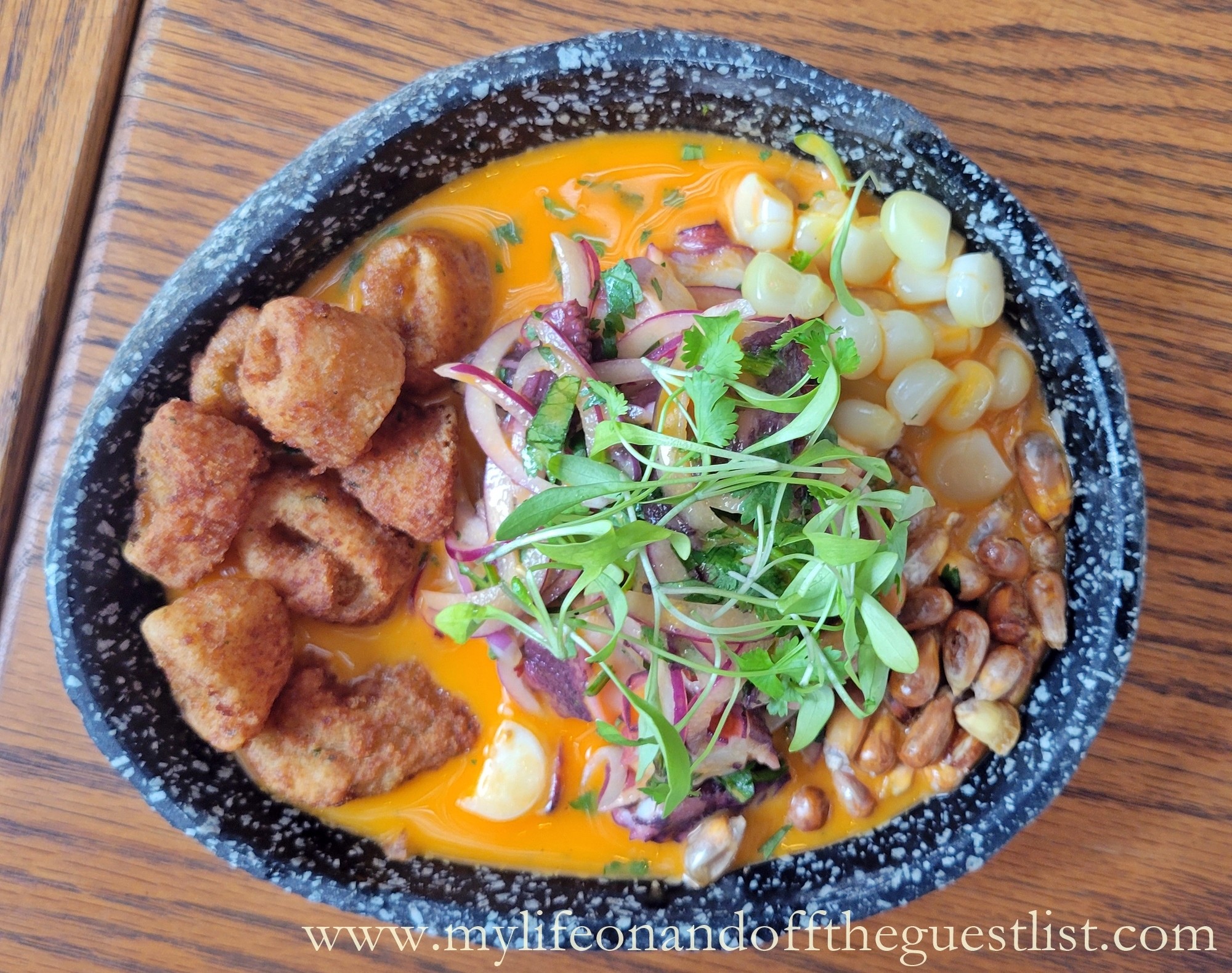 From the first bite to the last, this was an exceptional dish. For those who don't know, ceviche is Peru's national dish. We loved the variety of colors, flavors, and textures of this "special of the day" menu item. Baby Brasa has a Seafood Ceviche with mixed seafood on their daily menu (pictured below), but we strongly believe this should be a permanent addition to the menu.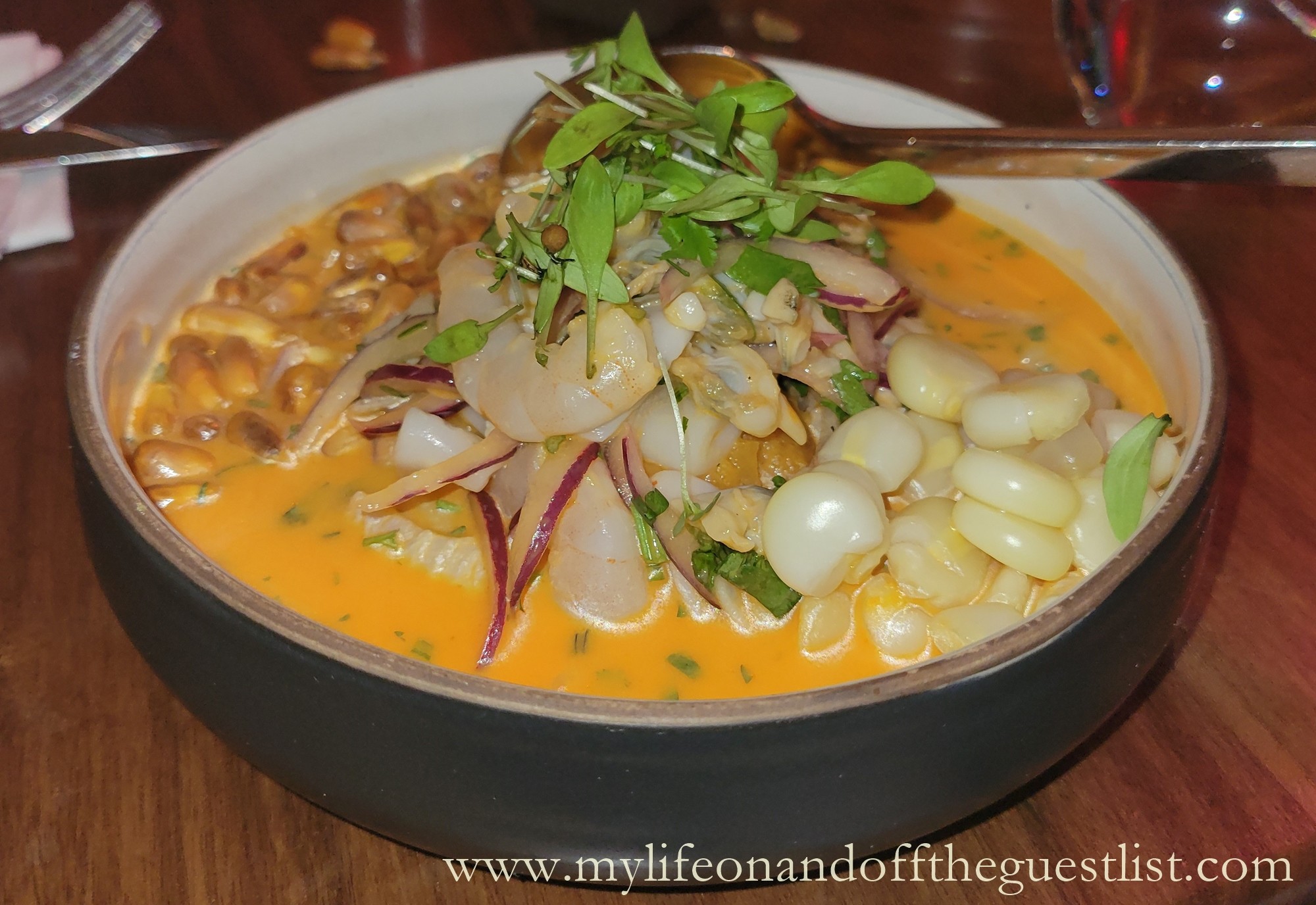 Their Seafood Ceviche features flounder fish in cubes, mixed local seafood, red onions, sweet potato, Rocoto lime marinade, cilantro, Peruvian steamed corn, and crunchy corn nuts.
CHICKEN ANTICUCHO – grilled chicken skewer, potatoes, cilantro, lime, and olive oil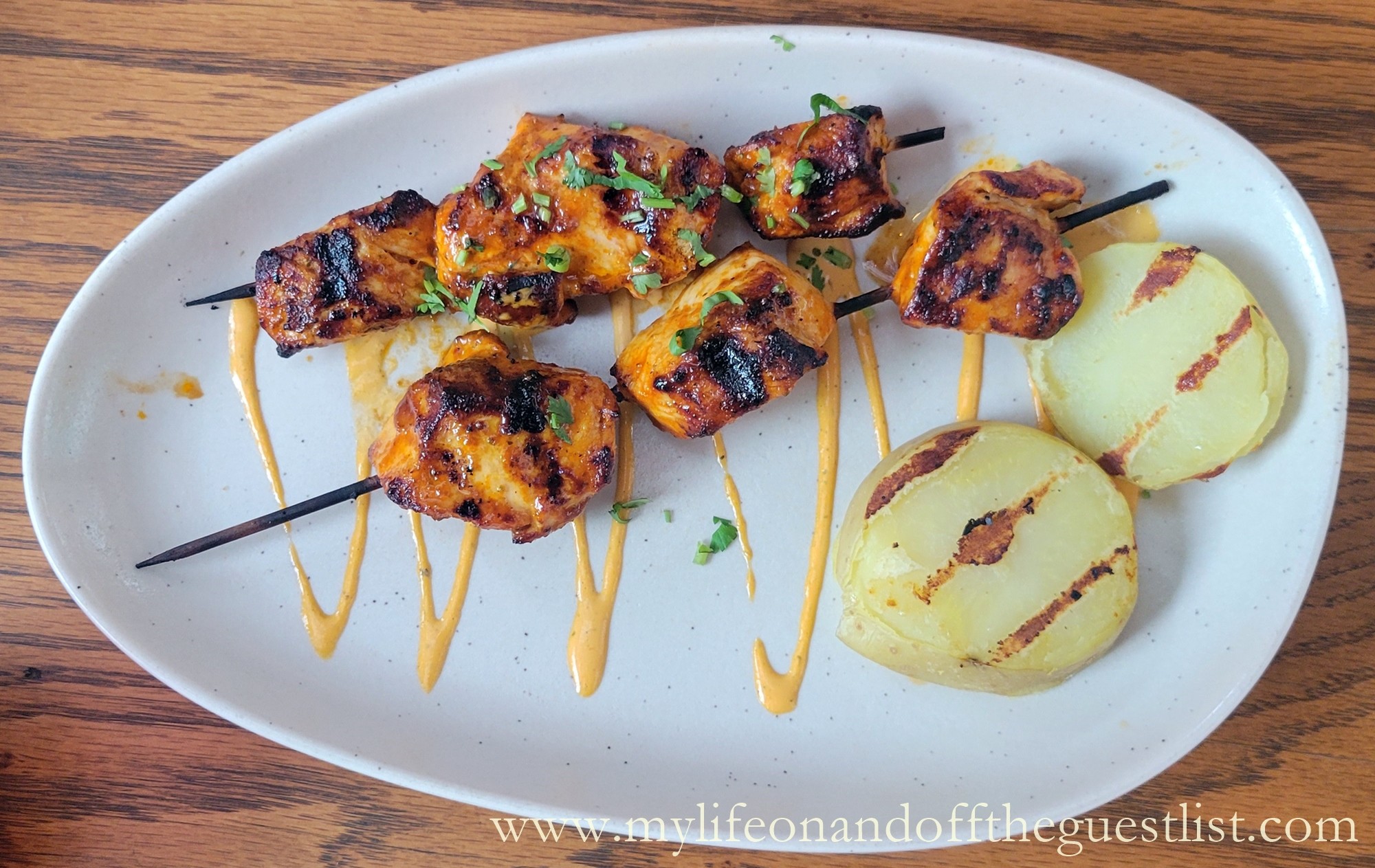 Don't let the simple look of this classic and traditional Peruvian street food fool you, it is absolutely huge on flavor. You will love its tangy and smoky flavors; it's marinated to perfection and was the perfect dish to celebrate National Peruvian Day.
BABY AREPAS – Ground maize pancake, stuffed with white cheese, chorizo, sweet plantain & avocado on top (four pieces per serving).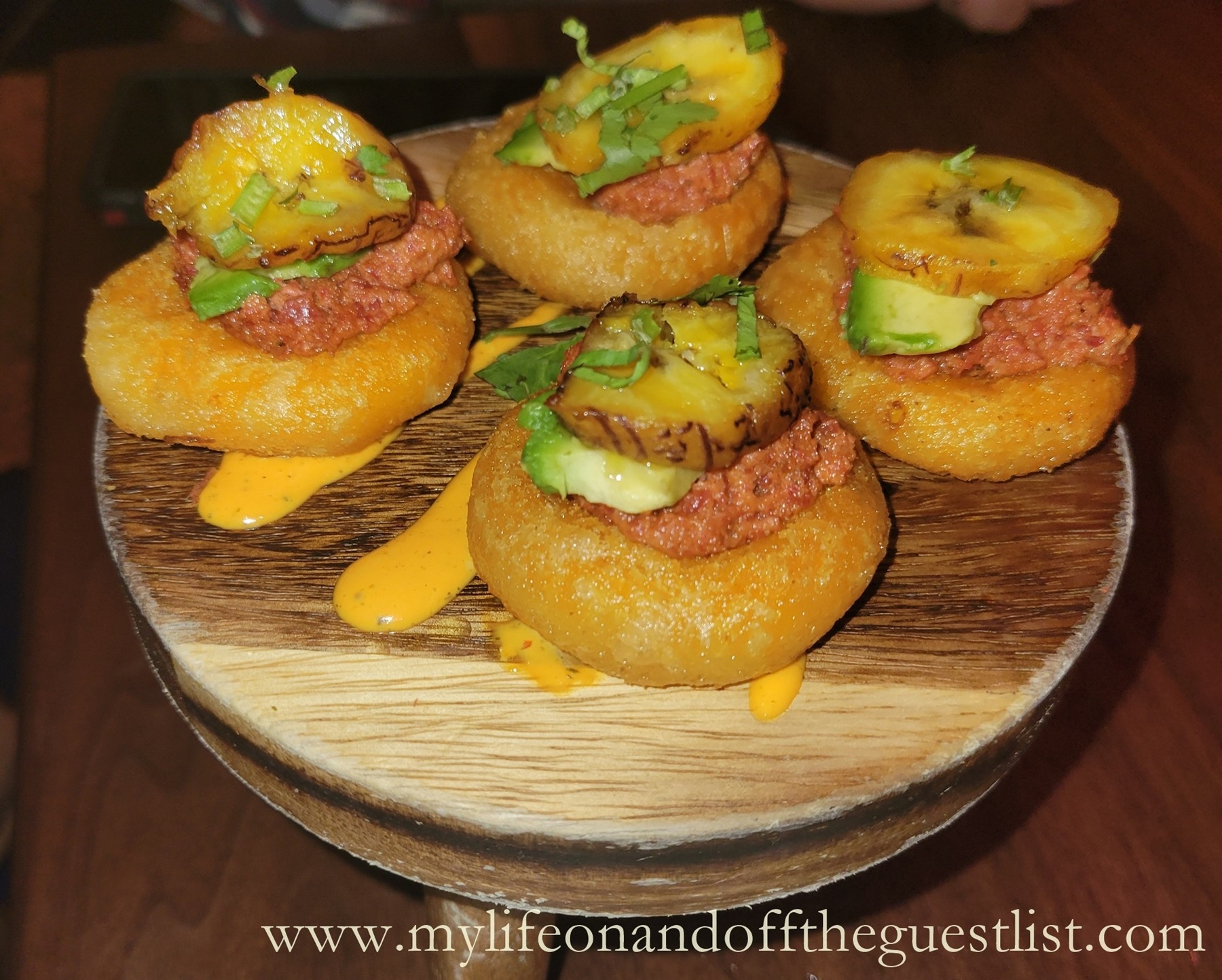 This was a wonderful layer of flavors that basically melts in your mouth. These disappeared very quickly as we could not stop eating them. Four is definitely not enough and you will find yourself ordering seconds of this Baby Brasa New York staple inspired by Colombia and Venezuela.
ENTREES
PASSION FRUIT SALMON – served with sautéed vegetable pineapple rice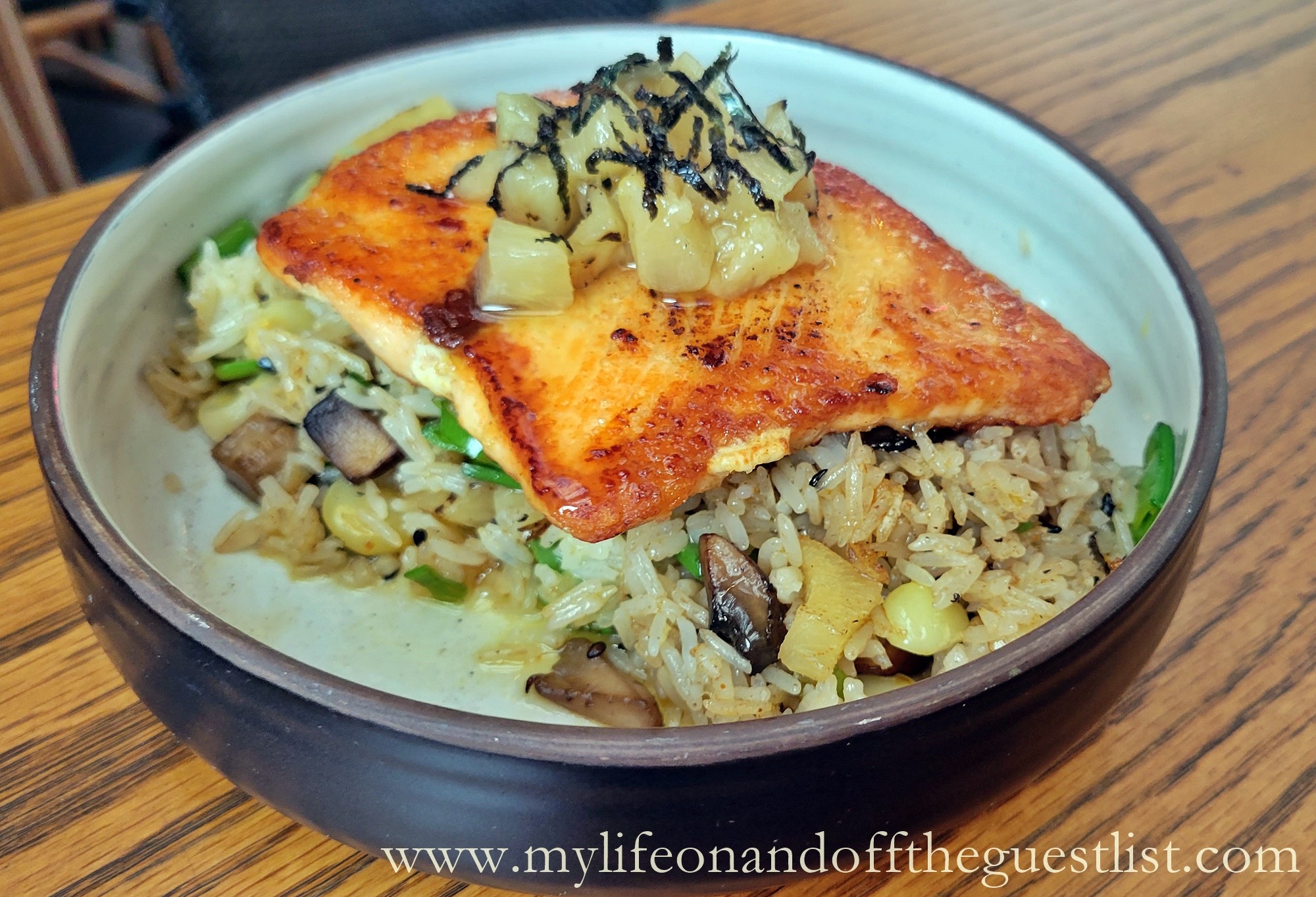 If you're looking for a dish that's savory, fruity, and fresh with a hint of sweet smokiness, you will love this grilled salmon. While it is called Passion Fruit Salmon, the pineapple topping and sauteed into the rice adds a different flavor profile to this grilled salmon.
AMAZON FRIED RICE – barbecued pork ribs served with sweet plantain fried rice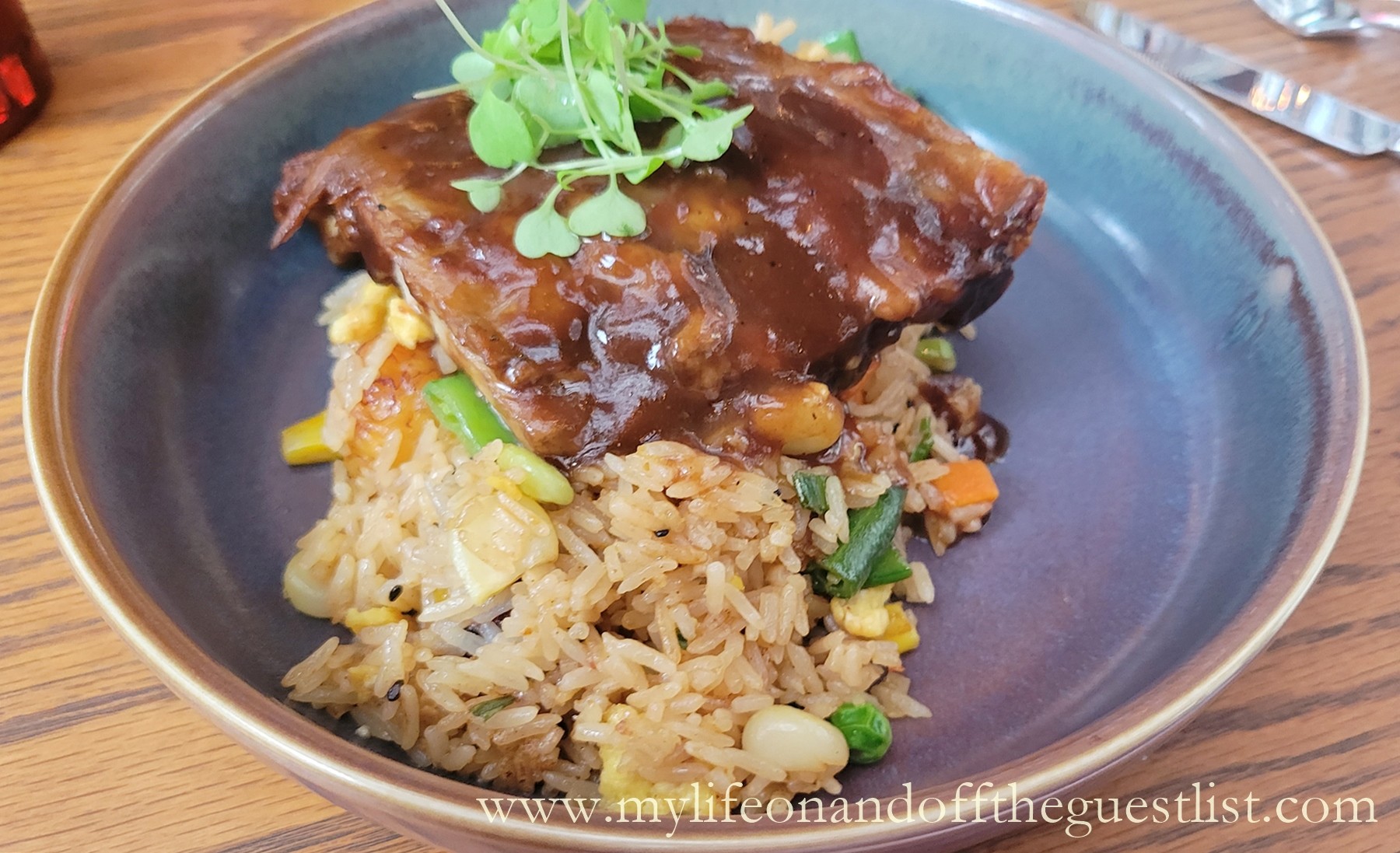 A favorite amongst every region in Peru, we loved being introduced to the addition of sweet fried plantains in fried rice. Topped with mouthwatering, fall-off-the-bone ribs, this Amazon Fried Rice dish is the ultimate in comfort food.
ARROZ CON POLLO – grilled chicken thigh, served with cilantro rice, Huancaína potatoes, and salsa Criolla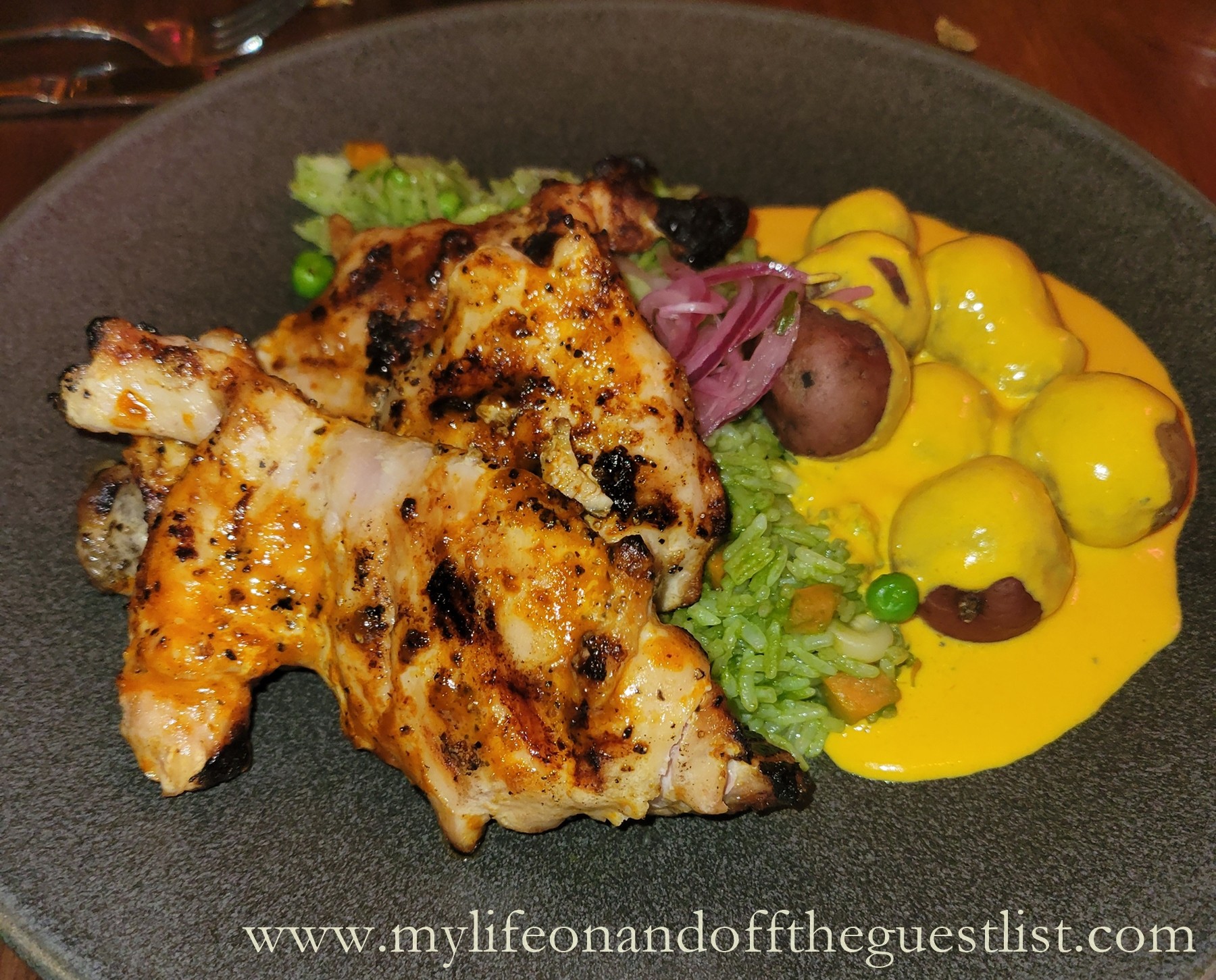 A traditional Latin American dish that Baby Brasa New York has plated as a layered dish instead of mixing it all up. It boasts succulent grilled chicken layered on top of traditional Peruvian green rice (cilantro gives it its green color), with delicious Huancaína potatoes on the side. We enjoyed this spectacular dish on our second visit and were so happy we made room in our stomachs for this flavorful dinner must-have.
DESSERTS
BABY'S LAVA COOKIE – chocolate chip with vanilla ice cream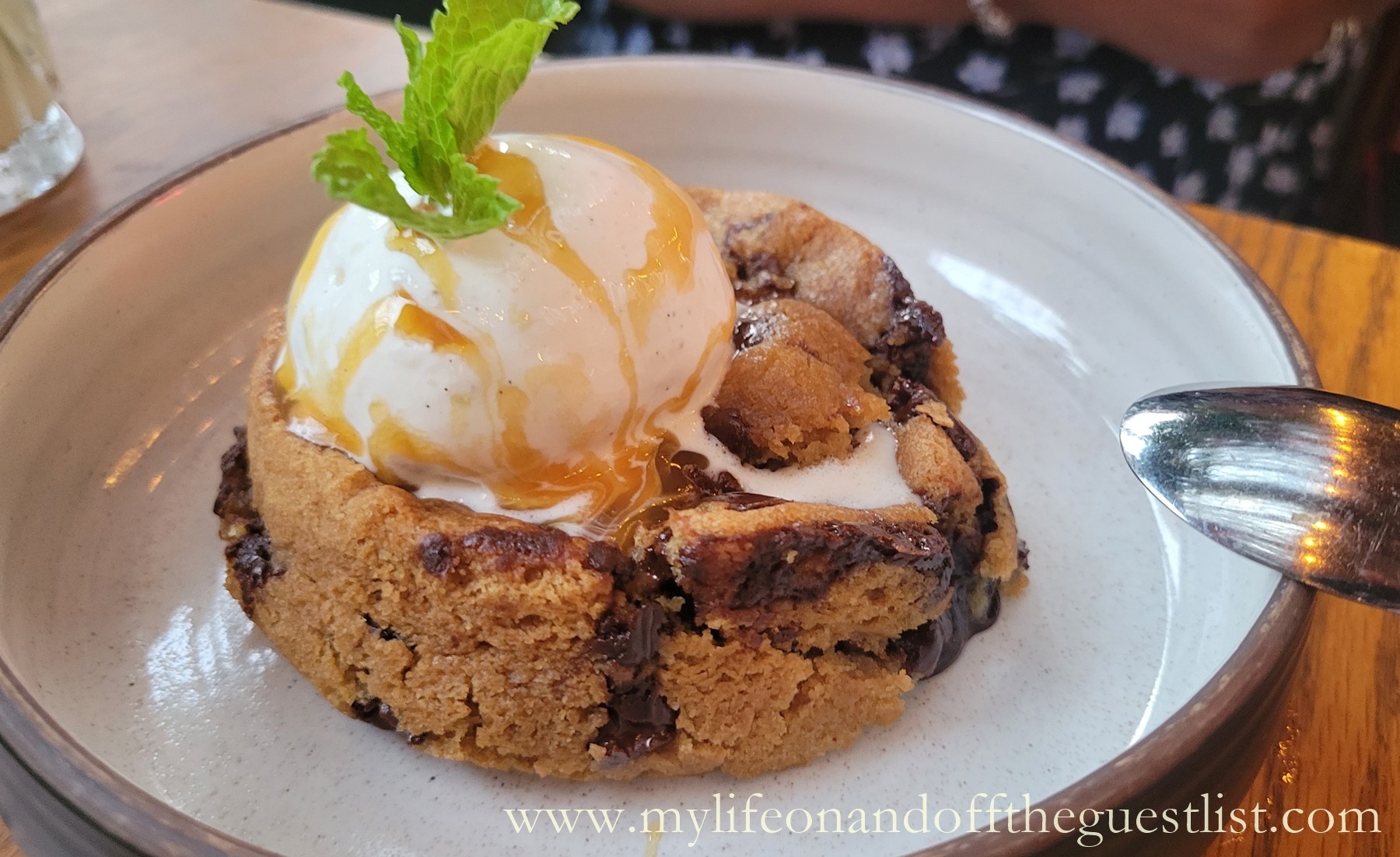 This isn't your mother's chocolate chip cookie. Baby Brasa New York really brought it with this sinful dessert. Get your sweet tooth ready because this jumbo lava cookie topped with ice cream is melt-in-your-mouth delicious. You'll love the gooey goodness of decadent milk chocolate lava oozing out of this delicious cookie.
CHURROS & DULCE DE LECHE – rolled up in cinnamon and sugar, served with a side of dulce de leche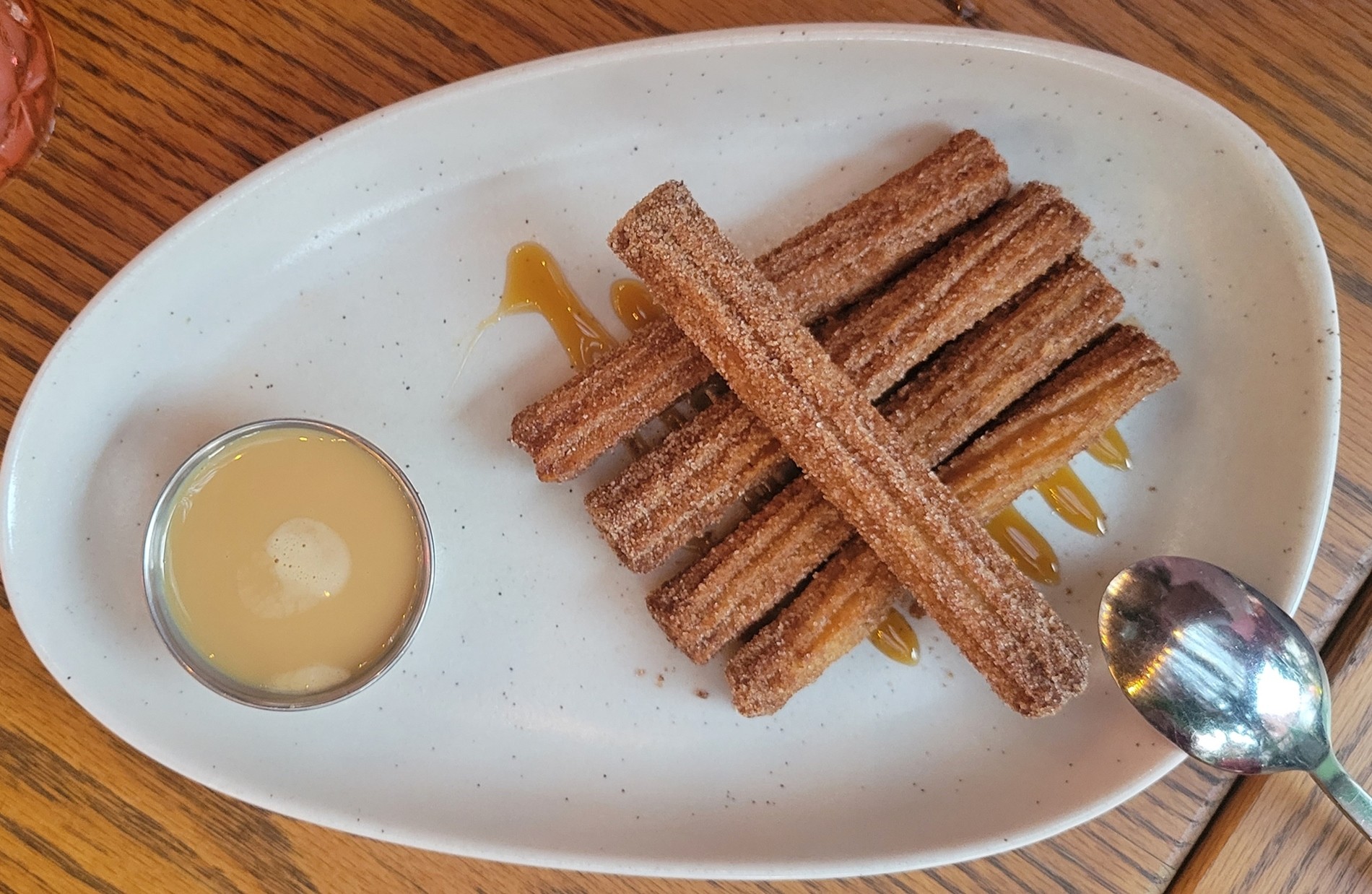 If you haven't enjoyed churros before, shame on you, and immediately add it to your culinary bucket list. For those not familiar, churros are delicious fried dough that's moist at the center with a crispy texture. Paired with a side of warm dulce de leche dipping sauce, you can't deny this delicious rope-like pastry is a fan favorite.
BABY BRASA NEW YORK & ALCHIMISTA SPIKED ICE CREAM

Are you ready for artisanal ice cream with a twist? Baby Brasa New York has teamed up with Alchimista Spiked Ice Cream to create a collection of liquor-infused ice creams and sorbets. The four flavors are Dulce de Leche, Paloma, Espresso Martini, and Margarita. They are made with premium and fresh ingredients and have up to 5% of alcohol content. They definitely cooled us down on this hot summer day.
If you find yourself in West Village, head over to Baby Brasa New York at 173 7th Ave South or call (646) 590-9010 to make a reservation to take your own Latin American culinary journey.