Calling all brunch lovers and fellow foodies, are you ready for an incredible brunch experience? The Village Voice has created some amazing curated tasting events with their Choice Eats and Choice Streets events, and they're set to wow us again with their latest must-attend event, Brunch Eats. This new breakfast-for-dinner event is the first of its kind, with 20+ of New York City's top restaurants and bakeries sampling their best breakfast bites, and mouth-watering brunch dishes.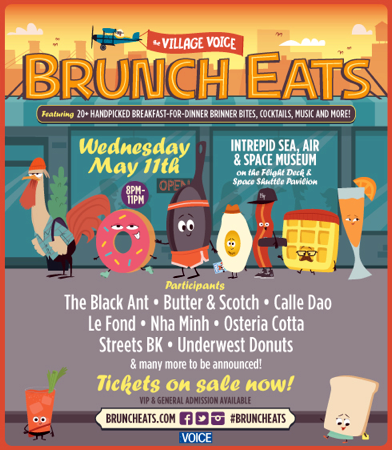 So far eight participants, have signed on to the event, including The Black Ant, Butter & Scotch, Calle Dao, Le Fond, Nha Minh, Osteria Cotta, Streets BK, Underwest Donuts, with 18 new restaurants announced: Barbounia, Bustan, Champs Diner, Distilled, Dough, Edi & The Wolf, Eggplant by Korilla, Ess-a-Bagel, Eugene & Co, Irvington, Jianbang & Co., Kingsley, Mezetto, Mr. Purple, Solber Pupusas, Tom's Restaurant, Tygershark and Xe May Sandwich Shop. Along with the mouth-watering brunch dishes, themed cocktails including bloody marys, mimosas, bellinis, coffee and more will be available to enjoy, while guests enjoy music under a starry night.
As with their other tasting events, tiered tickets are available for purchase. VIP tickets go for $85.00, and General Admission is $60.00. All guests will enjoy samples from 20+ participants with complimentary beverages, music entertainment and full access to The Intrepid Sea, Air & Space Museum ($22.00 value), and VIP guests will receive a VIP gift bag and have access to the VIP Shuttle Pavilion.
Guests will sample and sip from all attending vendors on the top of The Intrepid's Flight Deck, surrounded by the same propeller planes that were used during World War II. VIP guests will be treated to a unique experience in the VIP Space Shuttle Pavilion, which houses the Enterprise space shuttle and will also get to enjoy additional sips and snacks underneath the Shuttle with a self-guided tour through the Pavilion.
Sponsors for the Village Voice Brunch Eats include Califia Farms, Whole Foods Market, Vita Coco, Enterprise Rent-a-Car, Frames NYC, John Wm. Macy's CheeseSticks, Barefoot Wine & Bubbly, Polar Beverages, and Green Mountain Energy.
The full details of this sure-to-be-spectacular event is listed below:
EVENT DETAILS:
DATE: Wednesday, May 11th, 2016
VENUE: The Intrepid Sea, Air & Space Museum
12th Ave & W. 46th St.
TIME: 8PM – 11PM
We recommend you get your tickets now, as the village Voice's tasting events always sell out, and quickly. Get your Brunch Eats tickets online at http://bit.ly/BrunchEatsTix.
**UPDATE**
The event will also feature live music under the stars provided by The Brooklyn Sugar Stompers, an homage to Jazz's Golden Age: the 1920's. Check out a Menu Sneak Preview below:
Le Fond: Asparagus Royale with Country Ham and Black Truffle
Osteria Cotta: Biscuit topped with Smoked Salmon Mousse
Butter & Scotch: Mini BLT's on a Biscuit
Calle Dao: Five Spices Mahi Mahi Eggs Benedict with Pea shoots, Tomate de
Arbol Holandesa Sauce, Soy, Tostones
The Black Ant: Torta de Pato – Corn Bun with Duck Carnitas, Crispy Potatoes, Negra Modelo Morita Salsa
Bustan: Bustan French Toast with Homemade Challah Bread, Crème Anglaise, Pâte Feuilletée, Crème Fraiche, Mixed Berries & Silan and Tahini Sauce
Dough: Assortment of Extra Mini Doughnuts
Edi & The Wolf: "Kaiserschmarrn" (Shredded Pancake) with Apricot, Mascarpone Cream, Seasonal Fruit
Eugene & Co.: Black sea bass and scallop "bloody mary" ceviche
Mr. Purple: Corned Beef Hash
Irvington Bar + Restaurant: Oatmeal with Pistachio Crumble and Blueberries
Champs Diner: Breakfast Sliders with Tofu Scramble, Soysage & Vegan Hollandaise
StreetsBK: Cuban Sandwich With Red Mojo Sauce
Mezetto: Avocado Toast with Hard Boiled Egg and Romesco Sauce
Nhà Minh: Green Duck Eggs and Vietnamese Ham in a Crepe Pinwheel
Tom's Restaurant: Cinnamon Roll Pancakes
Tygershark: Brisket Congee with Quail Egg
Barbounia: Homemade Jerusalem Bagel with Salmon Gravalax, Labaneh, Cucumbers and Dill
Jianbing Company: Original Jianbing with Bacon and Vermont Maple Syrup
Kingsley: Crispy Pork Belly and Pickle Tot Hash with Eggs and Sriracha
Solber Pupusas: Pupusa Platter of Cornmeal Patties & Sides with Meat and Veggie Options
Xe May Sandwich Shop: Mean Green Sandwich