Alas, it's almost time to say goodbye to the summer season, and welcome autumn. During this seasonal change, we can't help but think of harvesting and fun trips to local farms to pick fruits, like ripe juicy strawberries. For those who've never gone strawberry picking or prefer to do their picking at supermarkets, you should know there are techniques to picking the best strawberries. According to Sara Gore, entertaining expert, and co-host of New York Live, for its Life Skills of the Highly Entertained series, when it comes to strawberries,"bigger is not always better, after picking the perfect berries, you have to know how to store them, and adding a spirit, like vodka, to a drink like strawberry lemonade gives it a nice happy hour spin." Which brings us to the NEW Pinnacle Strawberry Vodka, the latest flavor launch from the premium flavored vodka maker. Today we're sharing two great cocktail recipes to enjoy using Pinnacle Strawberry Vodka and the wonderful tips from Sara Gore.
Strawberry Basil Smash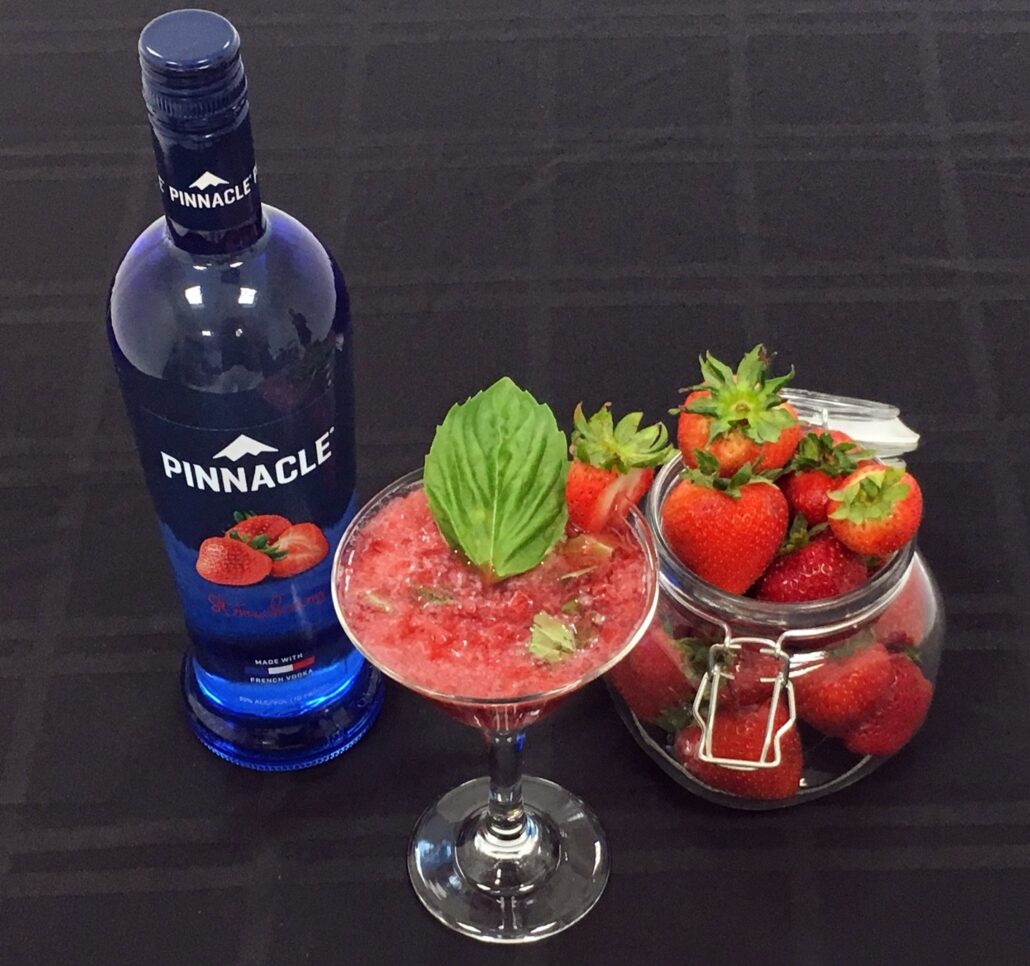 2 parts Pinnacle® Strawberry Vodka
1 part DeKuyper® Triple Sec
2 parts fresh lemon sour
1 whole strawberry, sliced
1 fresh basil leaf
Strawberry for garnish
Basil leaf for garnish
Black or pepper medley for garnish
Tear the basil leaf and drop into a mixing glass with the strawberry and muddle. Add all remaining ingredients and shake with ice. Double strain into a chilled cocktail glass. Garnish with a strawberry speared with a basil leaf on the rim and a few grinds of black or pepper medley.
Strawberry Lemonade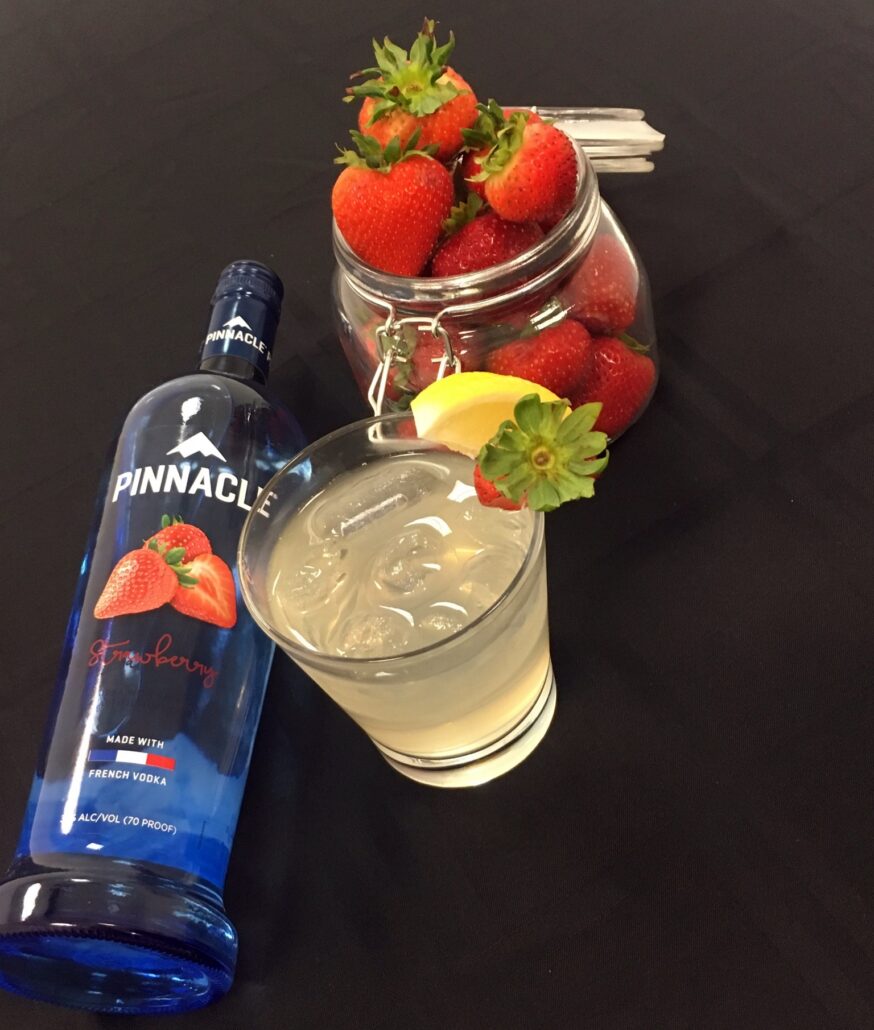 1 part Pinnacle® Strawberry Vodka
2 parts lemonade
Splash of lemon-lime soda
Strawberry slice for garnish
Lemon wedge for garnish
Build over ice in a tall glass. Garnish with a strawberry slice and/or a lemon wedge on the rim.
What are your thoughts on these Pinnacle Strawberry Vodka cocktails? Are you guys excited for this new flavor? As promised, enjoy the full range of tips from Sara Gore on making the most of your strawberry enjoyment: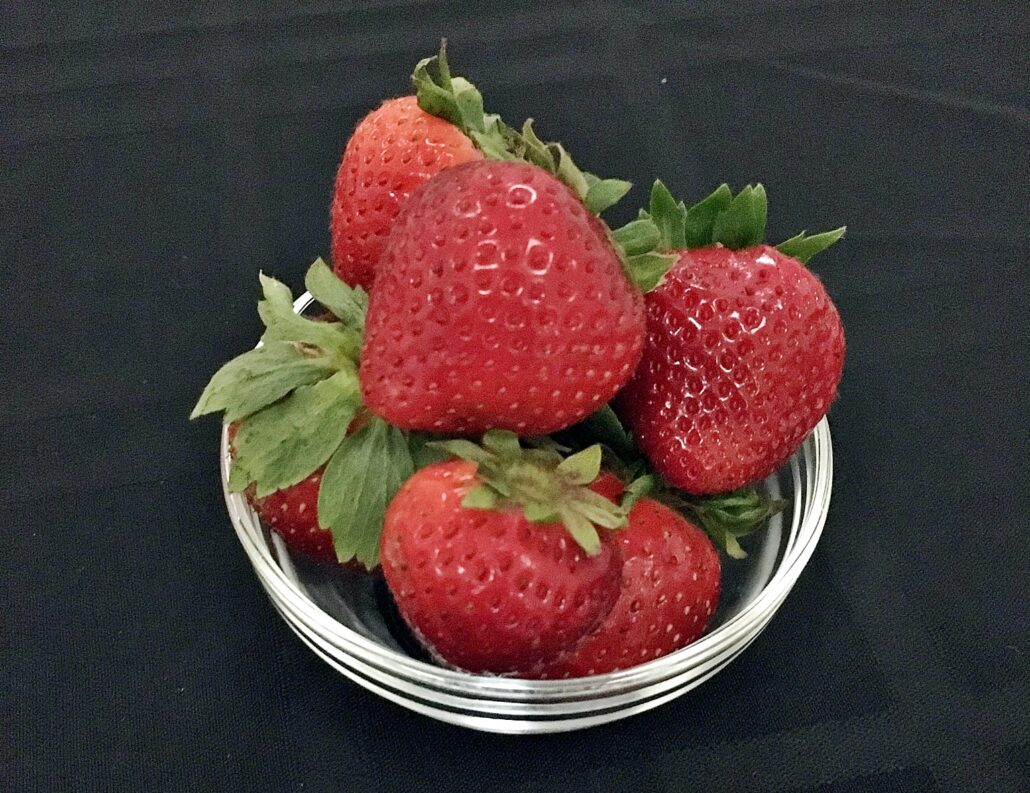 PICKING THE PERFECT BERRY

– Bigger is not always better. Typically, the smaller the berry, the more intense the flavor. Go for berries that are bright in color and plump with shiny skin. Berries don't ripen after you pick them, so keep that in mind if you see any that haven't turned red yet. If buying a container, pick up the carton and take a look underneath to ensure they haven't turned to mush on the bottom. While you're there, take a whiff. Those berries will smell as good as they taste!

HOW TO CARE FOR YOUR BERRY

– After picking the perfect berries, you have to know how to store them. Keep in mind berries are always best eaten within a couple of days of purchase. When planning a menu, buy them last and keep them cold and dry. To make berries last longer, make sure you don't wash them until you are ready to eat them. Place them in a single layer on a paper towel in a container or on a sheet tray covered with plastic wrap. Rinse in cold water before eating.

MUDDLE UP

– Sure strawberry lemonade is great on its own, but adding a spirit, like vodka, gives it a nice happy hour spin. Muddling in a fresh herb will give it another dimension of flavor. Add your leaf of choice to the bottom of the glass. Using your favorite muddler, crush the leaves to release their flavor. Pour in the remaining ingredients and go from bartender to mixologist in a mere 8- 10 smashes. Sara's favorite additions to a strawberry vodka lemonade are basil, mint, or even the not so obvious choice of rosemary for a smoky, earthy flavor. Use the same herb as a drink garnish. As everyone who is highly entertained knows, it's the little things that make all the difference.
Pinnacle Strawberry Vodka hits store shelves this month, so keep an eye out for the newest addition to the french distilled lineup.