Almost four years ago, while attending an Accessories Council holiday gift ideas event, we were first introduced to Mujus Jewelry, a stunning handcrafted jewelry brand with sustainable connections.  We were so captivated by these gorgeous jewelry pieces, we highlighted their eco-friendly jewelry again the following year.  That was too long ago, so we're back to share some more of our favorite pieces from Mujus Jewelry and offer you, dear readers the CHANCE TO WIN a piece from the jewelry brand that empowers women.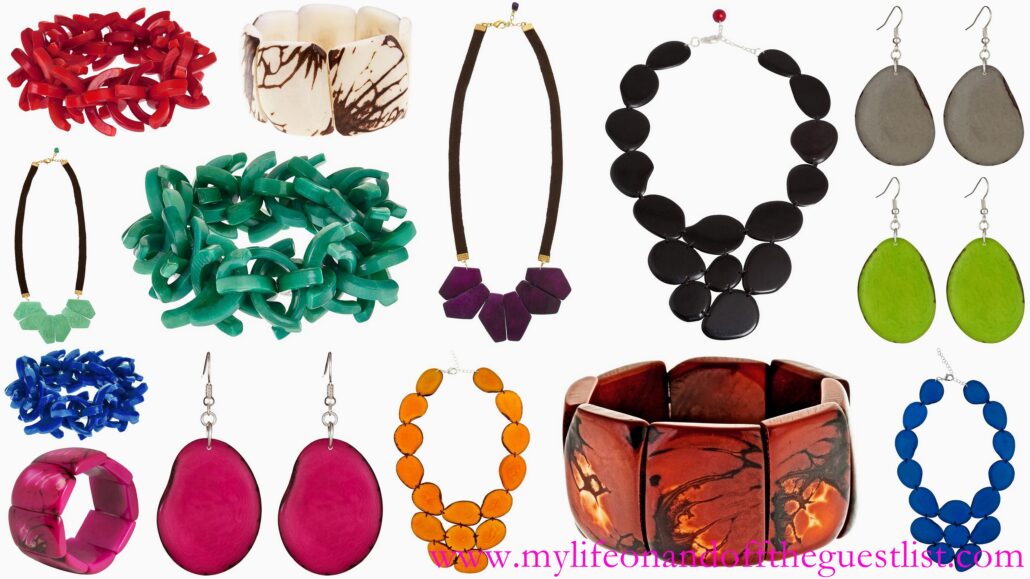 Mujus Jewelry pieces are handcrafted in Ecuador by artisan women who are either single mothers or heads of household. Mujus Jewelry Founder, Paola Delgado created the brand to reconnect with her culture and create a more meaningful life for both the women in Ecuador and for herself. By making these beautiful pieces, these women gain financial independence, strength, and an amazing sense of self. Mujus Jewelry's Working Mother's Program not only teaches these women the art of jewelry making, it allows them to work from home to spend more time with their families.
As we've mentioned before, the jewelry pieces are carved from Corozo Nuts, seeds from the South America tagua palm tree that are known as vegetable ivory. It is incredibly durable and lightweight and boasts the same luxurious smooth texture as ivory, giving you the same luxury without having to harm any Elephants. Doesn't that sound like a must-have for your jewelry box? Well, here's your chance to win. We are happy to offer you the opportunity to win one of our favorite pieces from the collection, the Gema Bib Necklace ($69.00), in one of the following colors – Monaco Blue, Teal, and Yves Blue.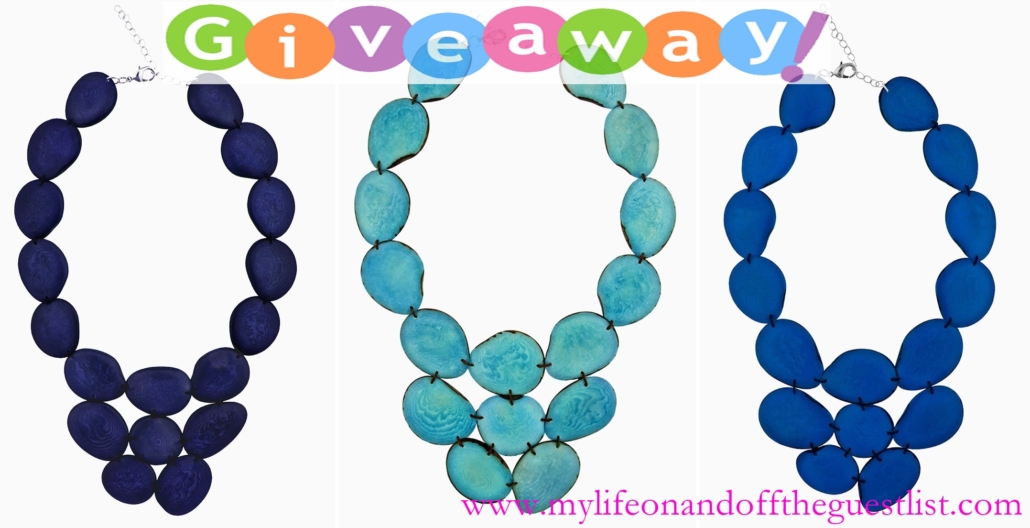 The Gema Bib Necklace is versatile and has an aura of its own. The 18″ eco-friendly necklace with 3″ extender, can be worn with an evening gown, or can chic up a basic summer tee shirt. Paola named this necklace Gema, which in Spanish means gem because let's face it, the necklace looks like it's made with raw gems. Each piece of tagua nut is hand-sewn together to create this beauty. It takes months to master the art of placing the tagua nut pieces at the right angle, to create the perfect collective shape. So, ladies, are you ready to win? To win the blue color of your choice, enter via the Rafflecopter entry form below: