We all know iconic red carpet looks starts with perfectly prepped skin and hair. We're sharing three stunning Golden Globes beauty looks from the 75th Annual Golden Globes red carpet that are sure to turn heads. From This Is Us's Susan Kelechi Watson fabulous natural and curly bob, drama series Outlander's Caitriona Balfe's slick back low bun, and Downton Abbey and Cinderella's Lily James's glowing skin, these Golden Globes red carpet beauty glow ups are effortless, chic, and totally attainable. Read on for the tips and tricks to replicate the three Golden Globes beauty looks.
Susan Kelechi Watson's "bobfro" by Vernon François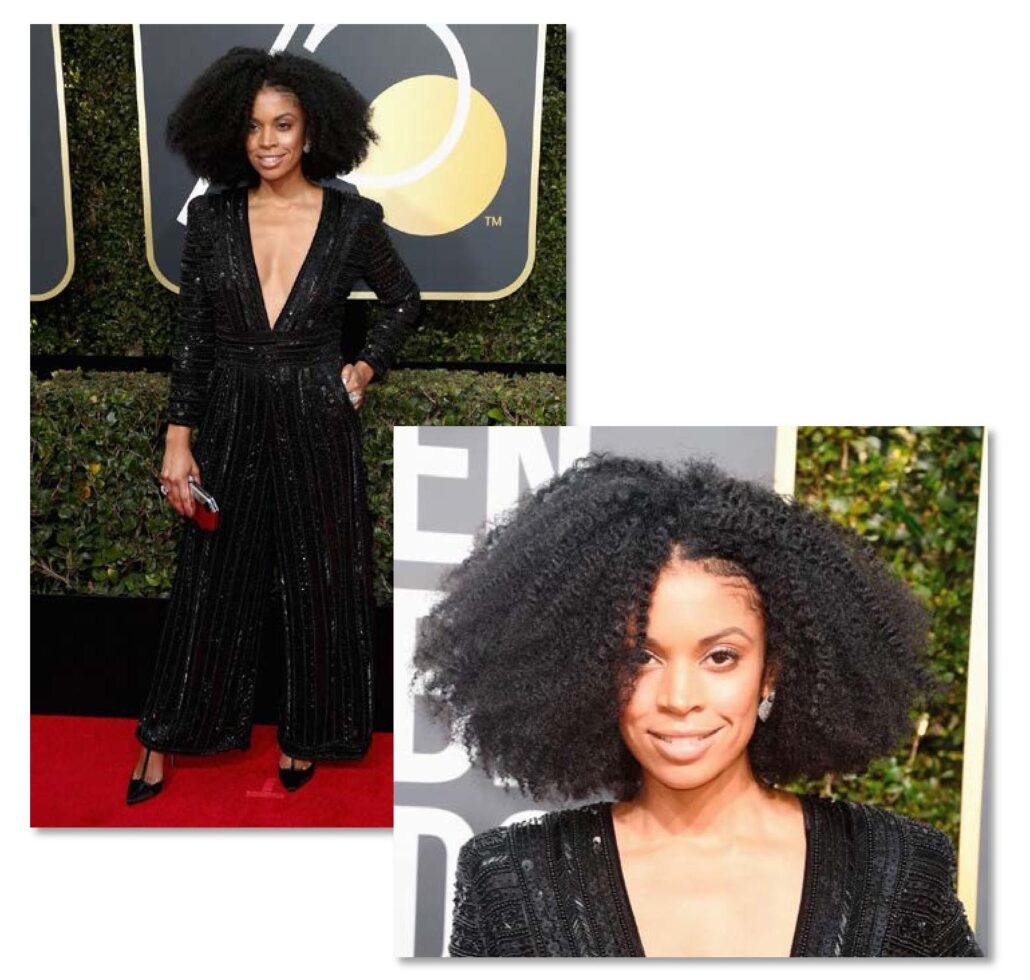 TIPS/TECHNIQUE: To recreate Susan's "bobfro", start by prepping the scalp with the Scalp Nourish~Ment Braids and Loc Spray followed by the Leave~In Conditioner from root to ends for a dose of hydration and protection. Part and section the hair and create two strand twists and then set under a diffuser or hood dryer. Next, split & separate the twists, concentrating on the bottom to reveal carefree body and volume. To complete the look, pin the sides to hold the hair in place & top off with the Dazz~Ling Spritz Shine Spray for a touch of shimmer.
The Vernon François products used on Susan Kelechi Watson, available on www.Sephora.com and select Sephora retailers, include Scalp Nourish~Ment Braids and Loc Spray ($24.00), Leave~In Conditioner ($28.00), and Dazz~Ling Spritz Shine Spray ($24.00).
Caitriona Balfe hair by Harry Josh for Joico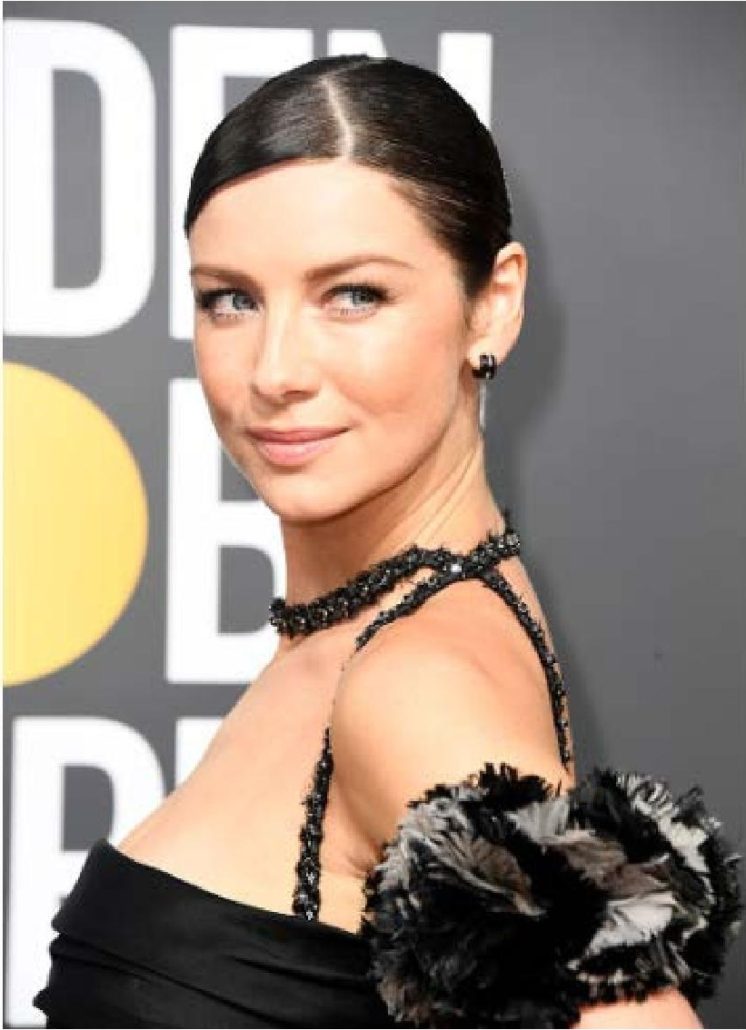 Inspiration: "We wanted to keep hair on the modest side, as there's an important message being portrayed by the women on the carpet tonight. That's why we decided to go with a tight, slicked-back bun and kept it simple, sleek and chic." – Harry Josh
TIPS/TECHNIQUE: "Prep is super important to a finished look – the battle of healthy looking hair begins in the shower. To ensure moisturized and healthy hair, Harry Josh started Caitriona's hair by using the Joico K-Pak Luster Lock as he washed the hair. This deep-penetrating system was left on her hair for minutes before washing out and is a great 3-minute miracle for dehydrated hair, as it gave the high-wattage shine needed for tonight's red carpet or is even great for day-to-day life.
Harry Josh decided on a very sleek bun for Caitriona's red-carpet look. First, he started blow drying the hair, making sure to apply the Joico Heat Set Blowout Perfecting Crème to her still wet hair – this helped to diminish frizz or any heat damage, which was important for the sleekness of the look. It was also vital to blow dry the hair downwards using a flat brush, this made sure hair was illuminated and lent to the shininess we were trying to achieve. Once her hair was dried, Harry made sure to apply the smallest drop of the Joico K-Pak Protect & Shine Serum to the ends of Caitriona's hair to create an ultra-healthy finished look.
To start the styling, Harry created a zig-zag part at the top of her head, then secured all her hair into an extremely tight ponytail in the back using an elastic band. He then started to twist the ponytail around the elastic band until he felt it buckle. Once he felt that buckle, he secured the hair with bobby pins to keep the bun in place. To finish off the look and make sure it appeared extra-glossy, Harry used the Joico Power Spray which not only ensured the hair would stay in place, but also give a high-gloss, almost wet-look finish. Finally, for an extra hint of flair, he decided to use chain-metal panels on the side of the head to create a fun, a-symmetrical look.
PRODUCTS: Joico K-Pak Color Therapy Luster Lock ($19.99), Joico Heat Set Blowout Perfecting Crème 03 ($14.99), Joico K-Pak Protect & Shine Serum ($17.49), and Joico Power Spray Fast-Dry Finishing Spray ($16.99). Get them all at www.LoxaBeauty.com, Ulta, and www.Ulta.com.
Lily James Makeup by Katey Denno for Biossance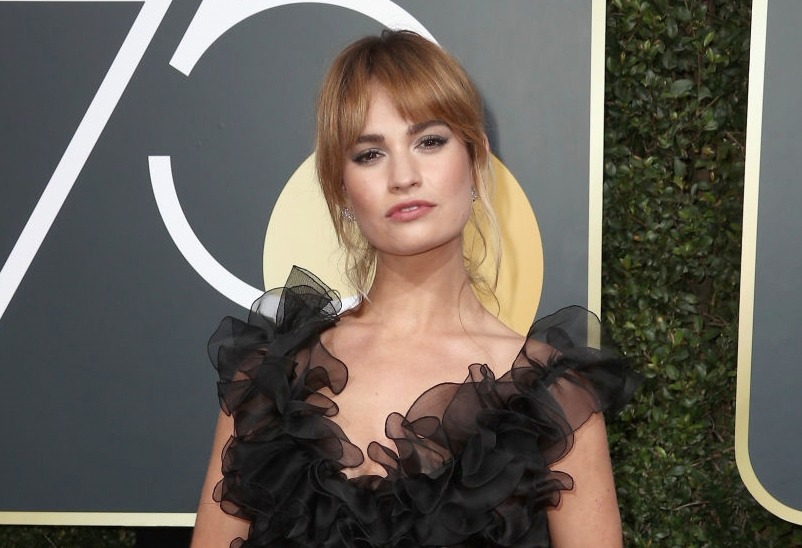 Green beauty expert and celebrity makeup artist Katey Denno worked with Biossance to give British beauty Lily James a golden glow for tonight's awards. Before creating her effortless makeup look, Katey prepped Lily's skin by pressing in 5-6 drops of Biossance Squalane + Vitamin C Rose Oil to brighten and even out her skin tone. On the areas where Lily needed an extra boost of hydration, Katey massaged a few drops of Biossance Squalane + Probiotic Gel Moisturizer. For an all-over glow, Katey added a few additional drops of the Gel Moisturizer to her decolletage, back and arms.
All of Biossance's products are made with the brand's 100% plant-based and sustainable Squalene Oil, a weightless oil that hydrates and locks in essential moisture.
What do you think of these Golden Globes beauty looks? What were your favorite Golden Globes beauty red carpet moments?