We're back with another New York City restaurant review and so far, this culinary experience may be our best one yet. Overlooking the grounds of the United Nations, through its 40-ft floor-to-ceiling window walls, is the UN Plaza Grill. The location isn't the only standout detail about the UN Plaza Grill, they offer a spectacular range of international kosher cuisine by award-winning chefs.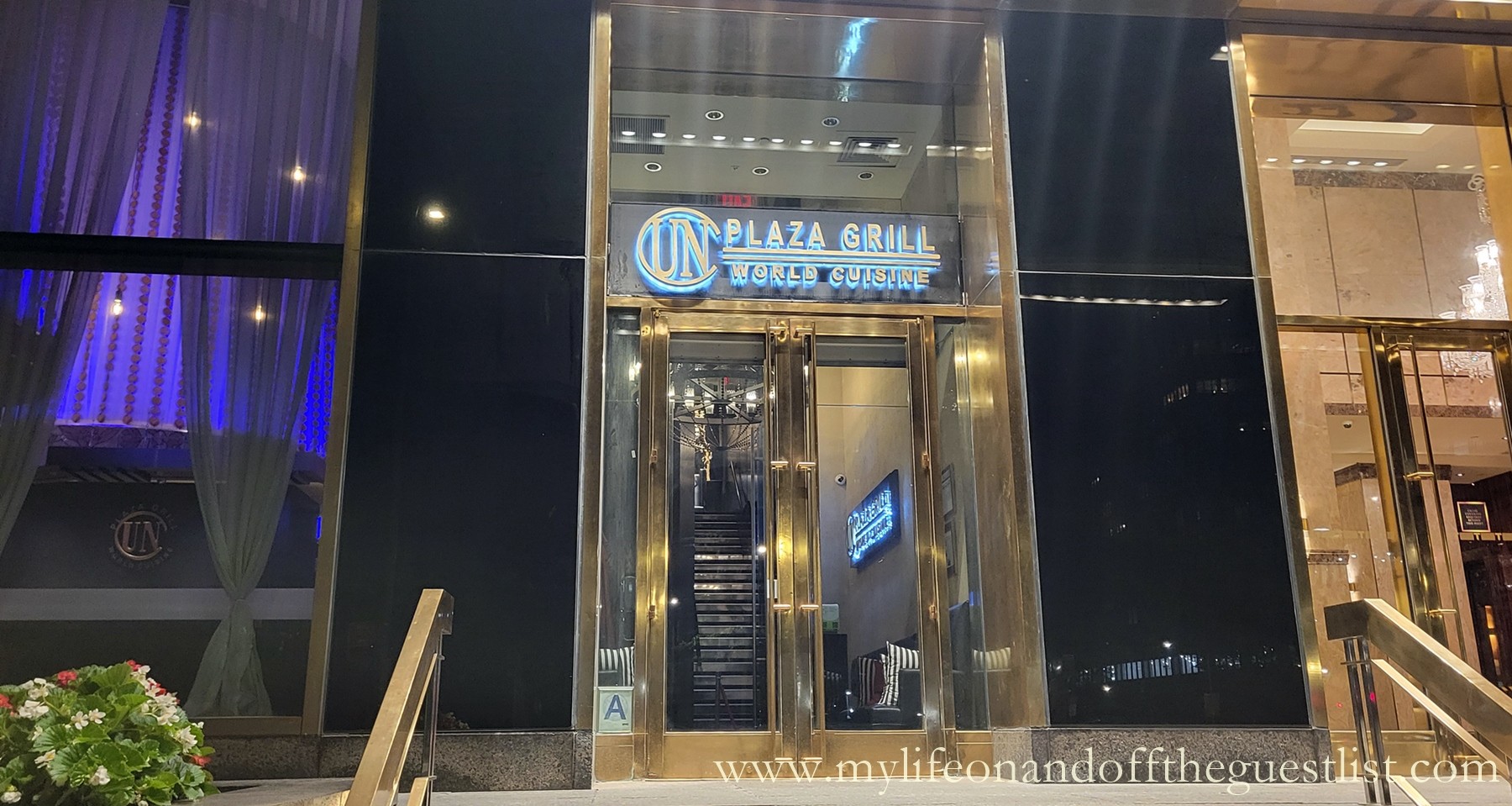 We were made to feel so incredibly welcome at the UN Plaza Grill being offered a welcome cocktail mere minutes after being seated. A St. Germain Bellini that made the Elderflower liqueur the star of the cocktail. St. Germain is one of our top three liqueurs, so this was the perfect libation to start our experience. Check out our Instagram Stories for more. This extra show of hospitality would be shown to us, as well as the other diners, throughout the evening. Following our welcome cocktail was a mix of cocktails and dishes from the main and $69 prix fixe menu offered for the summer. Let us tell you more about our evening of kosher decadence.
FIRST COCKTAILS
Purple Mojito Rum

– Simple syrup, mint, fresh lime juice, Concorde float
St Germain Spritz

– Elderflower liqueur, sparkling white wine, grenadine, orange slice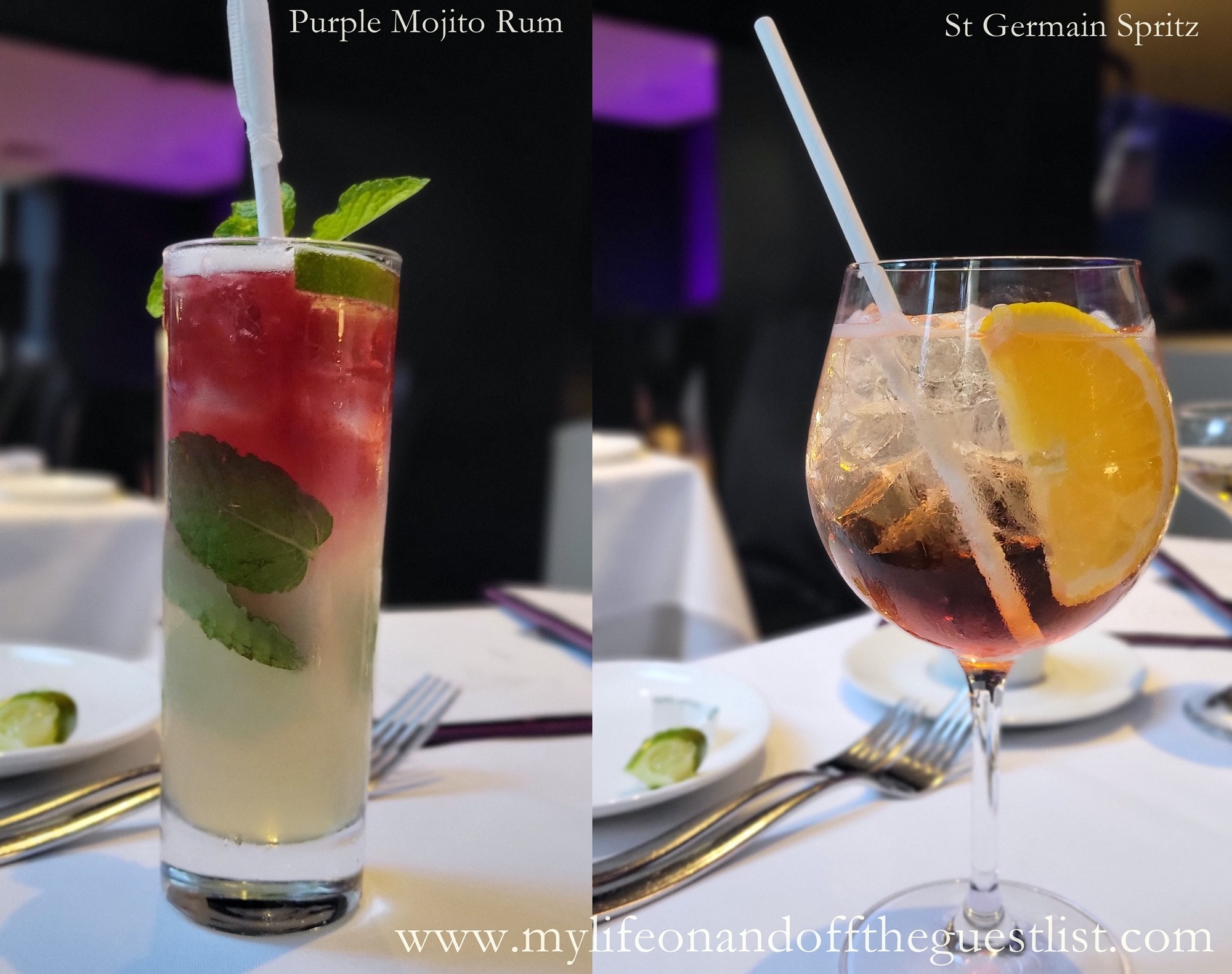 The Purple Mojito Rum is not your average Mojito! We all know that Mojitos never fail, however, this one wasn't just absolutely superb, but its color blocking also made it visually stunning. What an experience and a delight for the palate! Delicious and memorable, it's sure to be a favorite.
As we previously mentioned, we love St. Germain, so it's no surprise the St. Germain Spritz made it to the table. Why follow up a St. Germain Bellini with the St. Germain Spritz? The blend of Grenadine and citrus burst of the orange slice adds a freshness to the St. Germain liqueur. This light and floral cocktail was the perfect pairing to our flavorful and spicy starter.
STARTERS
Tandoori Chicken Wings

(From the $69 Prix Fixe Menu)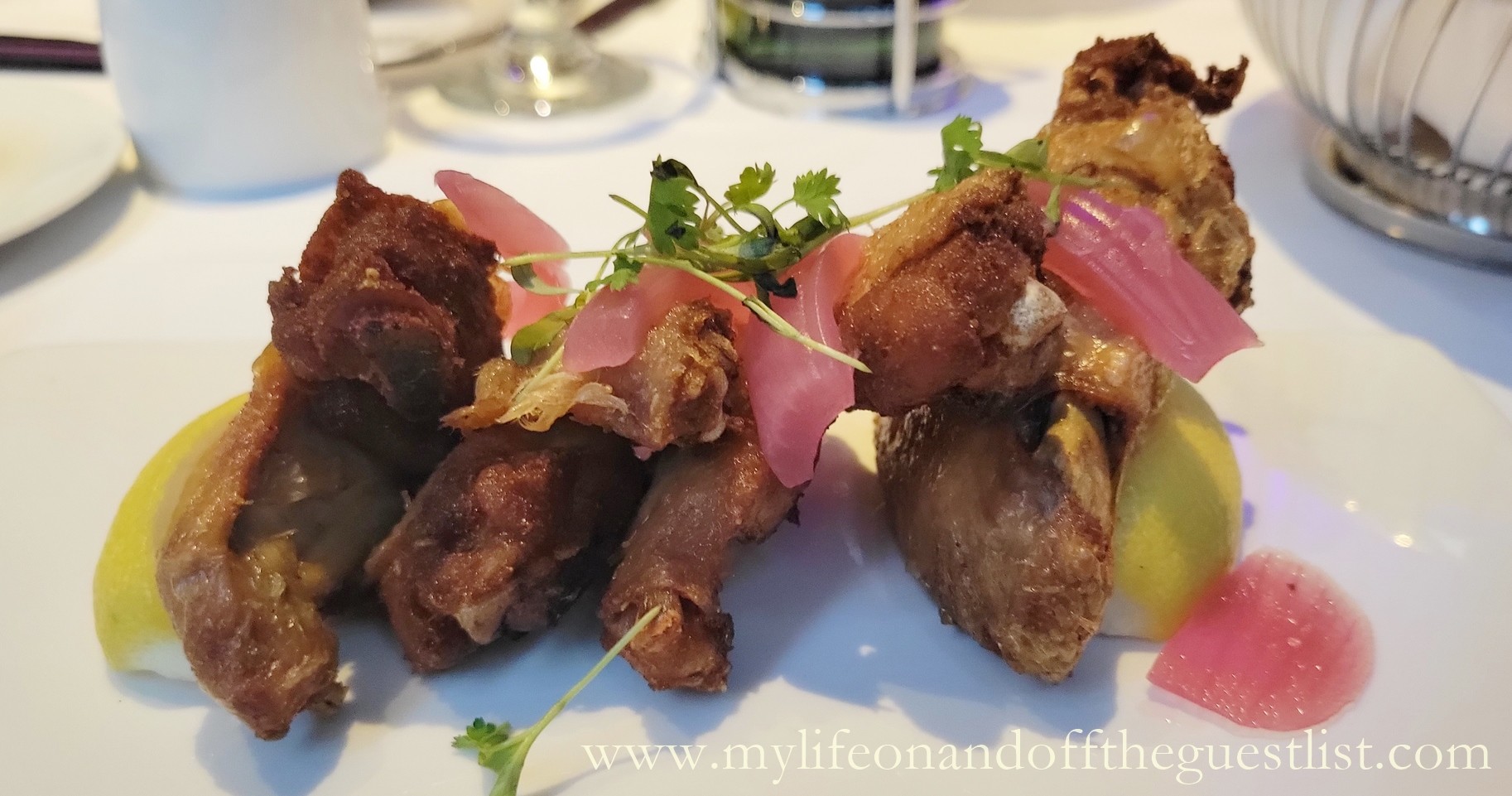 Sweet and spicy flavors flawlessly balance out each other in this go-to dish in an iconic Indian flavor. When one thinks of Tandoori chicken, it's either the whole chicken leg and thigh or chicken pieces. We loved and devoured UN Plaza Grill's take on chicken wings. The wings were undeniably juicy, tender, and brimming with flavor. We hope this is added to the main menu as it deserves to be experienced.
Sushi Tower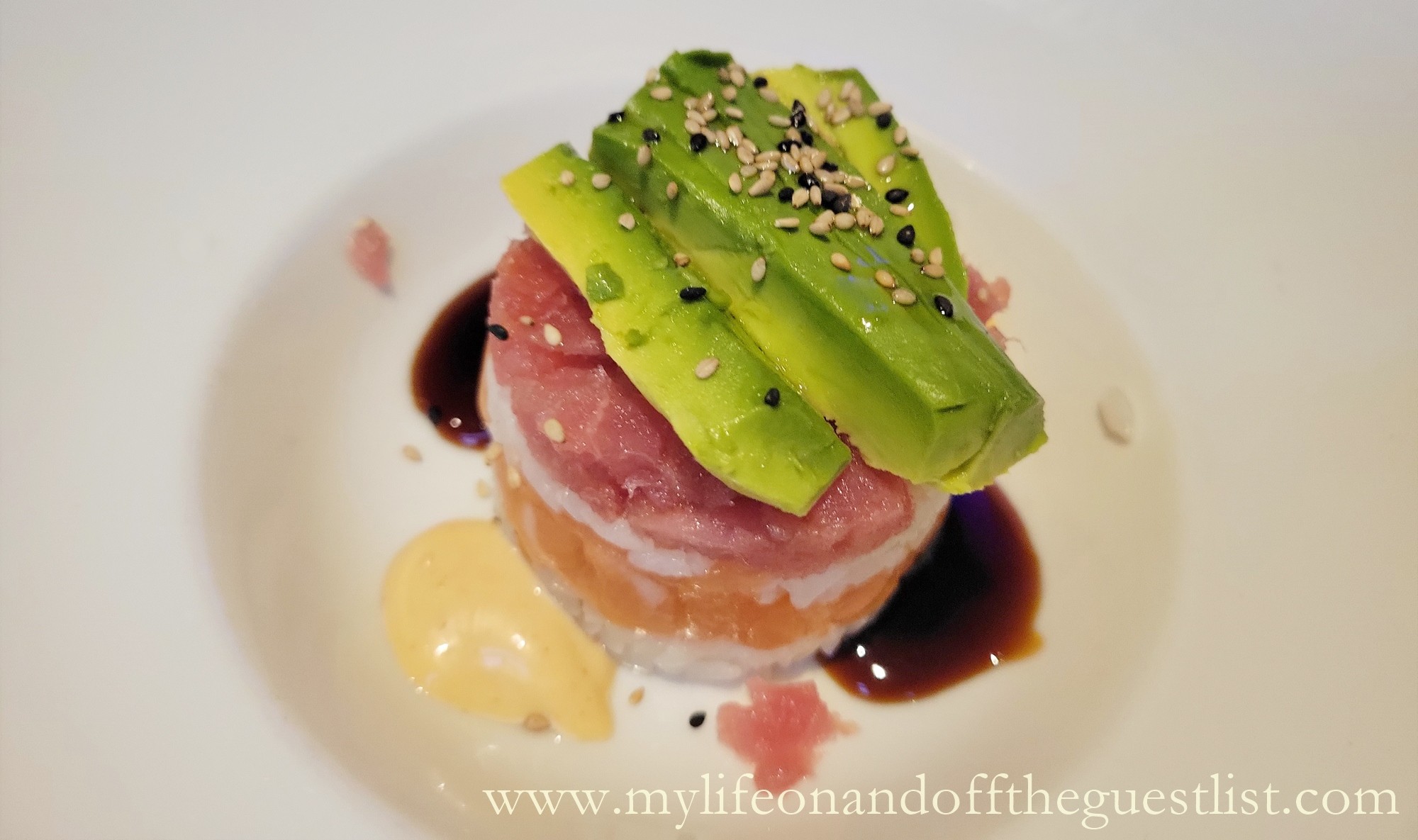 Larger than an amuse-bouche, the UN Plaza Grill's Sushi Tower is what you see above. Layers of texture and flavors that consist of fresh Salmon, tuna, avocado, spicy mayo, teriyaki, and sesame seeds. The Japanese cuisine staple was light and tangy in flavor, a starter that is sure to please everyone.
MAIN COURSES
Center Cut Rib Eye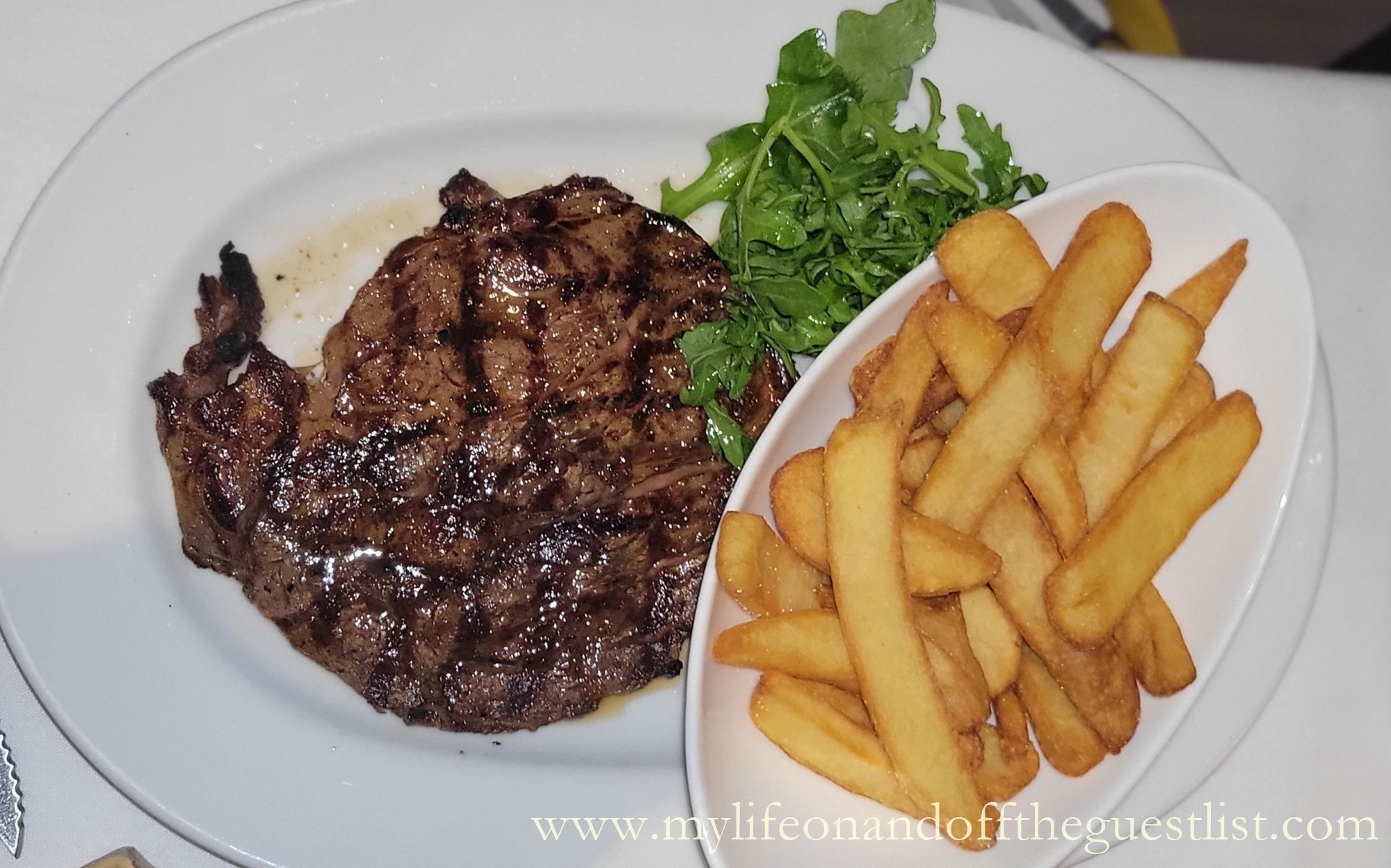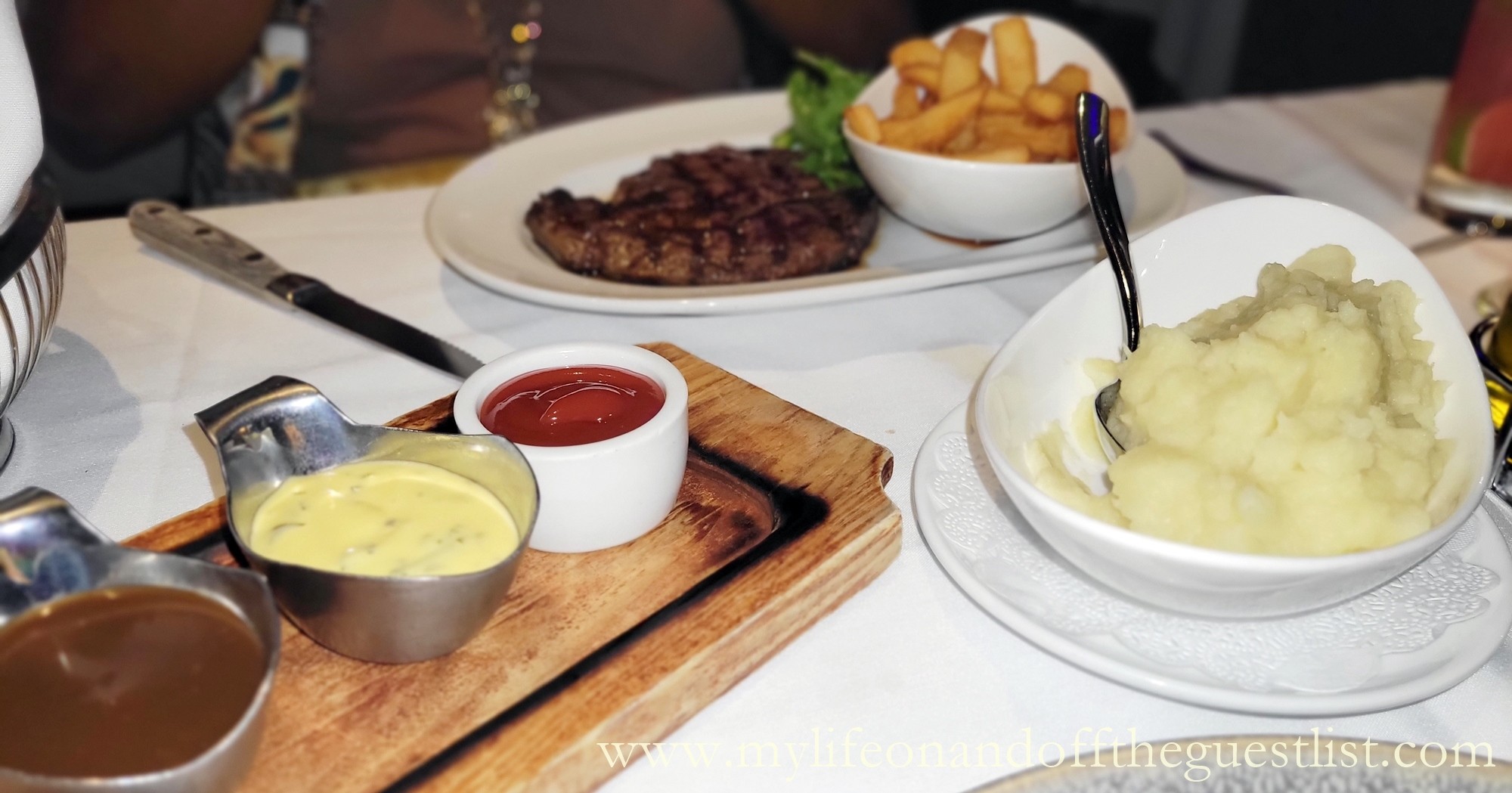 If you're a fan of steaks, we highly recommend you add the UN Plaza Grill's kosher steak offerings to your must-try list. Whether you get it rare, medium rare, or well done, the prime cut of kosher meat remains succulent and juicy. This perfect cut came with hand-cut fries, and Rosemary Fuego aioli, but you can order additional sides like the mashed potatoes with gravy pictured above, and more.
Delmonico  Steak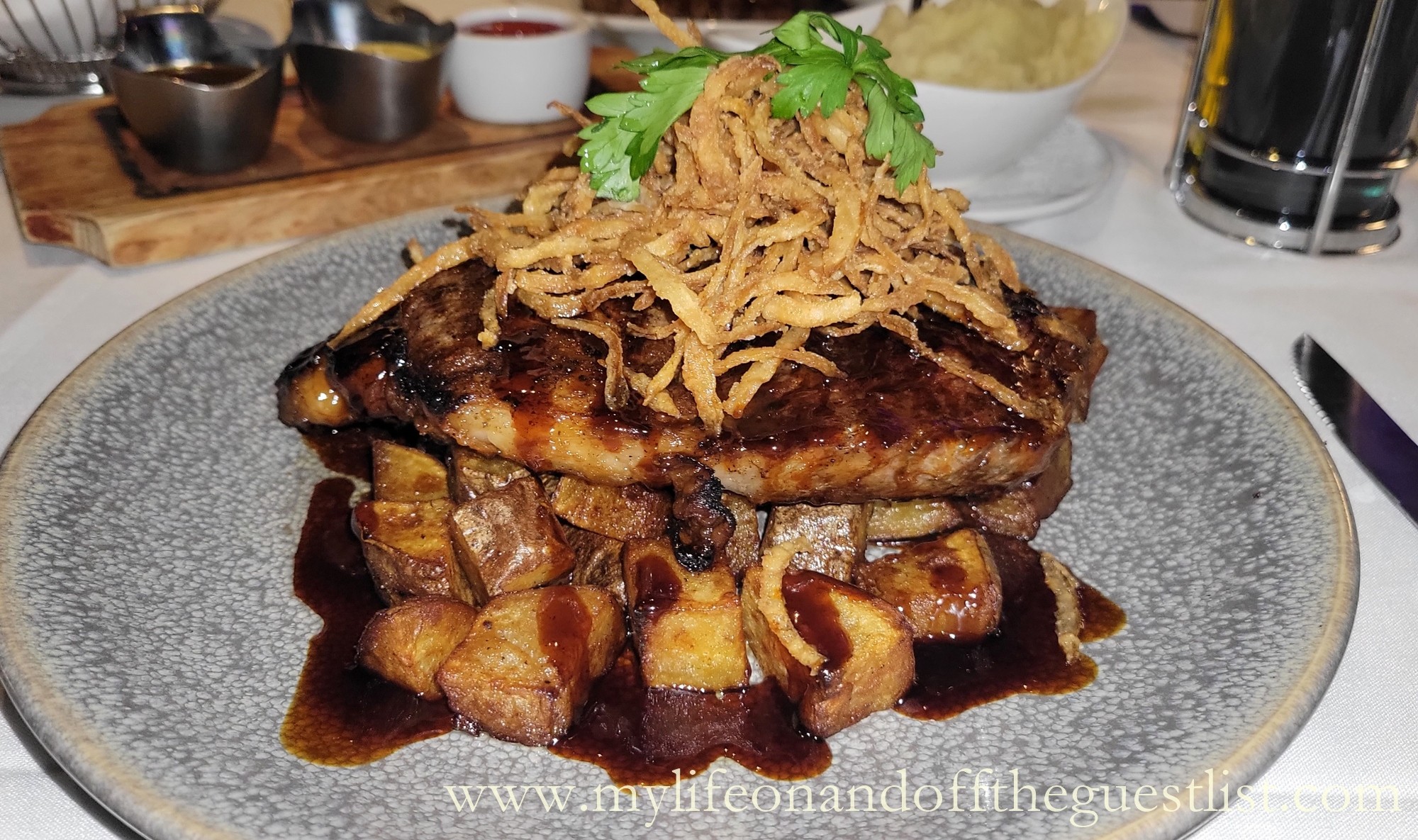 Words can't do justice to the levels of absolutely flavorsome, delectable, and mouthwatering decadence of culinary delights we experienced while enjoying UN Plaza Grill's Delmonico steak. Topped with crispy fried onions and layered on top of roasted, hand-cut potatoes and drizzled in a sweet and tangy Teriyaki glaze, your tastebuds will joyfully surrender to the explosion of flavors.
SECOND COCKTAILS
Summer Sun

– Gin, muddled mango, basil, fresh lime juice, simple syrup, lemon slice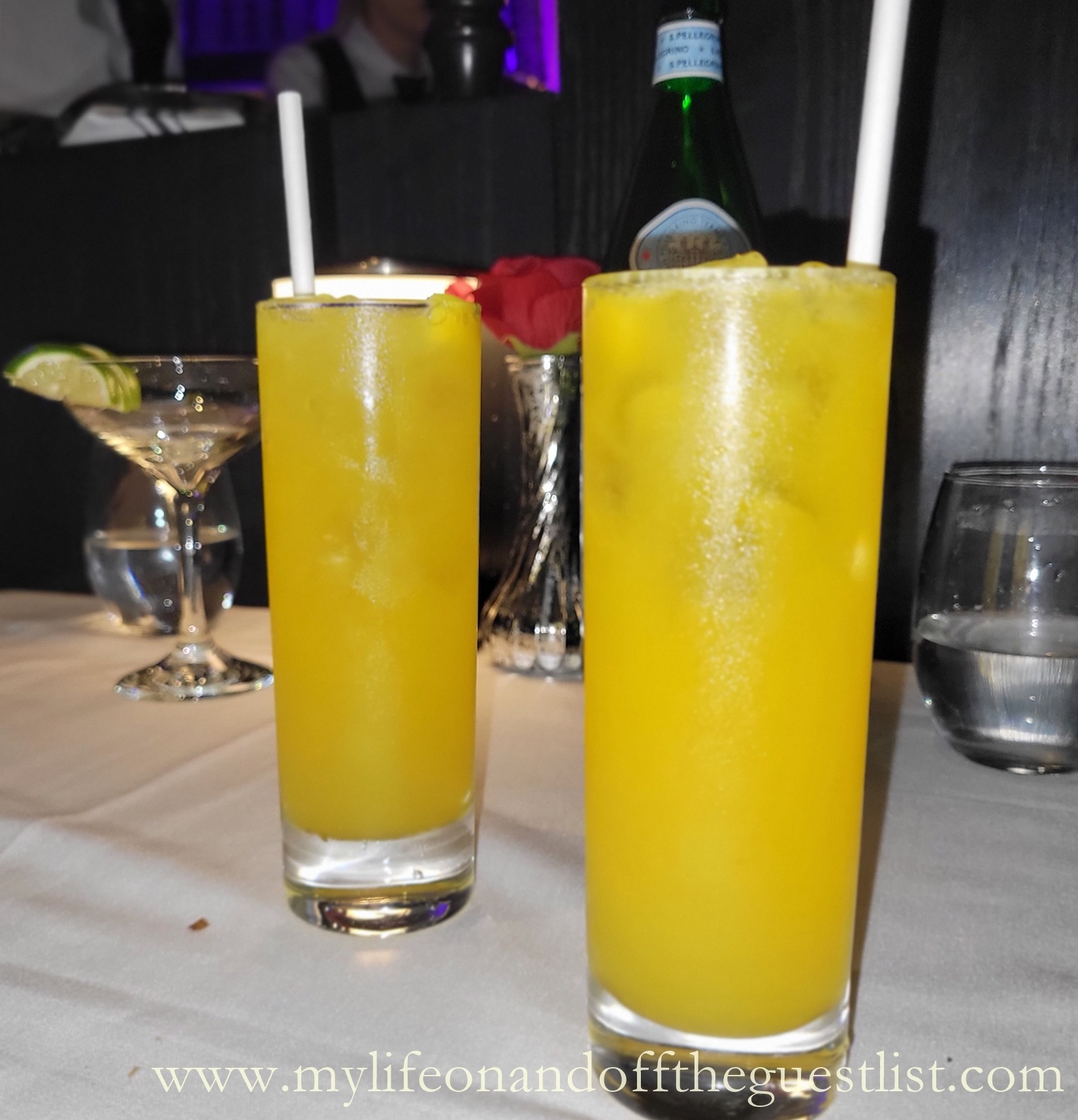 After such a wonderfully savory course, we wanted our second cocktail to be a bit of a palate cleanser. The ideal cocktail was UN Plaza Grill's Summer Sun. Gin fans will love this fresh, tropical cocktail with a little kick. Enjoy the taste of the Caribbean with this mango sorbet in cocktail form.
DESSERTS
Mango Sorbet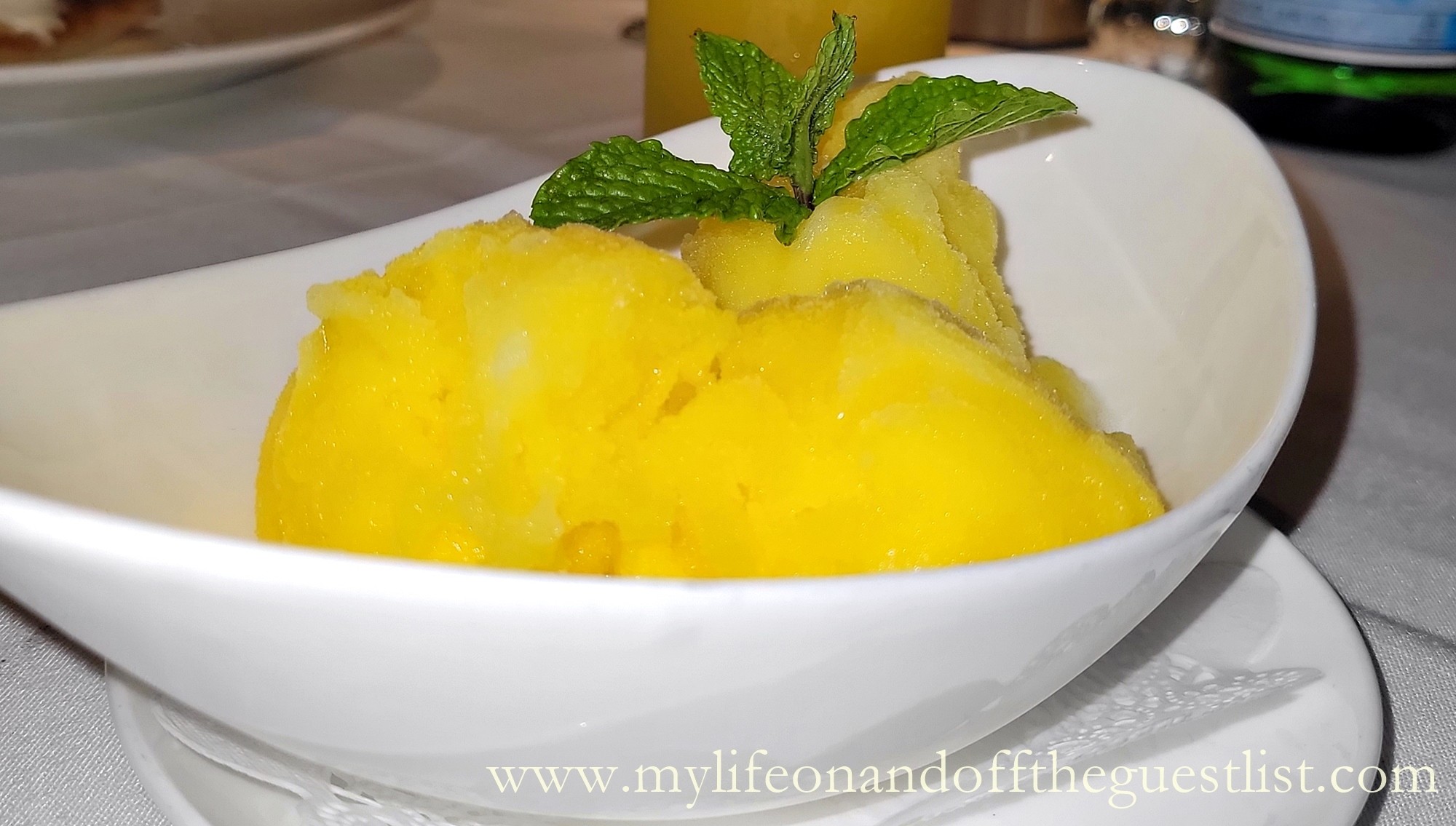 Speaking of Mango Sorbet, we had to end our culinary journey with some, perhaps inspired by our last cocktail. It was quite refreshing with a touch of tartness. A perfect end to an amazing dining experience on a hot summer day.
Apple Tart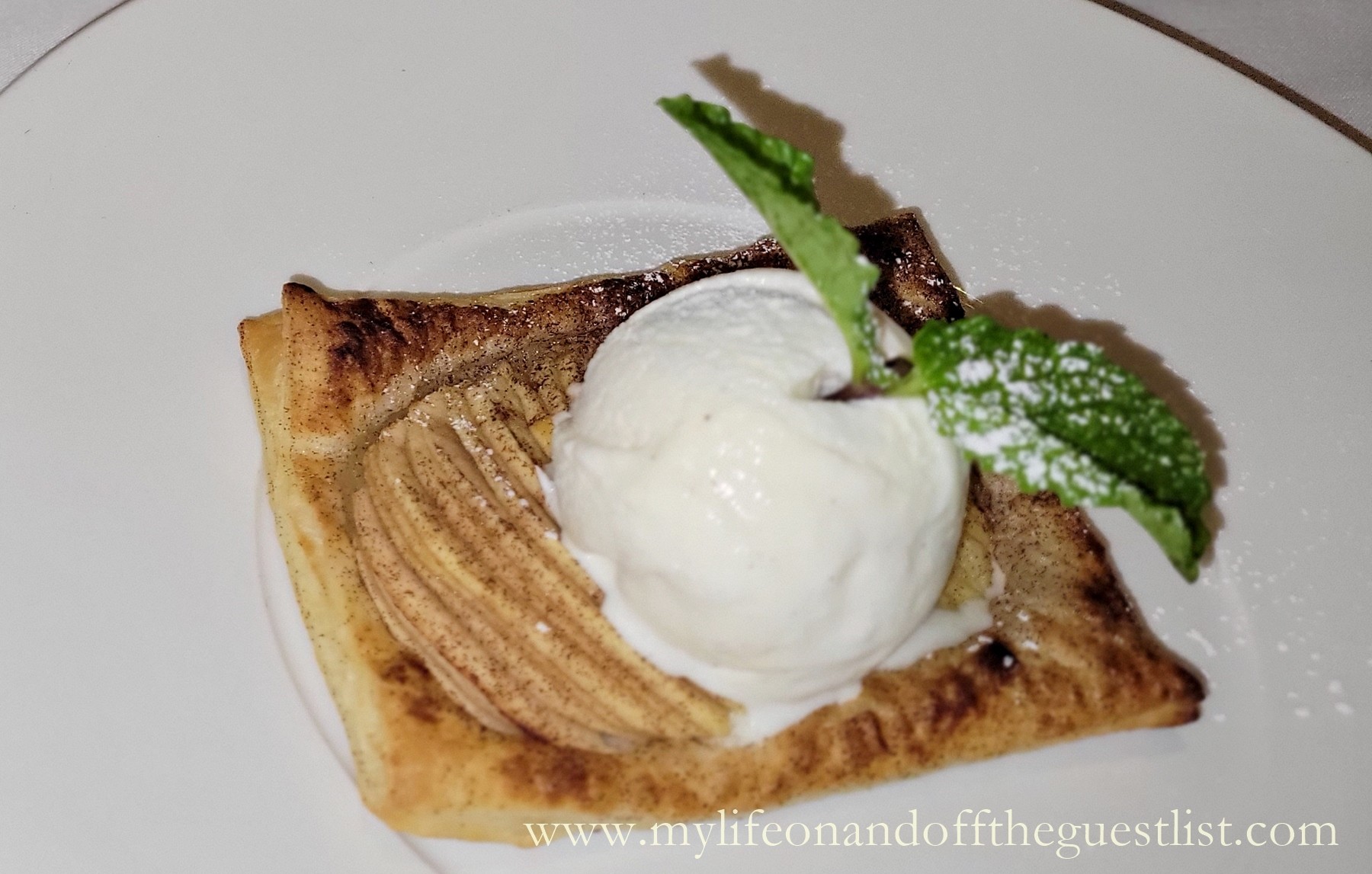 You cannot go wrong with a classic dessert and nothing is more classic than a delicious Apple Tart topped with Vanilla Ice Cream. It's a delicious option as we transition from the summer to fall season. You'll love each bite of this buttery, warm apple puff pastry that feels light and flaky on the tongue. You won't be disappointed if you order this sinful delight.
For Summer 2022, UN Plaza Grill has expanded their gastronomic attractions with a $69 prix fixe menu featuring several of its most popular dishes and a gastronomic tour of the world via its Global Chefs Pop-up series. Every month, the series showcases a different country's or region's food with a $77 three-course prix fixe menu (including a glass of wine). It was created in collaboration with their award-winning culinary director, Ines Chattas, by a guest chef known for expertise in that month's designated cuisine.