A little less than a year ago, we had the wonderful pleasure of experiencing an exquisite culinary journey when Fat Rice's Chef Abraham Conlon participated in Chefs Club New York's Chef-in-Residence series. We recently returned to Chefs Club New York to experience the amazing Mediterranean fare of Chef Terrance Brennan. This highly-accomplished chef, restaurateur, consultant, and entrepreneur has enjoyed a renowned 40-yr culinary career. During his Chef-in-Residence at Chefs Club New York, he brought a bit of his amazing menu comprising of new dishes and a few favorites from Picholine. Keep reading for our superb culinary experience of Chef Terrance Brennan's Côte Médi at Chefs Club NY.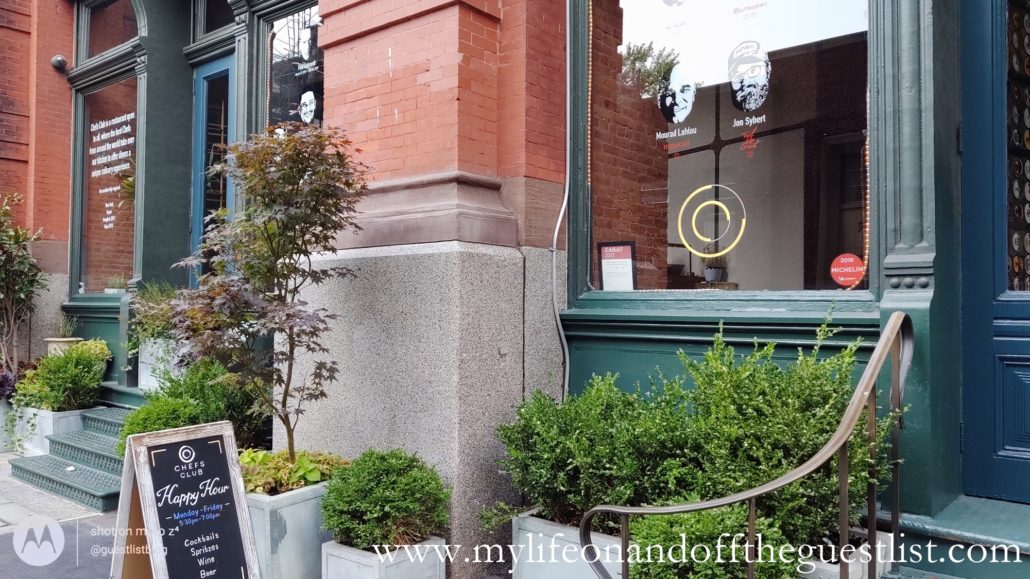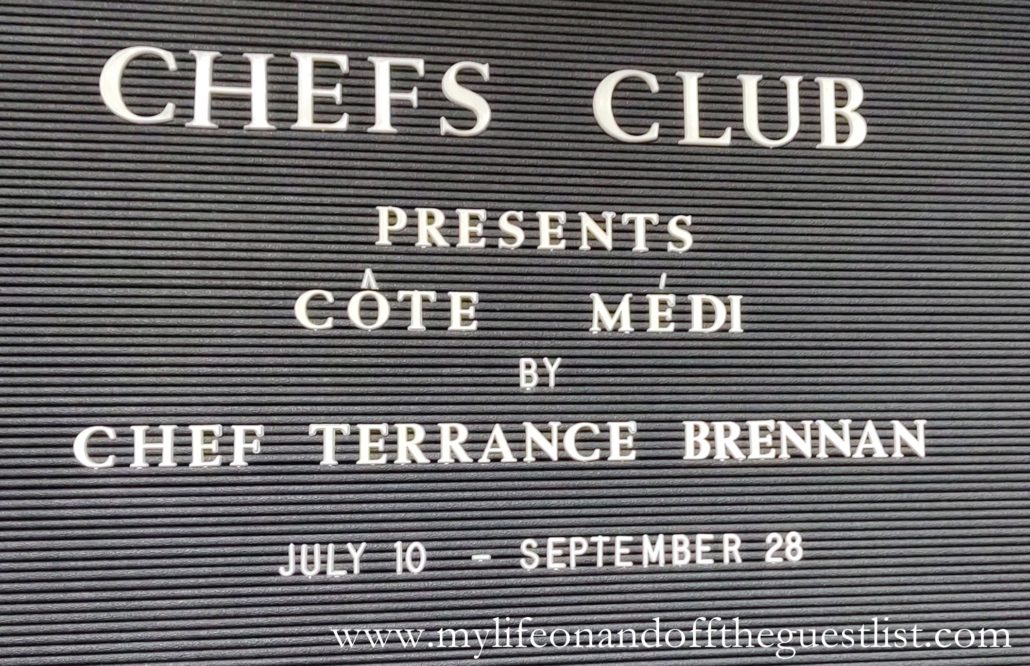 We didn't know it yet, but we were in for a night of culinary divinity to remember. His three-month residency at Chefs Club NY will serve as a preview of his forthcoming seafood-forward concept celebrating the "Cuisine of the Sun," inspired by his time spent in coastal France, Italy, and Spain.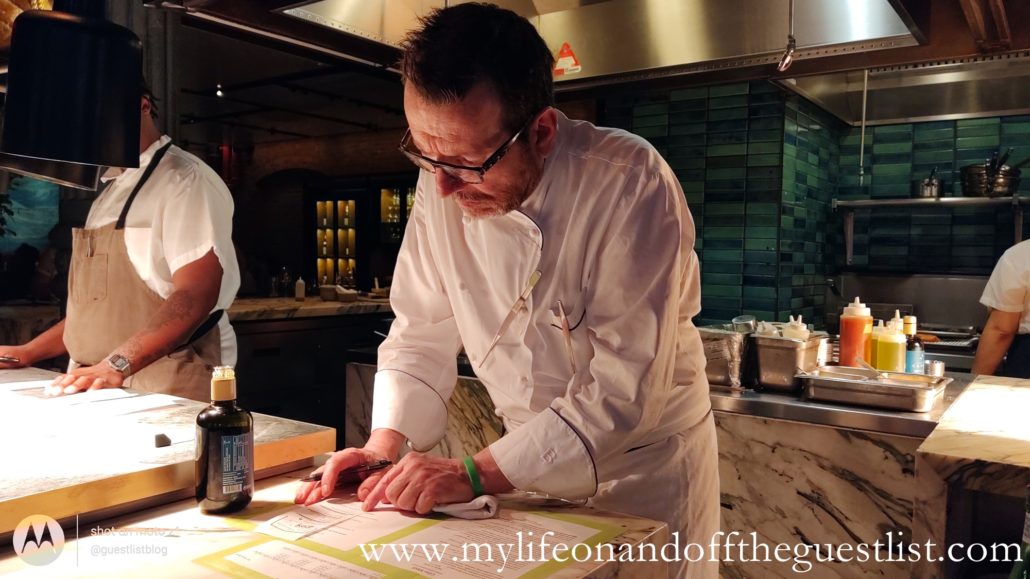 We had the pleasure of seating at the special guests' tables, right in front of Chef Terrance Brennan. Chef recommended and kept us informed on all the delicious dishes we enjoyed that night. Chef Terrance Brennan's menu is perfect for a single or more as the menu features small plates that are meant to be shared amongst tables of friends. Our evening consisted of three amazing cocktails which we will highlight in a bit. While all three were delicious, the stars of the evening were the wonderful dishes. Let's dive right in.
Smoked Salmon Rillettes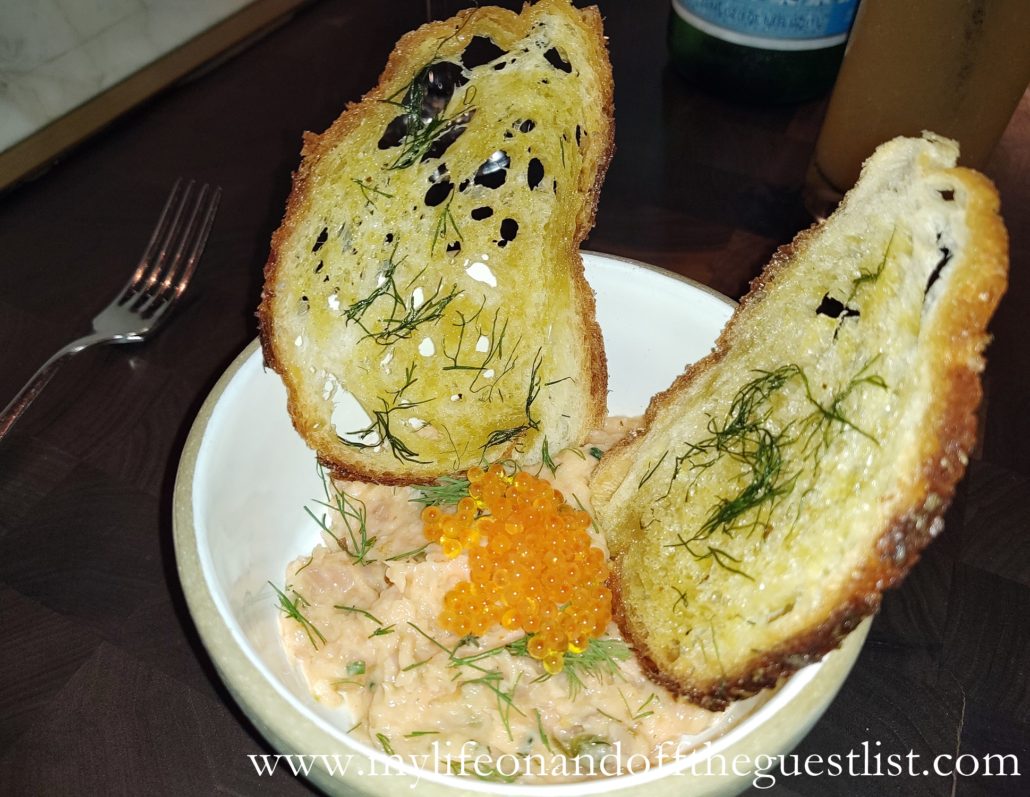 What a way to begin! Our palette was thoroughly sated and awakened with this wonderfully salty, multi-textured opener. You could taste the freshness of every bite of the salmon; on its own, it was divine, but when mixed with the Wild American Caviar and scooped with the crisp, olive oil-soaked, bread? Pure perfection. Not a crumb was left in the bowl.
Live Sea Scallop Crudo in Shell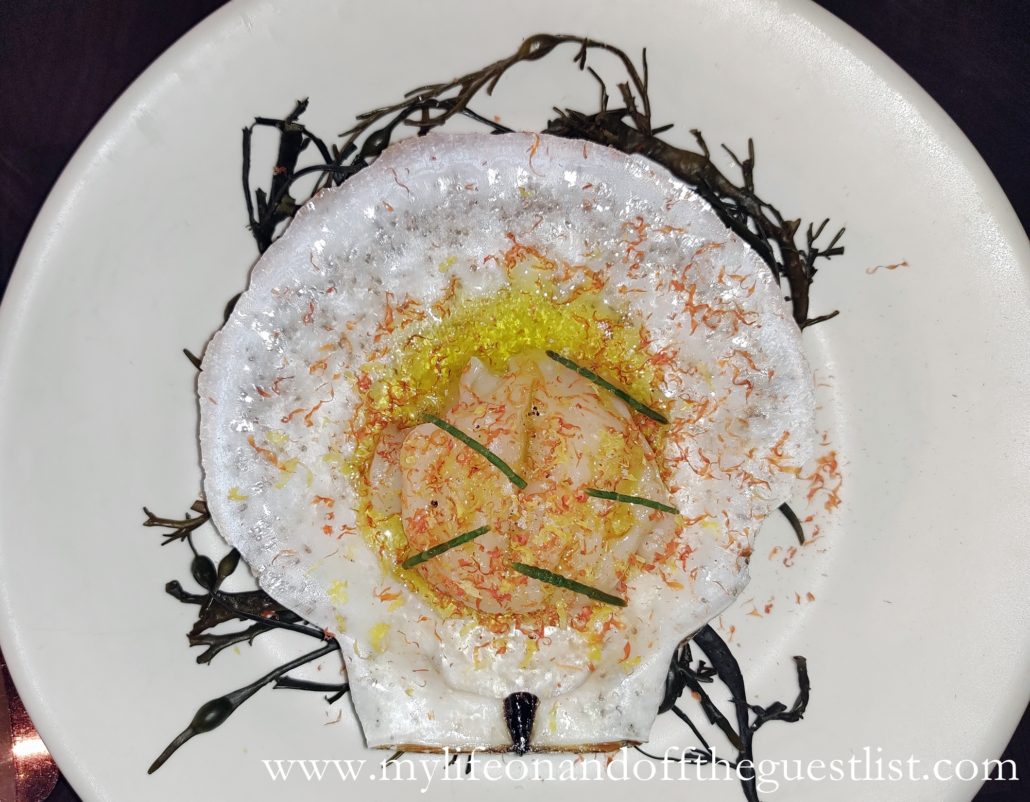 If there ever was a dish to remind you of the fresh seafood you can enjoy in the Mediterranean, this is it. It was amazingly fresh and my Santeria Sour cocktail (more on it below), added a nice peppery layer to the dish. I did stop drinking it to fully experience the natural flavors of the truffle salt (slight throat itch but so worth it). The scallops practically melted in my mouth.
COCKTAILS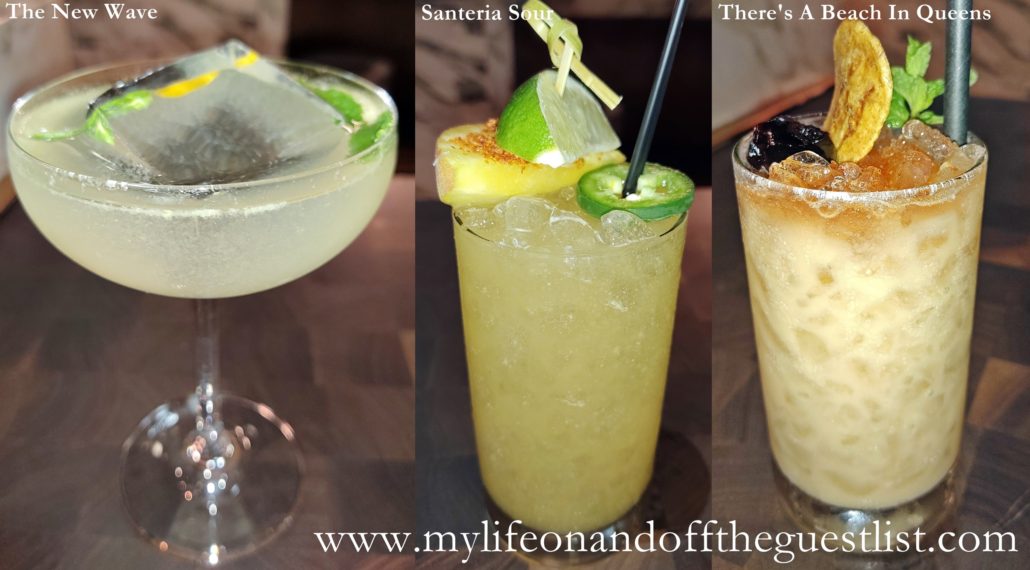 The New Wave – I enjoyed this sweet citrusy cocktail with my first dish. The freshness of the Calamansi and sweetness of elderflower was a wonderful and sweet compliment to the saltiness of the Salmon Rillettes.
Santeria Sour – This is a wonderful kick of spice with a peppery finish that lingers a bit. Hence why I enjoyed it so much with the Live Sea Scallop Crudo in Shell. I liked the addition of jalapeno to enhance the tart taste of the tamarind and green chili vodka. These wonderful flavor kicks complimented the natural smokiness of the mezcal.
There's a Beach in Queens –  Our third cocktail tasted a lot more tropical than the other two. It boasts a subtle sweetness with the flavor of banana shining through.
Cucumber Gazpacho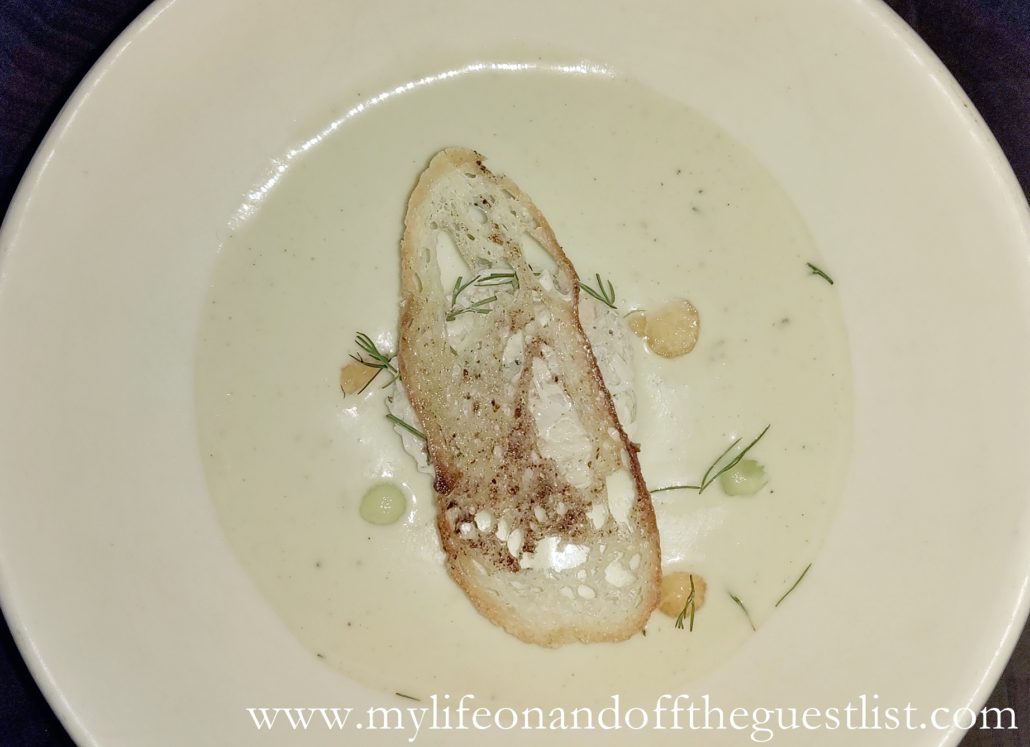 I admit I wasn't sure what to expect with this dish but my goodness, I left the bowl clean. The small melon balls were a wonderful surprise addition of subtle sweetness to the creaminess of this creamy cucumber dish. The crab added a nice level of salt for a wonderful combination of flavors.
Sea Urchin Fondue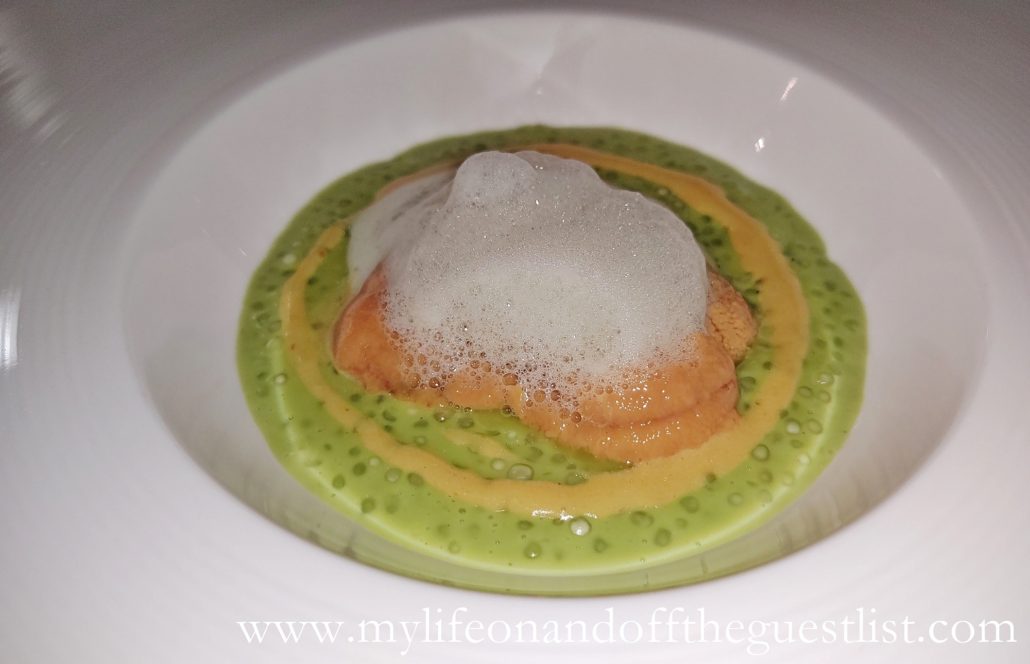 Hope you are ready for this very fresh dish. I thank my Caribbean roots for already being familiar with eating sea urchin. I'm used to enjoying it roasted in its shell but I love Chef Brennan's take. The contrast of the freshness of the raw sea urchin paired with the creamy, tapioca fondue and seafoam produced by plankton truly highlighted the essence of the Mediterranean diet.
Wild Striped Bass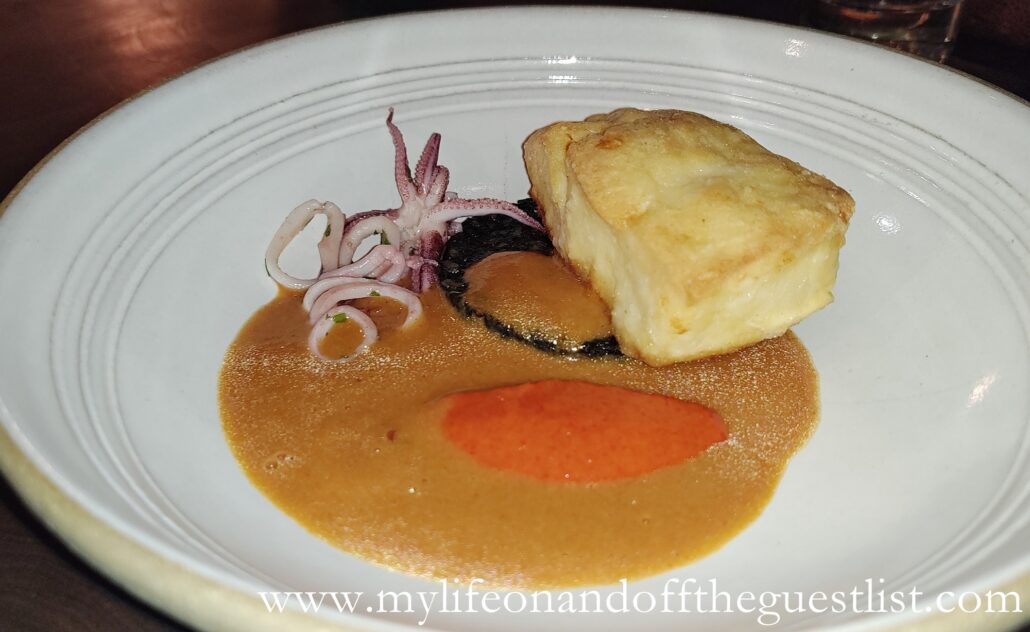 The Chorizo Emulsion (sauce) and the black rice paella Socarrat (the caramelization of the bottom layer of paella) gave this dish a rustic element. I love anything made with black squid ink; it adds a natural saltiness, oiliness, and savory component to anything it's added to. It gives the paella rice another layer of distinct flavor. The Striped Bass was perfect. I loved that it wasn't prepared with too many seasonings, so its naturally mild flavor wasn't overpowered.
Grilled Langoustines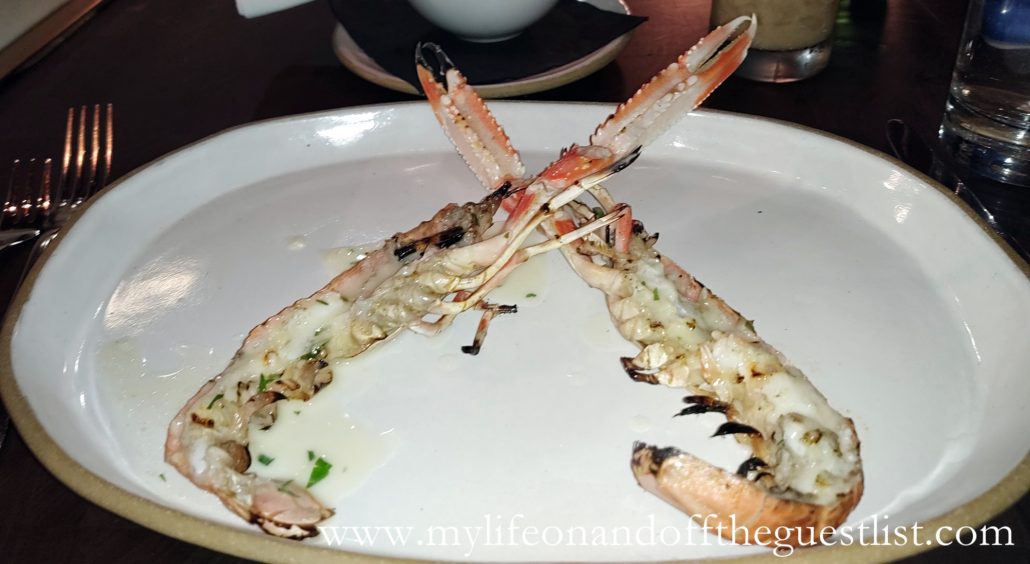 If you've never experienced what it's like to enjoy freshly-caught seafood that is perfectly seasoned, and roasted right on the beach in an open fire pit, this is the closest you'll come to doing so. The superb garlic herb butter enhanced the grilled flavors of it, which although grilled, it tasted very much roasted. Amazingly delicious!
Squab Magret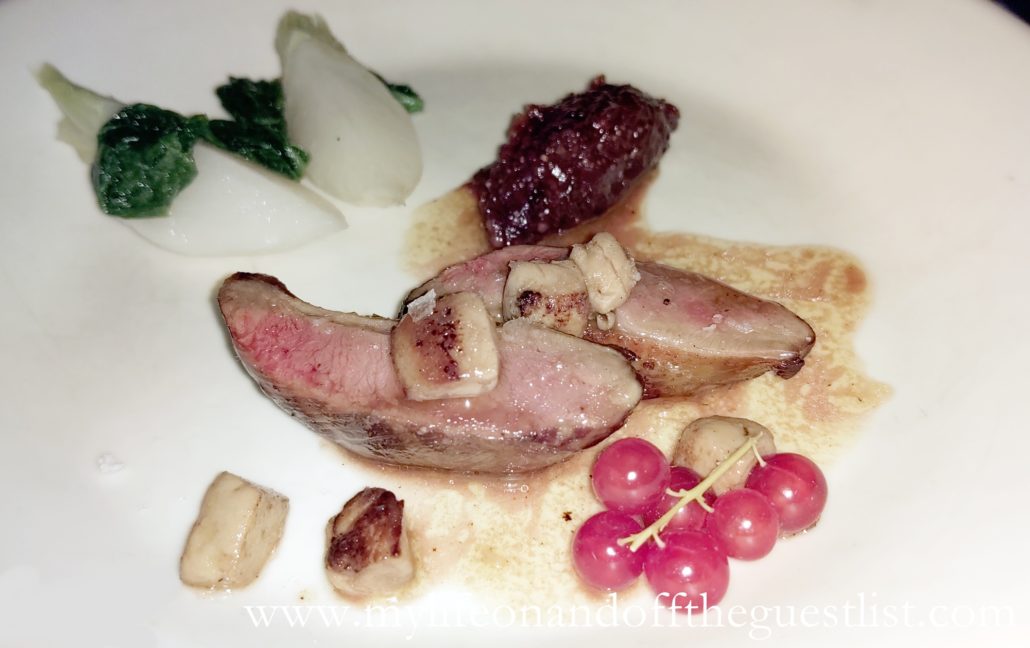 I loved the variety of flavors in this dish. The Japanese turnips added a crisp fresh texture, almost like an unsweetened melon. The foie gras added another layer of savory flavor and creamy texture, the fig jam was the perfect addition with its seedy sweetness, and the tiny grapes added a refreshing crunchy texture.
DESSERT – Olive Oil Ice Cream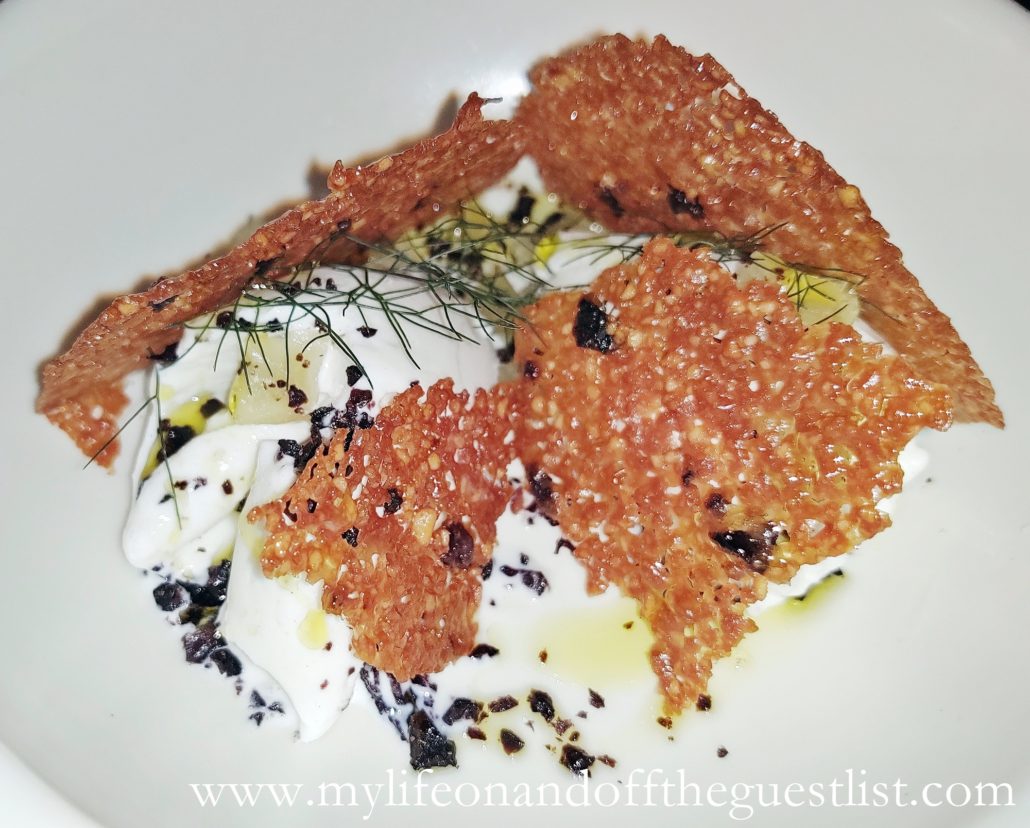 Last but certainly never least – dessert. The Olive Oil ice cream immediately jumped out off the dessert menu. It was an unexpected delight. I wasn't sure what to expect but eating it was like a rollercoaster of various layers and textures. The smooth vanilla ice cream, sweet crunch from the candied fennel brittle, and the rich, nutty flavor of olive oil all came together to create a distinct, multilayered flavor profile I haven't experienced before. I have had the please of enjoying olive oil in a cocktail but this was my first olive oil ice cream. It's a great option for those who love savory and sweet.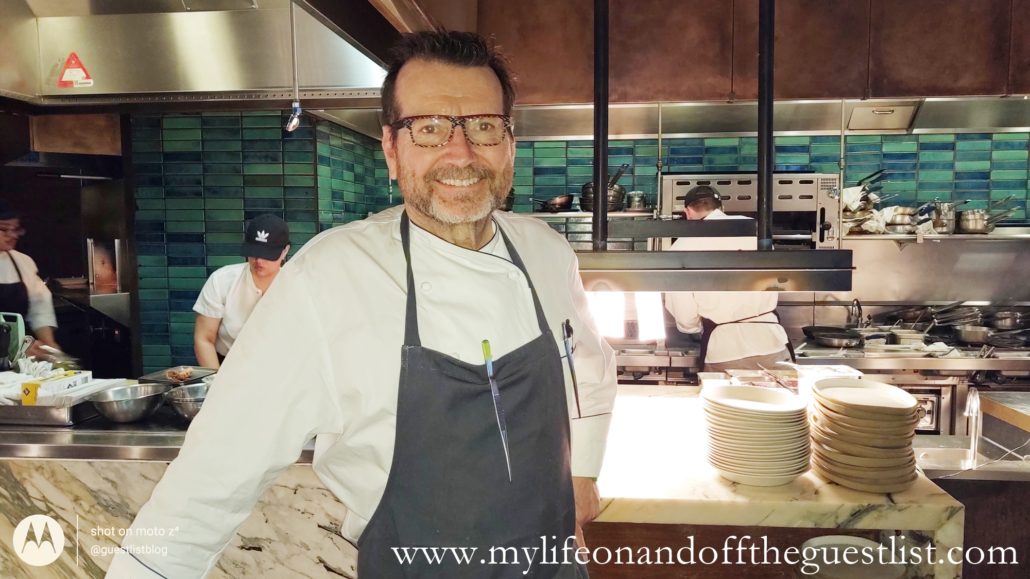 Thus ends our culinary journey with Chef Terrance Brennan but hopefully the beginning of yours. You have until September 28th to partake in some or all of these sumptuous small plate meals. Chefs Club NY is located at 275 Mulberry Street. Book your reservation by calling 212-941-1100.
https://mylifeonandofftheguestlist.com/wp-content/uploads/2019/08/Wild_Striped_Bass_www.mylifeonandofftheguestlist.com_.jpg
1227
2000
Glasgow Skinner
https://mylifeonandofftheguestlist.com/wp-content/uploads/2020/07/Webp.net-resizeimage-1030x151.jpg
Glasgow Skinner
2019-08-05 11:49:32
2019-08-05 11:49:32
Restaurant Review: Chef Terrance Brennan's Côte Médi at Chefs Club NY